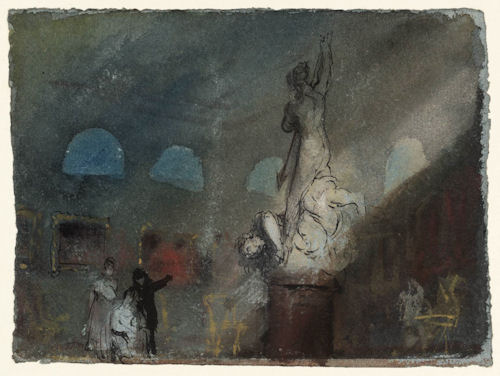 Northanger Abbey, Part 1
The Deadly Sin of Avarice, and 'Aura'
Divining Jane Austen
My efforts for the first two Novels, insofar as concerns Deadly Sin, were rather tentative and filled with self-doubt — rather like Catherine Morland's attempts to make sense out of the social scene at Bath, and later at Northanger Abbey. But Jane Austen's intentions appear to me to be so clear and uncompromising in this Novel that I have no choice at this time but to trumpet my belief:—
Each and every Austen Novel, beginning with Lady Susan and continuing up to and including the fragmentary shards of Sanditon, is an examination of one certain and particular Deadly Sin from the usual suspects' list of Seven.
Surely Jane Austen hoped that her code of showing the undefined, unacknowledged, unspecified but certainly not unnoticed, unknown, unobserved — and un-namable given the cramped and circumscribed times in which she lived — would be broken, deciphered one day in an age much like our own, when women are permitted to investigate any subject catching their interest and to which they can contribute an unfamiliar but uniquely interesting viewpoint? Isn't it possible that the reason Austen's Novels have shown such remarkable staying power is due to our sensing a dedicated purpose to her writing beyond mere entertainment?
Why not use the constricted realm of women and their relationships with family members and the outside world in order to shine a different light from an unusual angle on the workings of the Seven Deadly Sins? Why not seven separate Novels, each with the distinctive aura of its chosen human failing? Reading an Austen Novel with close attention is not an easy task:— writing one must have been hellishly difficult. And we must always remember that authors don't always choose their subjects: often it is the subjects which select an efficient and appropriate means to their end, which is to say their expression.
Perhaps the reason that Pride and Prejudice is such a superior Novel is because the Deadly Sin of Pride is a magnificent Sin, a gemstone with as many facets for virtue and evil as can be cut and polished and contrived and discerned by human ingenuity.
Even Envy, the undesignated Deadly Sin shown so unmistakeably in Sense and Sensibility, has a possible obverse quality in Emulation. Envy also involves another person, a person we wish to deprive even to the point of destitution, with no other discernible benefit to ourselves, which might perhaps serve to mollify somewhat our criticism of the Novel requiring fifty interminable chapters to rehash its puffed up meanderings, and justify the need for a certain amount of fabrication to do justice to its several facets.
But the Deadly Sin of Avarice, being an uncomplicated if immoderate desire for possessions, with no offsetting virtues or other potential intricacies, requires to be revealed simply, as a ready-formed pearl, rather than hacked from surrounding rock, and cut and polished before presentation to the public.
My faithful companion Webster Collegiate Dictionary gives main place to covetousness over classical Avarice (as simple acquisitiveness) for purposes of comparison or definition of synonyms, and it appears to me that Jane Austen in Northanger Abbey has followed this preference, where covetous is defined as inordinately desirous, especially of something belonging to another person.
As synonyms, Webster's gives covetous, greedy, acquisitive, grasping, avaricious, all defined as having a strong desire for possessions:—
— covetous always implies inordinateness of desire, often for that which belongs to another;
— greedy stresses absence of restraint in desire, but it is a derogatory term only when the thing longed for is evil in itself or leads to evil;
— acquisitive implies not only eagerness to possess but the capacity for acquiring and retaining that which is desired;
— grasping adds to covetous the implication of selfishness and often suggests the use of wrongful or unfair means;
— avaricious implies acquisitiveness, especially of money, and exceeding stinginess.
*   *   *   *   *
Volume I.
It's difficult to imagine a more effective rendering of Webster's covetous — inordinateness of desire, often for that which belongs to another, than as expressed by Northanger Abbey's John Thorpe to Catherine Morland in Chapter Nine's uncomfortable carriage drive up Claverton Down according to his description:—
' A silence of several minutes succeeded their first short dialogue; it was broken by Thorpe's saying very abruptly, "Old Allen is as rich as a Jew — is not he?" Catherine did not understand him — and he repeated his question, adding in explanation, "Old Allen, the man you are with."
    "Oh! Mr. Allen, you mean. Yes, I believe, he is very rich."
    "And no children at all?"
    "No — not any."
    "A famous thing for his next heirs. He is your godfather, is not he?"
    "My godfather! No."
    "But you are always very much with them."
    "Yes, very much."
    "Aye, that is what I meant. He seems a good kind of old fellow enough, and has lived very well in his time, I dare say; he is not gouty for nothing ..." '
    Northanger Abbey, Volume I, Chapter Nine
A similar interchange occurs during Chapter Eleven's aborted trip to Blaize [actually Blaise] Castle, when Thorpe observes to Catherine with regard to her elder brother James:—
' ... "Morland is a fool for not keeping a horse and gig of his own."
    "No, he is not," said Catherine warmly, "for I am sure he could not afford it."
    "And why cannot he afford it?"
    "Because he has not money enough."
    "And whose fault is that?"
    "Nobody's, that I know of." Thorpe then said something in the loud, incoherent way to which he had often recourse, about its being a d— thing to be miserly; and that if people who rolled in money could not afford things, he did not know who could, which Catherine did not even endeavour to understand. '
        Volume I, Chapter Eleven
In Chapter Twelve, an unhappy Catherine accompanies the Allens to the theatre, and sees Henry Tilney and his father joining a party in the opposite box, recalling her to anxiety and distress. The reader may be excused for apprehending even greater anxiety and distress from her observation
' with some surprise that John Thorpe, who was never in the same part of the house for ten minutes together, was engaged in conversation with General Tilney; and she felt something more than surprise when she thought she could perceive herself the object of their attention and discourse. What could they have to say of her? She feared General Tilney did not like her appearance ...
    When the entertainment was over, Thorpe came to assist them in getting out ... asking, in a consequential manner, whether she had seen him talking with General Tilney: "He is a fine old fellow, upon my soul! Stout, active — looks as young as his son. I have a great regard for him, I assure you ... A very fine fellow; as rich as a Jew ... But what do you think we have been talking of? You. Yes, by heavens! And the general thinks you the finest girl in Bath."
    ...
    That General Tilney, instead of disliking, should admire her, was very delightful; and she joyfully thought that there was not one of the family whom she need now fear to meet. '
        Volume I, Chapter Twelve
Chapter Thirteen's refusal by Catherine to accompany John and Isabella Thorpe and her brother James on the second trip to Clifton is described in the next webpage under Plot, but not the rapid pursuit by Catherine of Miss Tilney to her home in order to give the lie to John's impertinent assurances to Miss Tilney that Catherine wishes to postpone their intended meeting until the following day:—
' Catherine found that John Thorpe had given the message; and Miss Tilney had no scruple in owning herself greatly surprised by it ...
    The affair thus happily settled, she was introduced by Miss Tilney to her father, and received by him with such ready, such solicitous politeness as recalled Thorpe's information to her mind, and made her think with pleasure that he might be sometimes depended on ...
    After sitting with them a quarter of an hour, she rose to take leave, and was then most agreeably surprised by General Tilney's asking her if she would do his daughter the honour of dining and spending the rest of the day with her. Miss Tilney added her own wishes. Catherine was greatly obliged; but it was quite out of her power. Mr. and Mrs. Allen would expect her back every moment.
    The general declared he could say no more; the claims of Mr. and Mrs. Allen were not to be superseded; but on some other day he trusted, when longer notice could be given, they would not refuse to spare her to her friend. '
        Volume I Chapter Thirteen
In Chapter Fifteen, Isabella announces that she and James are engaged. How different is our heroine Catherine to the faithless Isabella, whose promises like her conversation mean less than nothing. "You will be so infinitely dearer to me, my Catherine, than either Anne or Maria: I feel that I shall be so much more attached to my dear Morland's family than to my own" — which expression of affection, according to Austen, was a pitch of friendship beyond Catherine.
James is preparing to set off with all speed to Fullerton to ask their parents' consent to his marriage, and is to send a letter to Isabella to give their reply:—
' and here was a source of some real agitation to the mind of Isabella ... "My fortune will be so small; they never can consent to it. Your brother, who might marry anybody!"
    Here Catherine again discerned the force of love. "Indeed, Isabella, you are too humble. The difference of fortune can be nothing to signify."
    "Oh! My sweet Catherine, in your generous heart I know it would signify nothing; but we must not expect such disinterestedness in many. As for myself, I am sure I only wish our situations were reversed. Had I the command of millions, were I mistress of the whole world, your brother would be my only choice ...
    "My wishes are so moderate that the smallest income in nature would be enough for me. Where people are really attached, poverty itself is wealth; grandeur I detest: I would not settle in London for the universe. A cottage in some retired village would be ecstasy. There are some charming little villas about Richmond ..."
    ... When Isabella spoke again, it was to resolve on the quality of her wedding-gown. '
The letter, when it arrives, was short,
' containing little more than this assurance of success ... But for particulars Isabella could well afford to wait ... By what means their income was to be formed, whether landed property were to be resigned, or funded money made over, was a matter in which her disinterested spirit took no concern ... She saw herself at the end of a few weeks ... the envy of every valued old friend in Putney, with a carriage at her command, a new name on her tickets, and a brilliant exhibition of hoop rings on her finger.
Catherine is too abstracted to realise that once he has been assured of the presumed implications of James's letter, Isabella's brother John Thorpe is making Catherine his own incoherent proposal of marriage:—
' " ... My notion of things is simple enough. Let me only have the girl I like, say I, with a comfortable house over my head, and what care I for all the rest? Fortune is nothing. I am sure of a good income of my own; and if she had not a penny, why, so much the better."
    "Very true. I think like you there. If there is a good fortune on one side, there can be no occasion for any on the other. No matter which has it, so that there is enough. I hate the idea of one great fortune looking out for another. And to marry for money I think the wickedest thing in existence. Good day. We shall be very glad to see you at Fullerton, whenever it is convenient."
    And away she went. It was not in the power of all his gallantry to detain her longer. With such news to communicate, and such a visit to prepare for, her departure was not to be delayed by anything in his nature to urge; and she hurried away, leaving him to the undivided consciousness of his own happy address, and her explicit encouragement. '
      Citations from Volume I, Chapter Fifteen
Thus ends Volume I, and the simpler manifestations of avarice.
If the common facet of all synonyms for avarice is defined by Webster's Collegiate above as having a strong desire for possessions, and John Thorpe is to be considered the epitome of 'covetousness', always implying inordinateness of desire, often for that which belongs to another, then Isabella appears to fit into the above category of 'acquisitiveness', implying not only eagerness to possess but the capacity for acquiring and retaining that which is desired — her capacity for acquiring and retaining being comprised no doubt in her consciousness of being beautiful, and desirable, and loved by James Morland, whom she believes to be very rich.
Before saying goodbye for the moment to John Thorpe — of course he hasn't finished wreaking havoc in the life of the innocent and well-meaning Catherine Morland — I'd like to point out that his habitual use of the expression 'as rich as a Jew' will be dealt with at a later time in Part 3: Film, Fairy Tale, and Happily Ever After with respect to the 2004 Film The Merchant of Venice.
Was the corollary expression 'as poor as a Christian' at any time in use as common currency, I wonder? — inviting, of course, the reply 'Which Christian? Where?'
*   *   *   *   *
Volume II.
The first chapter of Volume II [chapter 16 of 31] brings its own puzzlements. Catherine has found, on her return from the meeting with Henry's family in Milsom Street, that she had gone to her appointment preparing for happiness which it had not afforded, that:—
' in spite of their father's great civilities to her — in spite of his thanks, invitations, and compliments — it had been a release to get away from him. It puzzled her to account for all this. It could not be General Tilney's fault. That he was perfectly agreeable and good-natured, and altogether a very charming man, did not admit of a doubt, for he was tall and handsome, and Henry's father. He could not be accountable for his children's want of spirits, or for her want of enjoyment in his company.
Isabella tends to blame Catherine's difficulties on the deadly sin of pride on the part of the General's children, and advises Catherine never to think of Henry again as he is unworthy of her friend:—
' "Oh! How different to your brother and to mine! I really believe John has the most constant heart."
    "But as for General Tilney, I assure you it would be impossible for anybody to behave to me with greater civility and attention ... "
    "Oh! I know of no harm of him; I do not suspect him of pride. I believe he is a very gentleman-like man. John thinks very well of him, and John's judgment — "
Equally distressing to Catherine, and before the clarifying letter from James can arrive, Isabella is asked to dance by Henry's elder brother Captain Frederick Tilney, and accepts the invitation, after Isabella has insisted that her heart is forty miles away at Fullerton, and dancing is quite out of the question.
' When the young ladies next met, they had a far more interesting subject to discuss. James Morland's second letter was then received, and the kind intentions of his father fully explained. A living, of which Mr. Morland was himself patron and incumbent, of about four hundred pounds yearly value, was to be resigned to his son as soon as he should be old enough to take it; no trifling deduction from the family income, no niggardly assignment to one of ten children ...
    The necessity of waiting between two and three years before they could marry, being, however unwelcome, no more than [James] had expected, was borne by him without discontent.
    "It is very charming indeed," said Isabella, with a grave face ... "It is not on my own account I wish for more; but I cannot bear to be the means of injuring my dear Morland, making him sit down upon an income hardly enough to find one in the common necessaries of life. For myself, it is nothing; I never think of myself ...
    "It is not the want of more money that makes me just at present a little out of spirits; I hate money; and if our union could take place now upon only fifty pounds a year, I should not have a wish unsatisfied. Ah! my Catherine, you have found me out. There's the sting. The long, long, endless two years and half that are to pass before your brother can hold the living." '
Citations from Volume II, Chapter One [ch 16 of 31]
In Chapter Two of Volume II, Catherine is issued the following gracious invitation by General Tilney:—
' " ... If you can be induced to honour us with a visit, you will make us happy beyond expression. 'Tis true, we can offer you nothing like the gaieties of this lively place; we can tempt you neither by amusement nor splendour, for our mode of living, as you see, is plain and unpretending; yet no endeavours shall be wanting on our side to make Northanger Abbey not wholly disagreeable."
    Northanger Abbey! These were thrilling words, and wound up Catherine's feelings to the highest point of ecstasy ...
    General Tilney was not less sanguine, having already waited on her excellent friends in Pulteney Street [Mr. and Mrs. Allen], and obtained their sanction of his wishes.
    "Since they can consent to part with you," said he, "we may expect philosophy from all the world."
Eleanor adds her own earnest, though gentle ... secondary civilities.
' It was wonderful that her friends should seem so little elated by the possession of such a home, that the consciousness of it should be so meekly borne. The power of early habit only could account for it. A distinction to which they had been born gave no pride. Their superiority of abode was no more to them than their superiority of person.
    Many were the inquiries she was eager to make of Miss Tilney; but ... when these inquiries were answered, she was hardly more assured than before, of Northanger Abbey having been a richly endowed convent at the time of the Reformation, of its having fallen into the hands of an ancestor of the Tilneys on its dissolution, of a large portion of the ancient building still making a part of the present dwelling although the rest was decayed ... '
    Citations from Volume II, Chapter Two [ch 17 of 31]
The next chapter begins:—
' With a mind thus full of happiness, Catherine was hardly aware that two or three days had passed away, without her seeing Isabella for more than a few minutes together.
It soon appears that Isabella has made good use of these two or three days in order to become extremely well-acquainted with Captain Tilney, culminating in a low-voiced (but only too audible) intimate conversation between the two in the pump-room:—
' Catherine heard all this, and quite out of countenance, could listen no longer. Amazed that Isabella could endure it, and jealous for her brother, she rose up ...
    Mrs. Allen just then coming up to propose their returning home, she joined her and walked out of the pump-room, leaving Isabella still sitting with Captain Tilney ...
    It seemed to her that Captain Tilney was falling in love with Isabella, and Isabella unconsciously encouraging him; unconsciously it must be, for Isabella's attachment to James was as certain and well acknowledged as her engagement ...
    She wished Isabella had talked more like her usual self, and not so much about money, and had not looked so well pleased at the sight of Captain Tilney ... '
    Citations from Volume II, Chapter Three [ch 18 of 31]
And while the rest of the family is to return to Northanger with Catherine in attendance, Captain Tilney intends to remain in Bath. An anxious Catherine is reassured by Henry that
' "Though Frederick does not leave Bath with us, he will probably remain but a very short time, perhaps only a few days behind us. His leave of absence will soon expire, and he must return to his regiment." '
        Volume II, Chapter Four [ch 19 of 31]
The following chapter begins as follows:—
' Mr. and Mrs. Allen were sorry to lose their young friend, whose good humour and cheerfulness had made her a valuable companion, and in the promotion of whose enjoyment their own had been gently increased. Her happiness in going with Miss Tilney, however, prevented their wishing it otherwise; and, as they were to remain only one more week in Bath themselves, her quitting them now would not long be felt.
    Mr. Allen attended her to Milsom Street, where she was to breakfast, and saw her seated with the kindest welcome among her new friends; but so great was her agitation in finding herself as one of the family, and so fearful was she of not doing exactly what was right, and of not being able to preserve their good opinion, that, in the embarrassment of the first five minutes, she could almost have wished to return with him to Pulteney Street.
    Miss Tilney's manners and Henry's smile soon did away some of her unpleasant feelings; but still she was far from being at ease; nor could the incessant attentions of the general himself entirely reassure her ...
    His anxiety for her comfort — his continual solicitations that she would eat, and his often-expressed fears of her seeing nothing to her taste — though never in her life before had she beheld half such variety on a breakfast-table — made it impossible for her to forget for a moment that she was a visitor.
    She felt utterly unworthy of such respect, and knew not how to reply to it.
The General is in fact a domestic tyrant, which Catherine discovers in very short order — before they ever leave Bath, in fact.
' The bustle of going was not pleasant. The clock struck ten while the trunks were carrying down, and the general had fixed to be out of Milsom Street by that hour ...
    General Tilney, though so charming a man, seemed always a check upon his children's spirits, and scarcely anything was said but by himself; the observation of which, with his discontent at whatever the inn afforded, and his angry impatience at the waiters, made Catherine grow every moment more in awe of him, and appeared to lengthen the two hours into four. '
    Citations from Volume II, Chapter Five [ch 20 of 31]
In Chapter Seven of Volume II [ch 22 of 31], Henry has left for his establishment at his own parsonage house in Woodston, and the general explains carefully to Catherine:—
' "Did Henry's income depend solely on this living, he would not be ill-provided for. Perhaps it may seem odd, that ... I should think any profession necessary for him ...
    "The money is nothing, it is not an object, but employment is the thing. Even Frederick, my eldest son, you see, who will perhaps inherit as considerable a landed property as any private man in the county, has his profession." '
I'm sure we all agree with the general's views on the importance of employment, but his insistence that "The money is nothing, it is not an object," when combined with everything that has gone before, is open to question when we remember Webster's definition of avaricious as implying acquisitiveness, especially of money, and exceeding stinginess.
After a succession of days of happiness at Northanger Abbey in the company of Henry and his sister — and alarm and discomfort when their father happens to be present — Catherine begins to be concerned about the people she has left behind in Bath:—
' The anxieties of common life began soon to succeed to the alarms of romance. Her desire of hearing from Isabella grew every day greater ... Isabella had promised and promised again; and when she promised a thing, she was so scrupulous in performing it! This made it so particularly strange! For nine successive mornings, Catherine wondered over the repetition of a disappointment, which each morning became more severe: but, on the tenth, when she entered the breakfast-room, her first object was a letter, held out by Henry's willing hand. She thanked him as heartily as if he had written it himself ...
The letter is from Oxford, from James, announcing that everything is at an end between himself and Isabella; James believes that Isabella has become engaged to Henry's brother Captain Tilney. After a period of sorrowful reflection, and rather to her own surprise, Catherine finds herself confiding in her young friends.
' Miss Tilney ... began to inquire into Miss Thorpe's connections and fortune.
    "Are they a wealthy family?"
    "No, not very. I do not believe Isabella has any fortune at all: but that will not signify in your family. Your father is so very liberal! He told me the other day that he only valued money as it allowed him to promote the happiness of his children."
    The brother and sister looked at each other.
    "But," said Eleanor, after a short pause, "would it be to promote his happiness, to enable him to marry such a girl? She must be an unprincipled one, or she could not have used your brother so. And how strange an infatuation on Frederick's side! A girl who, before his eyes, is violating an engagement voluntarily entered into with another man! Is not it inconceivable, Henry? Frederick too, who always wore his heart so proudly! Who found no woman good enough to be loved!"
    "That is the most unpromising circumstance, the strongest presumption against him ... Moreover, I have too good an opinion of Miss Thorpe's prudence to suppose that she would part with one gentleman before the other was secured. It is all over with Frederick indeed!"
    ...
    "You think it is all for ambition, then? And, upon my word, there are some things that seem very like it. I cannot forget that, when she first knew what my father would do for them, she seemed quite disappointed that it was not more." '
Citations from Volume II, Chapter Ten [ch 25 of 31]
In the next chapter Eleven of Volume II [ch 26 of 31],
' Catherine found, with some surprise, that her two young friends were perfectly agreed in considering Isabella's want of consequence and fortune as likely to throw great difficulties in the way of her marrying their brother. Their persuasion ... turned her feelings moreover with some alarm towards herself. She was as insignificant, and perhaps as portionless, as Isabella; and if the heir of the Tilney property had not grandeur and wealth enough in himself, at what point of interest were the demands of his younger brother to rest?
    The very painful reflections to which this thought led could only be dispersed by a dependence on the effect of that particular partiality, which, as she was given to understand by his words as well as his actions, she had from the first been so fortunate as to excite in the general; and by a recollection of some most generous and disinterested sentiments on the subject of money, which she had more than once heard him utter, and which tempted her to think his disposition in such matters misunderstood by his children. '
Citations from Volume II, Chapter Eleven [ch 26 of 31]
It takes a very unexpected letter some days later from Isabella to solve the puzzle:— contrary to Henry's expectations of Isabella's sufficient prudence not to part with one gentleman before the other was secured, Isabella's apparent insufficient prudence, combined with an excess of vanity, has caused her to rid herself of James only to see Captain Tilney spend the final two days of his leave
' "... always by the side of Charlotte Davis; I pitied his taste, but took no notice of him ... such a contrast between him and your brother!"
And perhaps we may infer, from Isabella's request that Catherine furnish her with James's address, that Bath has become distressingly short of eligible young men, and that the season is drawing rapidly to a close with no attractive proposal in hand ...
' "I wear nothing but purple now: I know I look hideous in it, but no matter — it is your dear brother's favourite colour: Lose no time, my dearest, sweetest Catherine, in writing to him and to me, Who ever am, etc"
    Such a strain of shallow artifice could not impose even upon Catherine. Its inconsistencies, contradictions, and falsehood struck her from the very first. She was ashamed of Isabella, and ashamed of having ever loved her. Her professions of attachment were now as disgusting as her excuses were empty, and her demands impudent. "Write to James on her behalf! No, James should never hear Isabella's name mentioned by her again."
   On Henry's arrival from Woodston, she made known to him and Eleanor their brother's safety, congratulating them with sincerity on it, and reading aloud the most material passages of her letter with strong indignation.
    When she had finished it — "So much for Isabella," she cried, "and for all our intimacy! She must think me an idiot, or she could not have written so; but perhaps this has served to make her character better known to me than mine is to her ..." '
  Citations from Volume II, Chapter Twelve [ch 27 of 31]
In my webpages dealing with Sense and Sensibility Part 4: Architecture and Absences, I suggest that Jane Austen's Novel describes two types of Envy: of the Powerless, comprised of Elinor Dashwood and John Willoughby; and Envy of the Powerful, being the quartet of Lucy and Robert Ferrars, Mrs. Ferrars, and Fanny Dashwood. I believe a similar division to be at work in Northanger Abbey, not necessarily as structure, or Architecture, but as simple description of the workings of the particular Deadly Sin.
Avarice of the Portionless.
As previously described, the two Thorpes display the simpler forms of Avarice, namely covetousness, and acquisitiveness, which can be acknowledged as understandable, if not entirely forgiven.
Avarice of the Richly Endowed.
And what is there to say in justification of General Tilney's greedy, grasping, and avaricious behaviour? Especially when we are given a thorough description, through the awed viewpoint of the unpretentious Catherine Morland, of the architectural splendours of Northanger Abbey, and of the vast numbers of hovering servants to carry out the slightest command of its implacably demanding owner?
Of course the reader is aware that General Tilney's regard for Catherine is by no means as disinterested as she believes, and we await the inevitable unpleasantness to come.
' Soon after this, the general found himself obliged to go to London for a week; and he left Northanger earnestly regretting that any necessity should rob him even for an hour of Miss Morland's company, and anxiously recommending the study of her comfort and amusement to his children as their chief object in his absence.
    His departure gave Catherine the first experimental conviction that a loss may be sometimes a gain. The happiness with which their time now passed, every employment voluntary, every laugh indulged, every meal a scene of ease and good humour, walking where they liked and when they liked, their hours, pleasures, and fatigues at their own command, made her thoroughly sensible of the restraint which the general's presence had imposed, and most thankfully feel their present release from it.
    ...
    Henry was not able to obey his father's injunction of remaining wholly at Northanger in attendance on the ladies, during his absence in London, the engagements of his curate at Woodston obliging him to leave them on Saturday for a couple of nights.
Of course the General returns to Northanger at
' eleven o'clock, rather a late hour at the abbey ... on the day of Henry's departure.
Eleanor believes it to be her eldest brother Captain Tilney who has arrived, and hurries down to welcome him. We are shocked, but not surprised, when a greatly agitated Eleanor announces:—
' "Ah, Catherine ... how can I tell you? — tomorrow morning is fixed for your leaving us, and not even the hour is left to your choice; the very carriage is ordered, and will be here at seven o'clock, and no servant will be offered you ... "
    "Dear, dear Catherine, in being the bearer of such a message, I seem guilty myself of all its insult; yet, I trust you will acquit me, for you must have been long enough in this house to see that I am but a nominal mistress of it, that my real power is nothing."
    "Have I offended the general?" said Catherine in a faltering voice.
    "Alas! For my feelings as a daughter, all that I know, all that I answer for, is that you can have given him no just cause of offence. He certainly is greatly, very greatly discomposed; I have seldom seen him more so. His temper is not happy, and something has now occurred to ruffle it in an uncommon degree; some disappointment, some vexation, which just at this moment seems important, but which I can hardly suppose you to have any concern in, for how is it possible? "
Even more important than apologies, Eleanor recollects that
' after so long an absence from home, Catherine might not be provided with money enough for the expenses of her journey, and, upon suggesting it to her with most affectionate offers of accommodation, it proved to be exactly the case. Catherine had never thought on the subject till that moment, but, upon examining her purse, was convinced that but for this kindness of her friend, she might have been turned from the house without even the means of getting home; and the distress in which she must have been thereby involved filling the minds of both, scarcely another word was said by either during the time of their remaining together ... '
Citations from Volume II, Chapter Thirteen [ch 28 of 31]
I will leave the resolution of the Plot to the webpage where it belongs, namely Part 3: Fairy Tale and Happily Ever After. Of course the execrable John Thorpe is at fault for Catherine's difficulties, first in leading the general to believe that Catherine is rich beyond compare on her own account, as well as being the acknowledged heiress of the childless Mr. and Mrs. Allen. And now he has exaggerated her lack of fortune in equal manner, alleging of her family that
' They were, in fact, a necessitous family; numerous, too, almost beyond example; by no means respected in their own neighbourhood, as he had lately had particular opportunities of discovering; aiming at a style of life which their fortune could not warrant; seeking to better themselves by wealthy connections; a forward, bragging, scheming race.
    The terrified general pronounced the name of Allen with an inquiring look; and here too Thorpe had learnt his error. The Allens, he believed, had lived near them too long, and he knew the young man on whom the Fullerton estate must devolve. The general needed no more. Enraged with almost everybody in the world but himself, he set out the next day for the abbey, where his performances have been seen. '
Volume II, Chapter Fifteen [ch 30 of 31]
In the final chapter the general is prevailed upon to realise that
' he had been scarcely more misled by Thorpe's first boast of the family wealth than by his subsequent malicious overthrow of it; that in no sense of the word were they necessitous or poor, and that Catherine would have three thousand pounds. This was so material an amendment of his late expectations that it greatly contributed to smooth the descent of his pride; and by no means without its effect was the private intelligence, which he was at some pains to procure, that the Fullerton estate, being entirely at the disposal of its present proprietor, was consequently open to every greedy speculation. '
Volume II Chapter Sixteen [ch 31 of 31]
*   *   *   *   *
'Aura'
We come now to my stated belief that each of the chosen Deadly Sins has imparted its own distinctive 'Aura' to its relevant Novel, as mentioned in Pride and Prejudice, Part 2: Pride ... And 'Aura'.
I go on to prove to my own satisfaction that the tone or Aura of Sense and Sensibility is page upon page of insurmountable disdain for others combined with a total lack of anything resembling genuineness on the part of heroine/narrator Elinor Dashwood ... In other words, that the Deadly Sin of Envy has imparted its distinctive Aura to the pages of Jane Austen's Novel, as described in my webpage Sense and Sensibility, Part 1.
And from my reflection that the tone, or Aura, of Northanger Abbey is one of great simplicity, even innocence, then it seems to follow that the Deadly Sin of Avarice is sufficiently uncomplicated to require only a minimum of Characters and turnings and twistings of Plot for purposes of demonstration. It seems obvious that a more experienced and less self-deprecating heroine than Catherine Morland would have discerned more rapidly the covetousness of the Thorpes, sister and brother, to say nothing of the surpassing greed of General Tilney. — More rapidly, perhaps, but hardly as effectively, if my theory be true.
Is it coincidence that an essential feature both of Envy in Sense and Sensibility, and of Avarice in Northanger Abbey, is extreme artificiality and pretentiousness? General Tilney is certainly no less shallow and mendacious than Isabella Thorpe at her most overwrought and superficial, causing our innocent and credulous heroine Catherine Morland occasion for much wonderment:—
' But the inexplicability of the general's conduct dwelt much on her thoughts. That he was very particular in his eating, she had, by her own unassisted observation, already discovered; but why he should say one thing so positively, and mean another all the while, was most unaccountable! How were people, at that rate, to be understood? '
    Northanger Abbey, Volume II Chapter Eleven [ch 26 of 31]
It seems strange at first glance that the contrary virtue of generosity should prove so evident in all three of Jane Austen's first Novels, but perhaps generosity is the opposite of both Envy, and Avarice, among other sins, and Pride exists in so many conflicting manifestations that it becomes impossible to furnish the convenience of one coherent opposite.
' Henry and Eleanor, perceiving nothing in [Catherine's] situation likely to engage their father's particular respect, had seen with astonishment the suddenness, continuance, and extent of his attention; and though latterly, from some hints which had accompanied an almost positive command to his son of doing everything in his power to attach her, Henry was convinced of his father's believing it to be an advantageous connection, it was not till the late explanation at Northanger that they had the smallest idea of the false calculations which had hurried him on. '
        Volume II Chapter Fifteen [ch 30 of 31]
I have been unable to discern with any exactness, from the pages of Austen's Novel, the precise conclusions drawn by Henry and Eleanor regarding their father's undignified, almost grovelling treatment of their young visitor Catherine Morland. But from the fact that she has been conveyed to Bath as a guest of the Allens, who appear to be (and actually are) extremely wealthy, and further that Mr. Allen has himself brought her to the Tilney house in Bath's Milsom Street for the journey to Northanger Abbey, perhaps they too assume that she is destined to inherit the considerable estate of the childless couple.
And it's not impossible they have no wish to inquire too deeply, when both Henry and Eleanor are enjoying the presence of such an easily entertained guest. We have to assume that inviting friends to stay at Northanger might not be entirely pleasant, and indeed Henry has hinted as much in an earlier chapter as he drove in his curricle with Catherine on the way to Northanger:—
' To be driven by him, next to being dancing with him, was certainly the greatest happiness in the world. In addition to every other delight, she had now that of listening to her own praise; of being thanked at least, on his sister's account, for her kindness in thus becoming her visitor; of hearing it ranked as real friendship, and described as creating real gratitude. His sister, he said, was uncomfortably circumstanced — she had no female companion — and, in the frequent absence of her father, was sometimes without any companion at all.
    "But how can that be?" said Catherine. "Are not you with her?"
    "Northanger is not more than half my home; I have an establishment at my own house in Woodston, which is nearly twenty miles from my father's, and some of my time is necessarily spent there."
    "How sorry you must be for that!"
    "I am always sorry to leave Eleanor."
    "Yes; but besides your affection for her, you must be so fond of the abbey! After being used to such a home as the abbey, an ordinary parsonage-house must be very disagreeable."
    He smiled, and said, "You have formed a very favourable idea of the abbey." '
    Northanger Abbey, Volume II Chapter Five [ch 20 of 31]
Of course Catherine's simple enjoyment in the company of Henry and Eleanor Tilney shines from every page; we learn to share her admiration for Henry and her artless pleasure in learning how to laugh, as educated adults of a certain refinement know how to laugh. Not at others, in the unkind manner of Pride and Prejudice's Bingley sisters, but with and at oneself, in the company of sympathetic companions, which is always instructive.
And for all Catherine Morland's demonstrated innocence and inexperience, she also gives evidence of a great deal of shewdness:—
' Miss Tilney ... seemed capable of being young, attractive, and at a ball without wanting to fix the attention of every man near her, and without exaggerated feelings of ecstatic delight or inconceivable vexation of every little trifling occurrence. '
    Northanger Abbey, Volume I Chapter Eight
In other words, confronted early in the Novel with the example of Eleanor Tilney's innate good manners, Catherine has sufficient intelligence to acknowledge the wide chasm between Isabella Thorpe's pious words, and flighty conduct.
*   *   *   *   *
And now to move on to an examination of Northanger Abbey, Part 2: Theme, Characters, Plot in the next webpage.
Details of and links to all Austen-Novel Pictures are found either in the Pictures 3B or the present Pictures 3B Group II webpages.

This Page:— Northanger Abbey Part One: The Deadly Sin of Avarice, and 'Aura'

JMW Turner, circa 1818
Title: Otley Lodge and Bridge designed by Turner
Medium: Bodycolour on paper
Dimensions: Support 329 x 444 mm
Private Collection, Turner Worldwide
Reference: TW0241, Wilton 588


JMW Turner, 1827
Title: Bedroom with Japanese Laquer Cabinet: A Bed with Yellow Curtains Turner Bequest CCXLIV 72 1827
Medium: Gouache and watercolour on paper;
Dimensions: Support 141 x 194 mm
Collection: Tate, Accepted by the nation as part of the Turner Bequest 1856
View by appointment at Tate Britain's Prints and Drawings Room
Reference D22734 Turner Bequest CCXLIV 72 1827
JMW Turner, 1827
Title: At Petworth: Morning Light through the Windows
Medium: Gouache and watercolour on paper
Dimensions: support: 140 x 191 mm
Collection: Tate, Accepted by the nation as part of the Turner Bequest 1856
View by appointment at Tate Britain's Prints and Drawings Room
Reference: D22774 Turner Bequest CCXLIV 112


JMW Turner, 1827
Title: The North Gallery at Night: Figures Contemplating Flaxman's Statue, 'St Michael Overcoming Satan'
Medium: Ink, watercolour and bodycolour on paper
Dimensions: support: 141 x 192 mm
Collection: Tate, Accepted by the nation as part of the Turner Bequest 1856
View by appointment at Tate Britain's Prints and Drawings Room
Reference: D22687

    [WebPage last amended January 23rd, 2014]
________________________
Northanger Abbey Part 1: The Deadly Sin of Avarice, and 'Aura'
Sandsifter Five Main Page
The Novels of Jane Austen – Home Page 3B
Sense and Sensibility Part 4: Architecture ... and Absences
Northanger Abbey Part 2: Theme, Characters, Plot