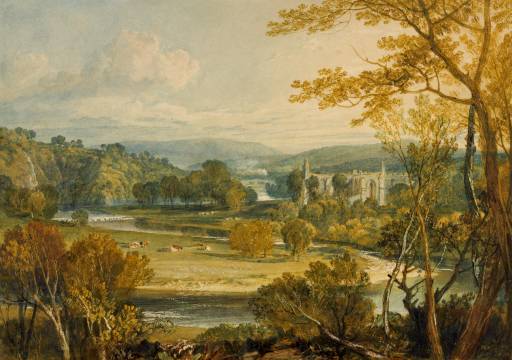 Northanger Abbey, Part 2
Theme, Characters, Plot
I've tried to follow Jane Austen's Novels as they were begun rather than published, which has the convenient effect of examining the prickly and uncomfortable Sense and Sensibility between two extremely witty and pleasing books in Pride and Prejudice, her first, and Northanger Abbey considered third, leaving Lady Susan for contemplation at a later date.
With what relief must have Jane Austen moved forward to her portrayal of Northanger Abbey's Catherine Morland, as candid and intelligent and honest as the previous heroine/narrator was secretive, blinded by envy, and false in all things.
Chapter One of the Novel Pride and Prejudice begins in the Bennet home with conversation between Mr. and Mrs. Bennet, broadening in Chapter Two to include their five daughters. One of the most important features of this Novel occurs in Volume III when Elizabeth visits Pemberley House with her beloved Uncle and Aunt Gardiner; they are shown the inside public rooms by the elderly housekeeper.
"And of this place," thought she, "I might have been mistress! ... I might have rejoiced in [these rooms] as my own, and welcomed to them as visitors my uncle and aunt. But no,"— recollecting herself — ... "My uncle and aunt would have been lost to me; I should not have been allowed to invite them."
    This was a lucky recollection — it saved her from something very like regret.
    Pride and Prejudice, Volume III Chapter One [ch. 43 of 61]
The Novel ends with Elizabeth content in the certainty that she is to retain in marriage all that is dear to her, and Darcy and Pemberley besides.
Sense and Sensibility starts with a rather querulous enumeration of Elinor Dashwood's claims, switching to a brisk and energetic (and extremely funny) Chapter Two as Fanny Dashwood settles herself at Norland and begins her campaign to reduce to nothing the amount promised to the bereaved Dashwood ladies by her husband to his father on the latter's deathbed.
The final words of this Novel read as follows:—
' ... Among the merits and the happiness of Elinor and Marianne, let it not be ranked as the least considerable, that though sisters, and living almost within sight of each other, they could live without disagreement between themselves, or producing coolness between their husbands. '
    Sense and Sensibility, Volume III Chapter Fourteen [ch. 50 of 50]
If those two earlier Novels fasten their heroine/narrators from first to last securely into their backgrounds, Northanger Abbey portrays the young Catherine as a budding plant set apart from, rather than integrated into the encompassing family garden of loving if distracted parents of ten children. In fact, Chapter One ends with Catherine all happiness as she alone is invited to visit Bath in the company of the family's wealthy neighbours Mr. and Mrs. Allen.
And consequently the reader is warned in advance that unlike the first two Novels, Northanger Abbey is unlikely to end with Catherine back in the bosom of her family of fond parents, three older brothers, and six other children younger than herself, and that the busy life at Fullerton will continue without Catherine as a necessary part.
*   *   *   *   *
Theme:—
As stated before in these webpages, the following are necessary elements in assembling a Novel or any other work of fiction:—
— Theme;
— proper Characters to illustrate it;
— Plot, in which Theme and Characters are called upon to reveal their essence by action and reaction; by thought, and word, and deed, meticulously examined and described;
The Theme of Jane Austen's Novel Northanger Abbey is readily available to an attentive reader:—
How to discern the genuine and the invaluable amid the thrill and glamour and urgent artificiality of polite society.
Not very different from our own concerns today, if truth be told, as it so seldom is.
And because heroine Catherine Morland is only seventeen and utterly inexperienced in the ways of the fashionable environs of Bath, we learn the sometimes bitter lessons to be imparted by the Novel as she does, which is to say by slow degrees rather than Pride and Prejudice's sudden blinding revelation.
And because heroine Catherine Morland lacks Elizabeth Bennet's sanguine confidence in her ability to sum up another person's character, Catherine is hurt and bewildered, rather than mortified, by her dawning realisation that flattery is not the same as friendship, that pleasing appearances often differ wildly from inhospitable reality, and that unimaginable cruelty can be heaped upon those unfortunate persons who fail to answer the troublesomely insistent needs of the avaricious.
Like the verses from Ecclesiastes 3, To every thing there is a season, mentioned earlier in regard to the 1995 film of Sense and Sensibility, the Theme of Northanger Abbey contains its own opposite, with the result that we expect the Novel to be necessarily of a great simplicity, deep rather than wide.
*   *   *   *   *
Characters:—
In the first section of these Austen Novel webpages Pride and Prejudice Part One: Theme, Characters, Plot, we listed some of the many characters chosen to illustrate the theme of that masterpiece, which is intelligence and wit, and its opposite, foolishness and stupidity. In that Novel Jane Austen introduces her characters by twos:— Mr. and Mrs. Bennet, Elizabeth and Jane, Darcy and Bingley, the Bingley sisters Caroline and Louisa, Mr. Collins and Mr. Wickham.
Northanger Abbey is a very different Novel, with a very different Theme, and so in need of very different characters for purposes of illustration. The first chapter of the Novel, therefore, begins in a rather critical description of Catherine alone, with other characters to be added one by one in subsequent pages as they are encountered.
But it seems as though Jane Austen is dissatisfied with that early depiction of Catherine's defects as heroine of a Gothic horror Novel, since she devotes the first paragraph of Chapter Two to supplying a more exact (and sympathetic) portrayal:—
In addition to what has been already said of Catherine Morland's personal and mental endowments, when about to be launched into all the difficulties and dangers of a six weeks' residence in Bath, it may be stated, for the reader's more certain information, lest the following pages should otherwise fail of giving any idea of what her character is meant to be, that her heart was affectionate; her disposition cheerful and open, without conceit or affectation of any kind — her manners just removed from the awkwardness and shyness of a girl; her person pleasing, and, when in good looks, pretty — and her mind about as ignorant and uninformed as the female mind at seventeen usually is.
The remainder of Chapter Two occupies itself in describing Catherine's first visit to the ballroom in Bath in the company of her inescapably silly and vain hostess Mrs. Allen, where Catherine's initial frustration at longing to dance but having no acquaintance in the room is alleviated by being
looked at with some admiration; for, in her own hearing, two gentlemen pronounced her to be a pretty girl. Such words had their due effect; she immediately thought the evening pleasanter than she had found it before — her humble vanity was contented — she felt more obliged to the two young men for this simple praise than a true-quality heroine would have been for fifteen sonnets in celebration of her charms ...
        Northanger Abbey, citations from Volume I, Chapter Two
Unlike Pride and Prejudice's Elizabeth Bennet, unlike Sense and Sensibility's Dashwood sisters, Catherine Morland lacks the lifelong conviction of being beautiful which lends such unconscious strength to those other heroines as they encounter unknown personages and unforeseen situations into which they are propelled as strangers. In fact, Northanger Abbey's Catherine Morland is described as having been a girl who has been looking plain the first fifteen years of her life [Chapter One], and her simple surprise and pleasure and gratitude at this mild compliment will be echoed many times over in the Novel.
In Chapter Three, Catherine's failure to secure a dance partner is rectified finally as
fortune was more favourable to our heroine. The master of the ceremonies introduced to her a very gentlemanlike young man as a partner; his name was Tilney. He seemed to be about four or five and twenty, was rather tall, had a pleasant countenance, a very intelligent and lively eye, and, if not quite handsome, was very near it ... and there was an archness and pleasantry in his manner which interested, though it was hardly understood by her ...
A very intelligent and lively eye ... Most of us are so self-conscious and self-absorbed that we have little time and attention for what is going on around us except as it concerns ourselves alone to our cost or benefit. Mr. Tilney on the contrary seems to be one of those rare people able to interest themselves in everything and everyone about them, including the muslin dresses worn by Catherine and Mrs. Allen, declaring that his sister
"has often trusted me in the choice of a gown. I bought one for her the other day, and it was pronounced to be a prodigious bargain by every lady who saw it."
    Mrs. Allen was quite struck by his genius.
Mrs. Allen begins to talk at length of the delights of shopping in Bath;—
Mr. Tilney was polite enough to seem interested in what she said; and she kept him on the subject of muslins till the dancing recommenced. Catherine feared, as she listened to their discourse, that he indulged himself a little too much with the foibles of others.
    "What are you thinking of so earnestly?" said he, as they walked back to the ballroom; "not of your partner, I hope, for, by that shake of the head, your meditations are not satisfactory."
    Catherine coloured, and said, "I was not thinking of anything."
Mr. Tilney perseveres, but she refuses to answer. I wonder if the phrase indulged himself a little too much should be taken to mean that Catherine suspects Mr. Tilney of laughing inwardly and perhaps unkindly at Mrs. Allen? Perhaps he demonstrates a little of Mr. Bennet's ironical enjoyment of the idiocyncracies and inconsistencies revealed in the conversation of those he encounters?
In her description of Pride and Prejudice's Mr. Bennet, Jane Austen is at pains to demonstrate that his sharpest barbs are reserved for himself; now that she is dealing with the very different Henry Tilney, we are shown clearly that Mr. Tilney's conversation is amusing rather than ironical. He is also very present in contrast to Mr. Bennet's congenital aloofness. And perhaps Mr. Tilney gives evidence already of a certain courage in not being afraid to be laughed at, which Mr. Bennet should admire, if we accept as truthful his funniest words:—
' "For what do we live, but to make sport for our neighbours, and laugh at them in our turn?'" '
      Pride and Prejudice, Volume III Chapter 15 [ch. 57 of 61]
Nevertheless we — and Catherine — have been warned that Mr. Tilney has a sharp eye that misses nothing, not even a shake of the head that follows her inward thoughts.
They danced again; and, when the assembly closed, parted, on the lady's side at least, with a strong inclination for continuing the acquaintance.
We haven't met anyone quite like Henry Tilney before in the pages of Jane Austen's Novels, and share Catherine's strong inclination for continuing the acquaintance. The chapter ends with the information that Catherine's conscientious host Mr. Allen
had early in the evening taken pains to know who her partner was, and had been assured of Mr. Tilney's being a clergyman, and of a respectable family in Gloucestershire.
    Northanger Abbey, Citations from Volume I, Chapter Three
Since we have so recently left behind Austen's Sense and Sensibility, we are gratified by Mr. Allen's meticulous sense of responsibility toward his young charge, so different from the shameful dereliction or wilful neglect of duty exhibited toward Colonel Brandon's young ward, in this very city of Bath, by the friend's father who compounded the initial error by persisting in it even when informed of the truth. On the other hand, Chapter 28 [of 31] near the end of this very Novel will feature a character acting neither honourably nor feelingly — neither as a gentleman nor as a parent toward our blameless heroine Catherine Morland.
Chapter Four contains a number of extremely funny paragraphs, beginning with the first:—
With more than usual eagerness did Catherine hasten to the pump-room the next day, secure within herself of seeing Mr. Tilney there ... but Mr. Tilney did not appear. Every creature in Bath, except himself, was to be seen ... people whom nobody cared about, and nobody wanted to see; and he only was absent.
If Catherine is disgruntled, Mrs. Allen is more fortunate in meeting Mrs. Thorpe, a former schoolfellow and intimate, and Catherine is introduced to Mrs. Thorpe's three daughters, the eldest and most handsome of whom, Isabella, shows interest in becoming Catherine's great friend as soon as she hears the name Morland, and Catherine remembers that her eldest brother James
had lately formed an intimacy with a young man of his own college, of the name of Thorpe; and that he had spent the last week of the Christmas vacation with his family, near London.
The beautiful Miss Isabella Thorpe is four years older than Catherine,
and at least four years better informed ... she could compare the balls of Bath with those of Tunbridge, its fashions with the fashions of London; could rectify the opinions of her new friend in many articles of tasteful attire ...
    Northanger Abbey, Citations from Volume I, Chapter Four
Those of us who remember being seventeen can well imagine Catherine's delight at being chosen to become best friend and bosom companion of the charming and animated and desirable Isabella Thorpe.
Catherine continues to watch for the elusive Mr. Tilney in Chapters Five and Six, and would undoubtedly have continued to do so in Chapter Seven had not her attention been diverted by the arrival in Bath of a gig containing her brother James and Isabella's brother John Thorpe, the latter a thoroughly rude and singularly nasty young man who immediately attaches himself to Catherine and announces his intention to drive her out in his open carriage every day, beginning with a drive up Lansdowne Hill the next day, and further
engaging her before they parted to dance with him that evening.
Her brother James being of a very amiable disposition, and sincerely attached to Catherine, accepts her stated gratitude that he has come so far for no other reason than to see his younger sister,
and qualified his conscience ... by saying with perfect sincerity, "Indeed, Catherine, I love you dearly."
    Citations from Volume I, Chapter Seven
Catherine of course is too engrossed in her own feelings to notice that her brother is quite captivated by Miss Thorpe, who shows clear signs of reciprocation.
Chapter Eight contains a sequence of those cruel ironies which are a specialty of unkind fate, in life as in literature, as Catherine suffers the mortification of being forced to sit with Mrs. Thorpe and Mrs. Allen and sharing with the scores of other young ladies still sitting down all the discredit of wanting a partner, since John Thorpe had disappeared into the card room upon their arrival at the Upper Rooms.
Isabella sustains her friend for a full three minutes before leaving to dance with Catherine's brother James. Of course Mr. Tilney now appears with a fashionable and pleasant-looking young woman on his arm ... whom Catherine immediately guessed to be his sister. And of course he asks Catherine to dance and she is forced to refuse, a half minute before Thorpe reappears. Fortunately an acquaintance asks if Miss Tilney can join the dance beside an overjoyed Catherine, which makes up somewhat for Mr. Tilney finding another partner.
Miss Tilney had a good figure, a pretty face, and a very agreeable countenance, and her air, though it had not all the decided pretension, the resolute stylishness of Miss Thorpe's, had more real elegance. Her manners showed good sense and good breeding; they were neither shy nor affectedly open; and she seemed capable of being young, attractive, and at a ball without wanting to fix the attention of every man near her, and without exaggerated feelings of ecstatic delight or inconceivable vexation of every little trifling occurrence.
    Volume I Chapter Eight
In Chapter Ten Catherine is finally free to dance again with Mr. Tilney, and we find that he is as intelligent and amusing as we had hoped. It is also obvious that Mr. Tilney finds endearing Catherine's simplicity and unpretentious delight in being in Bath,
"If I could but have Papa and Mamma, and the rest of them here, I suppose I should be too happy!" ...
    Soon after their reaching the bottom of the set, Catherine perceived herself to be earnestly regarded by a gentleman who stood among the lookers on ... He was a very handsome man, of a commanding aspect, past the bloom, but not past the vigour of life ... Her partner, coming nearer, said ... "That gentleman knows your name, and you have a right to know his. It is General Tilney, my father." ...
    With real interest and strong admiration did her eye now follow the general, as he moved through the crowd, and "How handsome a family they are!" was her secret remark.
    Citations from Volume I, Chapter Ten
The only character remaining to be introduced is Captain Frederick Tilney, a very fashionable-looking handsome young man, elder brother of Henry and Eleanor, who enters the literary picture in Chapter Sixteen, following the preceding Chapter Fifteen's announcement of the engagement of Isabella Thorpe to Catherine's elder brother James. James has left Bath to return home to inform their parents of his impending marrige and to learn what amount he can expect to be provided for the support of himself and his intended bride.
Isabella has declared that, with James absent, she is unwilling to dance, and although Captain Tilney is informed of this circumstance, he still approaches Isabella, and is accepted, to Catherine's amazed distress.
"I cannot think how it could happen! Isabella was so determined not to dance."
    Volume I Chapter Sixteen
Henry professes himself unsurprised by his brother's actions, and leaves to Catherine the burden of judging — or choosing not to judge — her friend and prospective sister-in-law Isabella Thorpe.
When we remember the manner in which Pride and Prejudice's Elizabeth Bennet teases even her beloved sister Jane over the latter's propensity to think well of everyone, there seems to me little doubt but that Catherine Morland's innocent credulity would be met with caustic amusement by the outspoken Bennets, but sauve qui peut and no time for niceties when we are reminded of the extreme vulnerability of the Bennet family, and their situation like castaways chained together at the edge of a precipice, where one misstep by any member will send the entire group hurtling into the abyss.
We have now met those characters chosen by Jane Austen to illustrate the Theme of Northanger Abbey earlier mentioned, which I believe to be the following:—
How to discern the genuine and the invaluable amid the thrill and glamour and urgent artificiality of polite society.
And though the Characters are introduced one by one, they set about immediately sorting themselves into pairs, that meet and swirl and reconnect as if upon the dance floor at Bath:— Catherine and Isabella, Catherine and Henry, Henry and Eleanor, Isabella and James, John Thorpe and General Tilney, Isabella and Captain Frederick Tilney, Catherine and James, Catherine and General Tilney, Catherine and John Thorpe, the last duo being in spite of Catherine's frustrated attempts to avoid the awkward manipulations of the 'gentleman'.
By the final chapters of the Novel, and to Catherine's ecstatic pleasure, the pairs or duos have devolved to a trio, of herself and her beloved Henry, and Henry's much admired and estimable sister Eleanor. A charming threesome that balances the formidable avaricious triad of Isabella and John Thorpe, and General Tilney.
*   *   *   *   *
Plot:—
Jane Austen's Novel Northanger Abbey is so clear and straightforward that describing even the sequential elements of Plot requires much consideration since each paragraph contains so much that might be suited better to another webpage, to Deadly Sin, for example, or to structure or Architecture, and in particular to Fairy Tale, with its transformative once upon a lifetime journey first to Bath and then to Northanger Abbey.
Of course the best novels are knit together so closely that Theme, Characters and Plot are indistinguishable one from the other. Among the elements of Northanger Abbey clearly pertaining to Plot alone, the final paragraph of Chapter One reads as follows:—
Mr. Allen, who owned the chief of the property about Fullerton, the village in Wiltshire where the Morlands lived, was ordered to Bath for the benefit of a gouty constitution — and his lady, a good-humoured woman, fond of Miss Morland, and probably aware that if adventures will not befall a young lady in her own village, she must seek them abroad, invited her to go with them. Mr. and Mrs. Morland were all compliance, and Catherine all happiness.
    Northanger Abbey, Volume I, Chapter One
Of one thing there is no doubt: more information is contained in the first three chapters of Northanger Abbey than in the entire fifty chapters of Austen's earlier Novel Sense and Sensibility. By information I mean the type of six honest serving-men
(They taught me all I knew);
    Their names are What and Why and When
    And How and Where and Who
described in Kipling's The Elephant's Child as part of his 1902 Just So Stories:—
Why? a trip of six weeks' duration, to
Where? namely Bath in the company of the Allens, is a treat beyond words to
Who? but to a young lady who has lived her entire life in the country;
What? it's like to be at the pump-room waiting to be asked to dance;
When? the dance is organised, which appears to be after the serving of tea; and lastly and of critical importance:—
How? an introduction to a prospective partner is performed — in this case by the master of ceremonies, and obviously at the request of the gentleman.
The remainder of the Novel is equally clear and informative, as we saw in the previous webpage devoted strictly to Northanger Abbey's Deadly Sin of Avarice, and 'Aura'.
After the dance in Chapter Ten, Catherine has arranged with Henry and Eleanor Tilney to go for a country walk — as long as it doesn't rain — but Chapter Eleven sees Catherine being assured by John Thorpe that he has heard Henry express to a friend his intention of driving in another direction, and consents to the proposed carriage drive with a great deal of doubt and reluctance. Isabella is to accompany them with James in James's hired carriage, and pronounces herself in such ecstacies at the treat in store:—
"We shall drive directly to Clifton and dine there; and, as soon as dinner is over, if there is time for it, go on to Kingsweston."
    "I doubt our being able to do so much," said Morland.
    "You croaking fellow!" cried Thorpe. "We shall be able to do ten times more. Kingsweston! Aye, and Blaize Castle too, and anything else we can hear of; but here is your sister says she will not go."
    "Blaize Castle!" cried Catherine ... "What is it really a castle, an old castle?"
    "The oldest in the kingdom."
    "But is it like what one reads of? ... are there towers and long galleries?"
    "By dozens."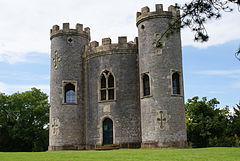 Blaise Castle! as found on Wikipedia
    The Castle at Blaise Castle Estate, mid-July 2008

Of course they fail to reach Clifton in time for dinner, but even had they accomplished their entire proposed itinerary, it would have been for Catherine to discover that Blaize (acually Blaise) Castle is a fake, a literal folly. Even worse, Catherine has seen Henry and Eleanor on their way to meet her for the proposed walk.
But to what purpose did she speak? Thorpe only lashed his horse into a brisker trot; the Tilneys, who had soon ceased to look after her, were in a moment out of sight round the corner of Laura Place, and in another moment she was herself whisked into the marketplace.
We have studied three Jane Austen Novels, and met three pathological liars, whose treacherous words propel the action of their relevant plot into unforeseen avenues. In spite of their manifest sins, I must express a preference for Wickham and Willoughby over the present Novel's John Thorpe. At least for a chapter or two we are charmed by the beguiling mannerisms of those first two villains.
In Chapter Twelve, an unhappy Catherine accompanies the Allens to the theatre, and sees Henry Tilney and his father joining a party in the opposite box, recalling her to anxiety and distress.
' Catherine was restlessly miserable; she could almost have run round to the box in which he sat and forced him to hear her explanation. Feelings rather natural than heroic possessed her; instead of considering her own dignity injured by this ready condemnation — instead of proudly resolving, in conscious innocence, to show her resentment towards him who could harbour a doubt of it, to leave to him all the trouble of seeking an explanation, and to enlighten him on the past only by avoiding his sight, or flirting with somebody else — she took to herself all the shame of misconduct, or at least of its appearance, and was only eager for an opportunity of explaining its cause.
Henry joins the Allens at the end of the play, and Catherine makes her abject apologies in person.
' " ... if Mr. Thorpe would only have stopped, I would have jumped out and run after you."
    Is there a Henry in the world who could be insensible to such a declaration? Henry Tilney at least was not. '
        Citations from Volume I, Chapter Twelve
To me, the most important event of the Novel Northanger Abbey has occurred in Chapter Eight when Catherine is obliged to refuse the opportunity to dance a second time with Henry Tilney because of that prior promise to John Thorpe, who hasn't even stayed to dance but disappeared into the card room to speak to a friend.
And perhaps virtue is indeed its own reward. Because it appears that once that unpleasant duty has been discharged, Catherine is impervious to the pressure placed upon her in Chapter Thirteen by the importunate trio of Isabella and John Thorpe, aided by her brother James, all of whom have decided to resume the trip to Clifton that had been interrupted earlier. Catherine's
agreement was demanded; but instead of the gay acquiescence expected by Isabella, Catherine looked grave, was very sorry, but could not go.
    "Do not urge me, Isabella. I am engaged to Miss Tilney. I cannot go." This availed nothing. The same arguments assailed her again; she must go, she should go, and they would not hear of a refusal ...
    Isabella became only more and more urgent ...
It's obvious that Isabella is an expert in getting her own way, employing every technique between endearments and reproaches, and when words prove unavailing, holding a handkerchief to her eyes as if in silent tears. We must admit to a grudging respect for a resolute seventeen-year-old placed in such an uncomfortable position by three persons including a beloved older brother.
"I did not think you had been so obstinate, Catherine," said James ... "you once were the kindest, best-tempered of my sisters."
    "I hope I am not less so now," she replied ... "If I am wrong, I am doing what I believe to be right."
    "I suspect," said Isabella, in a low voice, "there is no great struggle."
    citations from Volume I Chapter Thirteen
Without that conscientious refusal in Chapter Eight, we might have more sympathy for Isabella, because the next morning Catherine enjoys a thoroughly delightful walk with Henry and Eleanor Tilney
round Beechen Cliff, that noble hill whose beautiful verdure and hanging coppice render it so striking an object from almost every opening in Bath.
The three discuss every imaginable subject until:—
The Tilneys were soon engaged in another on which [Catherine] had nothing to say. They were viewing the country with the eyes of persons accustomed to drawing, and decided on its capability of being formed into pictures, with all the eagerness of real taste. Here Catherine was quite lost. She knew nothing of drawing — nothing of taste: and she listened to them with an attention which brought her little profit, for they talked in phrases which conveyed scarcely any idea to her ...
    [Henry] talked talked of foregrounds, distances, and second distances — side-screens and perspectives — lights and shades; and Catherine was so hopeful a scholar that when they gained the top of Beechen Cliff, she voluntarily rejected the whole city of Bath as unworthy to make part of a landscape. Delighted with her progress, and fearful of wearying her with too much wisdom at once, Henry suffered the subject to decline ...
    Northanger Abbey, citations from Volume I Chapter Fourteen
I've taken pains to describe these paragraphs about drawing and the artist's eye mainly to bolster a contention that Northanger Abbey is as generous and informative as its heroine/narrator, who shares with the reader everything she learns. A similar phenomenon occurs in Austen's Pride and Prejudice, when Elizabeth Bennet describes her first view of Pemberley in phrases so well-defined, so simple and heartfelt, that we might not realise we are learning the distinctive art of the artless English landscape, so much at odds with the rigidly artificial gardens surrounding European country houses.
Elizabeth's mind was too full for conversation, but she saw and admired every remarkable spot and point of view ...
    Pemberley House ... was a was a large, handsome stone building, standing well on rising ground, and backed by a ridge of high woody hills; and in front, a stream of some natural importance was swelled into greater, but without any artificial appearance. Its banks were neither formal nor falsely adorned. Elizabeth was delighted. She had never seen a place for which nature had done more, or where natural beauty had been so little counteracted by an awkward taste.
    Pride and Prejudice, Volume III Chapter One [ch 43 of 61]
And then there is Sense and Sensibility previously described, where we are not even told what it is that Elinor Dashwood is drawing so busily, not even the subject of the very pretty pair of screens painted by Elinor as a gift for her sister-in-law Fanny,
which being now just mounted and brought home, ornamented her present drawing room; and these screens, catching the eye of John Dashwood on his following the other gentlemen into the room, were officiously handed by him to Colonel Brandon for his admiration.
    "These are done by my eldest sister," said he; "and you, as a man of taste, will, I dare say, be pleased with them. I do not know whether you have ever happened to see any of her performances before, but she is in general reckoned to draw extremely well."
    Sense and Sensibility, Volume II Chapter Twelve [ch 34 of 50]
Flowers? Birds? Animals? Human figures? Still life? Landscape? For some reason Elinor Dashwood is free from the need to seek models or even subjects for her drawing, which doesn't preclude pouring scorn on the work of other amateur artists, such as Charlotte Palmer, into whose comfortable apartment Elinor and Marianne are invited to stay during their tenure in London:—
... over the mantelpiece still hung a landscape in coloured silks of her [Charlotte's] performance, in proof of her having spent seven years at a great school in town to some effect.
    Sense and Sensibility, Volume II Chapter Twelve [ch 34 of 50]
Similar bitter sarcasm is heaped upon Robert Dashwood's self-importantly described offhand sketches:— but how much easier and more satisfying to heap ridicule upon a competitor's efforts if the excellence of one's own work is implied rather than shown.
The obsessed reader is finally enabled to discover how Elinor Dashwood is able to do without model or effort in a tiny phrase contained within another of those interminable paragraphs whose purpose is to conceal rather than enlighten, when Mrs. Jennings is led to believe that Colonel Brandon is in love with Elinor ...
for, on Elinor's moving to the window to take more expeditiously the dimensions of a print, which she was going to copy for her friend, he followed her to it with a look of particular meaning, and conversed with her there for several minutes.
    Sense and Sensibility, Volume III Chapter Three [ch 39 of 50]
Which she was going to copy ... how convenient. Of course the greatest artists copy — in order to learn to become better draftsmen. —Unlike Elinor Dashwood, who makes use of the works of others in order to avoid giving away the slightest hint of her own personality, among other reasons particular to those afflicted by the unenviable Deadly Sin of Envy.
I admit to an intentional overlooking of a mention in chapter 48 [of 50] that Elinor turned away her head from every sketch of him, which is to say, of Edward, as well as of the fact that Catherine's is a simple recitation of the conversation regarding drawing between Henry and Eleanor. But no one is ignorant who is willing to be taught.
And what an admirable teacher is Henry Tilney, reminding us of our most beloved mentors, who pointed out all sides of a puzzle and allowed us to form our own conclusions — which, it must be admitted, almost always coincided with theirs. Henry's thoughtful responses to Catherine's efforts to have somebody — anybody — pursuade Captain Tilney to leave Bath rather than continue his pronounced attentions to Isabella Thorpe are a masterpiece of affection, shrewdness and comforting understatement:—
"Well! Nay, if it is to be guesswork, let us all guess for ourselves ... The premises are before you. My brother is a lively and perhaps sometimes a thoughtless young man; he has had about a week's acquaintance with your friend, and he has known her engagement almost as long as he has known her ...
    "In this amiable solicitude for your brother's comfort, may you not be a little mistaken? ... Would he thank you, either on his own account or Miss Thorpe's, for supposing that her affection, or at least her good behaviour, is only to be secured by her seeing nothing of Captain Tilney? ...is her heart constant to him only when unsolicited by anyone else? ...
    "You have no doubt of the mutual attachment of your brother and your friend; depend upon it, therefore, that real jealousy never can exist between them ... Their hearts are open to each other, as neither heart can be to you."
"You have no doubt of the mutual attachment of your brother and your friend ..." Leaving Catherine to reflect on the solidity of her assumptions:—
Catherine would contend no longer against comfort. She had resisted its approaches during the whole length of a speech, but it now carried her captive. Henry Tilney must know best. She blamed herself for the extent of her fears, and resolved never to think so seriously on the subject again.
    citations from Northanger Abbey, Volume II Chapter Four [ch 19 of 31]
In her difficult dealings with John Thorpe, we observed a courageous Catherine Morland sustained by the weight of the teachings of her upbringing. For that young person struggling with the sheer effrontery of forming one's own opinions, it's far safer to lay those alarming new thoughts at the feet of a trusted mentor until such time as we have the confidence to acknowledge them as our own.
Of course there is more to the Plot, pared down and simple as it is, which will be dealt with in subsequent webpages.
*   *   *   *   *
In the next section we examine Northanger Abbey as it relates to subjects of Film, Fairy Tale and Happily Ever After.
Details of and links to all Austen-Novel Pictures are found either in the Pictures 3B or the present Pictures 3B Group II webpages.

This Page:— Northanger Abbey Part Two: Theme, Character, Plot

JMW Turner c 1825
Title: Bolton Abbey, Yorkshire
Medium: Watercolour on paper;
Dimensions: Support 280 x 394 mm
Collection: Board of Trustees of the National Museums and Galleries on Merseyside (Lady Lever Art Gallery)
Turner Worldwide
Reference: TW0791, Wilton 788

JMW Turner c 1815
Title: View of Farnley Hall in the Valley of the Wharfe in Yorkshire
Medium: Watercolour on paper;
Dimensions: Support 280 x 398 mm
Collection: Rijksmuseum Amsterdam
Turner Worldwide
Reference: TW0952, Wilton 613


JMW Turner, c. 1818
Title: Carriage Drive, Farnley
Medium: Bodycolour on paper
Dimensions: unconfirmed 293 x 409 mm
Private Collection, Turner Worldwide
Reference: TW0253, Wilton 601

JMW Turner 1809
Title: Bolton Abbey
Medium: Watercolour and Bodycolour on paper
Dimensions: support 278 x 395 mm
Collection: The British Museum Turner Worldwide
Reference: TW0400, Wilton 532


Blaise Castle
Wikipedia
The Castle at Blaise Castle Estate
    mid-July 2008

    [WebPage last amended January 21st, 2014]
________________________
Northanger Abbey Part 2: Theme, Characters, Plot
Sandsifter Five Main Page
The Novels of Jane Austen – Home Page 3B
Northanger Abbey Part 1: The Deadly Sin of Avarice ... and 'Aura'
Northanger Abbey Part 3: Film, Fairy Tale and Happily Ever After