Fairy Tale and Myth
Journeys and Arrivals
One subject. Two facets. This website wouldn't exist if I did not believe that all storytelling is based either on Fairy Tale, or on Myth, its grownup sophisticated sibling.
*   *   *   *   *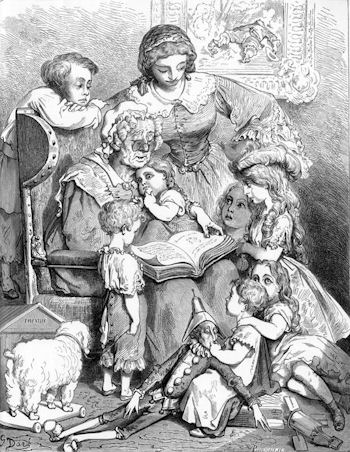 Fairy Tales for an older generation were not at all like today's sanitized and cuddly aids to moral instruction and ecological improvement. Pain, suffering, and unimaginable cruelty were the mainstays of Fairy Tale in the old days, with no correlation between deservingness and punishment, worthiness and reward. Of course we had some say in which stories we wanted read, some of us (usually male) choosing to be terrified, and others preferring a gentler style of organized thought.
I'm not entirely convinced that boys prefer the horrifying for its own sake; they love rather listening to the adventures of heroes who are successful against the frightsome troll under the bridge, the enticing witch with the candy house, the giant who smells little English boys and eats them for supper, and will tolerate not the slightest curtailment of the fulsome praise bestowed upon the victor by an admiring public.
It's noteworthy that with the exception of the brother and sister combination in Hansel and Gretel, the protagonist of Fairy Tale always walks through life alone. Of course we've forgotten what it was to be a child; I rather think that no matter how many people surrounded us, we experienced ourselves always as solitary bystanders, helpless before the rapid onslaught of events on every side.
Every Fairy Tale is a journey, a bewildering travel from a time before time to a completion beyond the constricting limits of childhood, and aloneness, to a culmination point of all living happily ever after.
The fact of learning to read for ourselves is one such culmination. Freed from dependence upon adult benevolence for entertainment — and everything else — we lose the perception of our solitariness, and our helplessness as well. Soon, very soon after learning to read, our love for Fairy Tale fails us, and we move on to Myth, and a world where things happen for a reason, and make sense.
Well, not really sense. But instead of the unplanned journeys, inexplicable adventures, and unaccountable detail of childhood Fairy Tale, Myth is more likely to involve a static situation, and endeavour to explain it by way of story. Narcissus comes to mind, and also the myth of The Moirae (The Spinners), those eerie impersonal women combing out the fibres of our lives, our fates, our destinies, some strands thinning out before resuming life at a greatly reduced strength, others winding themselves with undiminished strength and usefulness onto a cosmic spindle, and still others cut off suddenly in their prime.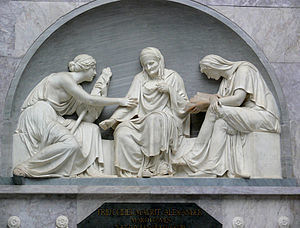 The Moirae (The Three Spinners):– Clotho spinning the thread, Lachesis measuring it out, and Atropos (see top of Left Column) cutting the thread with her shears.
It's not sense. But nor is it nonsense, as every young person knows whose own parent's life has been represented by a wayward strand of flax threading away to chronic illness, or to nothingness.
If Fairy Tale is the emotional equivalent of childhood, then Myth is the answer to the eternal adolescent question:— where am I, how did I get here, and what does it all mean?
*   *   *   *   *
______________________
[link for good site on four winds - http://messagenetcommresearch.com/myths/bios/winds.html
______________________
______________________
Fairy Tales and Seinfeld:— Three Little Pigs. (But only in the unauthentic modern version of this rather blood-thirsty Fairy Tale. Not even the crankiest purist, surely, would wish The Big Bad Wolf, aka Crazy Joe Divola, to gobble up Elaine. Nor even George.)
Myth and Seinfeld:— The Iliad, The Odyssey (In other words, anything involving Kramer as the dark unknowable instigating Pan-like creature of Myth. See Peloponnesian War, and much else). And then there's George. And Elaine.
______________________
Fairy Tales and Star Trek:— Transformatory Journeys. At the moment I don't have the time to devote to this fascinating subject matter. It will take not only a more intense scrutiny of Star Trek but also a deeper understanding of what constitutes Fairy Tale.
Myth and Star Trek:— The trick will be finding something new to add to the canon of Star Trek as the modern counterpart of The Labours of Hercules and other well-known Myths — possibly even more difficult than analysing less well-used Fairy Tales.
______________________
Fairy Tales and Myth and Blackpool:— Everything that might be said about Blackpool and Fairy Tale and Blackpool and Myth, by me at any rate, is already contained in the Blackpool WebPages, since unlike Pride and Prejudice, discussion of Blackpool cannot be separated from Fairy Tale and Myth.
On the other hand, I may well feel the need to defend certain choices when my thoughts have been finalized concerning the remaining Episodes Three to Six inclusively.


______________________
Fairy Tales and Myth and Dear Frankie:— While everything that might be said about Dear Frankie and Fairy Tale, and Dear Frankie and Myth, is contained in the Dear Frankie WebPages, it is for reasons diametrically opposed to Blackpool.
  If there had never been a Fairy Tale; if there had never been a Myth, still Dear Frankie could have existed unchanged.
  For Dear Frankie is that rare offering:— neither Fairy Tale and romantic comedy (or benevolent impersonation), nor Myth and Greek tragedy. It's just itself.
I intend to wait for my final thoughts on Blackpool in order to defend my choices about Dear Frankie as well. Perhaps then I'll be more aware of why the two are forever linked in my imagination.


[June 9th, 2007, text only
    WebPage last amended February 22nd, 2013]
________________________
Fairy Tale and Myth – Journeys and Arrivals
Main Page – Index
HomePage-2
Fairy Tale and Myth
Fairy Tales:– The Source of all* Storytelling. (*All, except Myth)