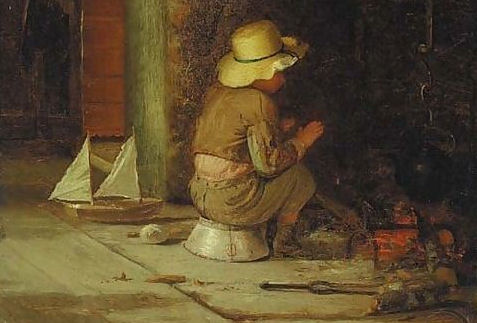 Dear Frankie
HomePage-8
Time, Space and the Universal
So far the choices have been:
— an English Novel (and related television and film industry), as well as certain other loosely-related Novels;
— a 180-episode American television comedy series;
— a 78-episode American television science fiction series;
— a six-episode British television miniseries;
And finally, Dear Frankie, a Scottish film of a mere one hundred or so minutes, offering scant competition to its hefty neighbours. If this were a competition, Dear Frankie would find itself in a precarious position. But it isn't competition. And Dear Frankie has the virtue of pushing us to examine more carefully certain of the common elements mentioned earlier:—
1 — Context, as in belonging to one specific place and time. Though no one could argue Dear Frankie's resolute belonging to its distinctive place or setting of a seaport community on the windswept Scottish coast, still it is more the indefinable pull of an earlier time that rules, when archaic laws and half-remembered customs exert their iron grip, and nothing is given away readily, including speech. And generosity, when it occurs, assumes strange and bewildering sizes and shapes;
2 — Examination of what it is to be a man. If we don't know after watching Dear Frankie, we never will. More next page, Introduction:— If I Ruled the World.
________________________
Introduction
Introduction — If I Ruled the World.
No, I wouldn't remove children from their television set, and vice versa. In fact, I'd make them watch Dear Frankie.
Part One
Part 1A — Category Creep
Question: Is it necessary for us to assign categories in order to absorb and enjoy what we read, and watch, and listen to? Answer: Definitely. We're not shallow. We're selective.
Part 1B — Benevolent Impersonation
Because The Stranger chosen to carry out the imposture by definition is perfect for the role, we wait with anticipation and pleasure for the predictable romantic comedy plot to resolve itself. Except that Dear Frankie isn't predictable. Isn't comedy. Isn't romantic either.
Part 1C:— Neither Fairy Tale nor Myth; It's Just Itself.
We meet Lizzie, Frankie and Nana Nell as they leave their old apartment and set out for a new life. 'Right on the edge of sea. Right on the edge of the world,' as Frankie tells his Da in the letter he is mentally drafting. We also meet Marie and her fish shop, Marie's.
Part 1D:— A New Life? Or Continuation of the Old?
We see Lizzie enroll Frankie at school and later writing to Frankie in the guise of his seaman Da. We also meet Librarian at local Public Library.
Part 1E:— Best-Laid Schemes
Reality in the form of things she's been running away from finally catches up with Lizzie Morrison.
Part Two
Part 2A:— Friday
Lizzie meets The Stranger in a coffee bar; he agrees to act as Frankie's dad for one day, next day, Saturday.
Part 2B:— Saturday
The Stranger spends the day with Frankie, invites Lizzie to join them next day, Sunday.
Part 2C:— Sunday
Lizzie, Frankie and The Stranger spend Sunday together.
Part Three
Part 3A:— The Favour
Lizzie goes to hospital to meet Frankie's father Davey.
Part 3B:— The Old, Old Story
Wrap-up.


And that's it, except for an acknowledgement that Dear Frankie was only dessert, and invitation to come back for the rest of the Sandsifter Five Retrospectives reverse-order dinner party.
[June 2006 text only]
    [WebPage last amended April 14th, 2012]
________________________
Time, Space and the Universal
MainPage – Index
Dear Frankie
Blackpool HomePage-7
Introduction:— If I Ruled the World