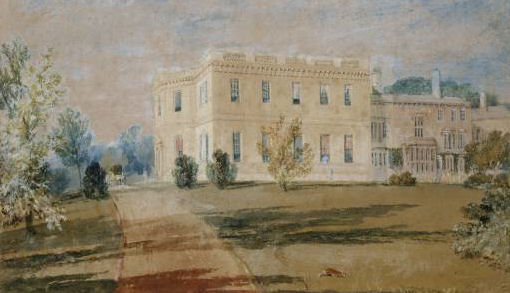 Pride and Prejudice, Part 2
The Seven Deadly Sins
Pride ... and 'Aura'
In a previous chapter [Jane Austen and the Seven Deadly Sins], I set out my reasons for believing that Jane Austen wished each of her Novels to examine varying aspects of one of the Seven Deadly Sins, including the obvious choice of Pride — the sin from which all others arise — in Pride and Prejudice. [A deadly or mortal sin is said to kill the life of sanctifying grace, by our taking credit for our own attributes rather than acknowledging them as unmerited gifts from God.]
I hate to admit this, but for my purposes the most satisfactory Google result for a search of the subject of Pride is The Seven Deadly Sins of the Catholic Church — for Dummies. Of course Jane Austen's religion was not Catholicism — her beloved father was after all a clergyman — but it appears to me that the Church of England of two hundred years ago would find much to be comfortable with in the teachings of today's Catholic Church.
The great difficulty in any study of Pride arises, of course, in attempting to define the elusive beast, and the supreme excellence of the Dummies definition is that, strange as it may seem, it shows the Novel's greatest offender against grace to be — not Mr. Darcy, but Mr. Wickham.
Pride is the key to all other sins, because after you believe that you're more important than you actually are, you compensate for it when others don't agree with your judgment. You rationalize your behavior and make excuses for lying, cheating, stealing, insulting, ignoring, and such, because no one understands you like you do.
    In your mind, you're underestimated by the world.
*   *   *   *   *
In fact, I find it easier to enumerate those Pride and Prejudice characters whose words and actions show them to be animated by Pride in one or other of its forms, than to discover any who are not. Perhaps eldest daughter Jane Bennet can be said to lack any habits of Sin, Deadly or otherwise — and is soundly and lovingly mocked in consequence by next sister in seniority Elizabeth Bennet, as illustrated in the following conversation:—
'I would not wish to be hasty in censuring any one; but I always speak what I think.' [Jane]
    'I know you do; and it is that which makes the wonder. With your good sense, to be honestly blind to the follies and nonsense of others! Affectation of candour is common enough; — one meets it everywhere. But to be candid without ostentation or design — to take the good of every body's character and make it still better and say nothing of the bad — belongs to you alone.' [Elizabeth]
Pride and Prejudice Volume I, Chapter Four
And when others are shown to have been unworthy of her trust, Jane grieves as much for the transgressor, as for herself:—
' Poor Wickham! there is such an expression of goodness in his countenance! such an openness and gentleness in his manner! '
    Volume II, Chapter Seventeen [ch. 40 of 61]
And that would appear to exhaust the supply of persons lacking undue pride — not surprising perhaps of a Novel entitled Pride and Prejudice. Of the many demonstrations of Pride, I thought I might single out from among countless others the few following examples of interest, beginning with Mr. Wickham confiding his grievances against Mr. Darcy to Elizabeth at the Whist Party, and the assumption that successful confidence men succeed in convincing themselves before attempting to deceive their target:—
' But the fact is, that we are very different sort of men, and that he hates me.'
    Elizabeth honoured him for such feelings, and thought him handsomer than ever as he expressed them.
    'But what,' said she after a pause, 'can have been his motive? — what can have induced him to behave so cruelly?'
    'A thorough, determined dislike of me — a dislike which I cannot but attribute in some measure to jealousy. Had the late Mr. Darcy liked me less, his son might have borne with me better; but his father's uncommon attachment to me, irritated him I believe very early in life. He had not a temper to bear the sort of competition in which we stood — the sort of preference which was often given me.'
Volume I, Chapter Sixteen
The second example describes another conversation initiated by Jane following the catastrophic elopement of youngest sister Lydia with Mr. Wickham:—
' Aunt Phillips ... was of great use and comfort to us all. And Lady Lucas has been very kind; she walked here on Wednesday morning to condole with us ...'
    'She had better have stayed at home,' cried Elizabeth; 'perhaps she meant well, but, under such a misfortune as this, one cannot see too little of one's neighbours. Assistance is impossible, condolence insufferable. Let them triumph over us at a distance, and be satisfied.'
    Volume III, Chapter Five [ch. 47 of 61]
How easily Elizabeth's words might have been uttered by her father Mr. Bennet. But the third example allows him to speak for himself:—
' Lizzie, I bear you no ill-will for being justified in your advice to me last May, which, considering the event, shows some greatness of mind. '
    Volume III, Chapter Six [ch. 48 of 61]
Of course I could have added or substituted the merry remarks between Caroline Bingley and Louisa Hurst concerning the disgraceful family connections of Jane Bennet and her sister Elizabeth; or Lydia's certainty that her unmarried sisters must all envy her good luck; or even Lady Catherine de Bourgh's indignant query, 'Miss Bennet, do you know who I am?' in the Novel's final chapters. But on occasion less is more.
*   *   *   *   *
It may not be true of all the Deadly Sins, but Pride in Pride and Prejudice is shown to be most often closer to virtue than to sin, and only on occasion to be purely detrimental — which, of course, accords fully with the Dummies definition:— that it is only when others fail to acknowledge our superiority that we react in an inappropriate manner. Even Mr. Wickham conforms to this theory, as shown in the continuation of his exculpatory words to Elizabeth at the afore-mentioned Whist Party:—
'How strange!' cried Elizabeth ... 'I wonder that the very pride of this Mr. Darcy has not made him just to you!' ...
    'It is wonderful,' replied Wickham, 'for almost all his actions may be traced to pride; — and pride has often been his best friend. It has connected him nearer with virtue than any other feeling. But we are none of us consistent; and in his behaviour to me, there were stronger impulses even than pride.'
Pride and Prejudice Volume I, Chapter Sixteen
How easy to be generous, once satisfied that the admiring target [Elizabeth] poses no danger to Wickham's inflated self-image.
*   *   *   *   *
'Aura'
We come now to my belief that each of the chosen Sins has imparted its own distinctive 'Aura' to its relevant Novel, and that the Aura of Pride and Prejudice is one of blithe dismissiveness. Perhaps aura is not the proper word to describe what we call the emotional tug, the pull, the feel of a given artistic work, but until the exact definition comes along, aura will have to do.
Certainly every Austen Novel evokes its own highly differentiated and unique sensation in the reader. Once again Pride and Prejudice leads the way, with its amusingly caustic but seldom unfair descriptions of social situations and interactions between sharply differentiated characters.
Only the emotional impact of Austen's final completed Novel, Persuasion, that is to say: accepting responsibility for one's own past actions, with neither self-pity, bitterness nor blame of others to deaden the pain of finding oneself alone and unappreciated, is somewhat similar to Pride and Prejudice in its rueful enjoyment of the foibles of others — although Persuasion is far more accepting of their imperfections.
But no one picking up Emma, and opening to a random acquaintance with the evergetic Miss Woodhouse engaged on one of her deluded campaigns, can believe for a single moment that he or she has become lost in the claustrophobic thicket of Mansfield Park. Nor would Persuasion ever be mistaken for Northanger Abbey. They may vary in historical value, social worth and literary merit, but each Novel is nevertheless distinctively different. On the other hand, imagine the disillusionment of a modern reader had Austen in her other Novels decided merely to replicate her first and best offering.
Of course the tone of Pride and Prejudice is also imparted by its Theme of wit and intelligence, so that even the selections illustrative of silliness and stupidity are presented in a witty manner.
It's as if the Novel is a roaming good-natured honeybee surveying the English landscape from above, defying gravity and the laws of Nature, stopping occasionally to extract the nectar contained in a bloom, or scene, stinging lightly where it finds pretension, before moving on to the next situation or blossom.
I suppose such a quality is only to be expected in a Novel encompassing an enormous number of persons, in only one of whom is undue Pride lacking, going about their merry way commenting freely upon the supposed faults and defects of their fellows, totally lacking self-doubt, or cynicism, or meanness, sublimely confident in an innate ability to sum up another person's character at first glance.
This seems to accord more with Aristotle's view of pride as the crown of the virtues, than the biblical injunction:—
When pride cometh, then cometh shame: but with the lowly is wisdom.
Proverbs 11 : 2 King James Version
Contrast this with Aristotle:—
Now the man is thought to be proud who thinks himself worthy of great things, being worthy of them; for he who does so beyond his deserts is a fool, but no virtuous man is foolish or silly. The proud man, then, is the man we have described. For ... pride implies greatness, as beauty implies a goodsized body, and little people may be neat and well-proportioned but cannot be beautiful.
He concludes then that Pride
... Seems to be a sort of crown of the virtues; for it makes them more powerful, and it is not found without them. Therefore it is hard to be truly proud; for it is impossible without nobility and goodness of character.
Wikipedia > Pride > Philosophical Views > Ancient Greek philosophy.
Mr. Darcy could have hardly said better.
The opposite of this type of Pride would seem to be slovenliness, a state remarkably absent from the pages of the Novel Pride and Prejudice, where every word, every sentence, every paragraph attests to the willingness of author and heroine to think through the many aspects of a scene.
Perhaps we should leave the final discussion to a well-known and oft-cited passage between Elizabeth and Mr. Darcy:—
[Elizabeth] 'I hope I never ridicule what is wise and good. Follies and nonsense, whims and inconsistencies, do divert me, I own, and I laugh at them whenever I can. But these, I suppose, are precisely what you are without.'
    [Darcy] 'Perhaps that is not possible for anyone. But it has been the study of my life to avoid those weaknesses which often expose a strong understanding to ridicule.'
    'Such as vanity and pride.'
    'Yes, vanity is a weakness indeed. But pride — where there is a real superiority of mind, pride will be always under good regulation.'
    Elizabeth turned away to hide a smile.
    'Your examination of Mr. Darcy is over, I presume,' said Miss Bingley; 'and pray what is the result?
    'I am perfectly convinced by it that Mr. Darcy has no defect. He owns it himself without disguise.'
    'No,' said Darcy, 'I have made no such pretension. I have faults enough, but they are not, I hope, of understanding.'
Pride and Prejudice Volume I, Chapter Eleven
*   *   *   *   *
'... Where there is a real superiority of mind, pride will be always under good regulation.'
Would that it were so — particularly when it comes time for Mr. Darcy to make his reluctant proposal of marriage, when he:—
' ... Was not more eloquent on the subject of tenderness than of pride. His sense of her inferiority — of its being a degradation — of the family obstacles which judgment had always opposed to inclination were dwelt on with a warmth which seemed due to the consequence he was wounding, but was very unlikely to recommend his suit.'
    Volume II, Chapter Eleven [ch. 34 of 61]
Not that Elizabeth is entirely blameless, that same Elizabeth Bennet who months earlier had turned away to hide a smile:—
... Grew absolutely ashamed of herself. Of neither Darcy nor Wickham could she think without feeling that she had been blind, partial, prejudiced, absurd.
    'How despicably have I acted!' she cried. 'I, who have prided myself on my discernment! — I who have valued myself on my abilities! who have often disdained the generous candour of my sister, and gratified my vanity in useless or blameable distrust. How humiliating is this discovery! — Yet, how just a humiliation! — Had I been in love, I could not have been more wretchedly blind. But vanity, not love, has been my folly.'
    Volume II, Chapter Thirteen [Chap 36 of 61]
And the Encyclopedia Britannica describes as thin a Novel wise enough to encompass seamlessly the Deadly Sin of Pride in all three senses mentioned above:— the biblical in Elizabeth's penitential confession; the philosophical in Darcy's conviction that the pride of a powerful man is always commendable; and the Dummies version which might have been written for no reason other than to explain Mr. Wickham.
Where could have such wisdom come from? Perhaps, as Jane Austen realised, from sanctifying grace, as an unmerited gift from God?
One thing. I've had a good time writing scathing denunciations of the Encyclopedia Britannica, and in particular its entry on Jane Austen in the 1945 edition, unchanged from the 1911 edition available online at www.1911encyclopedia.org/Jane Austen.
    [Note to myself: Verify sequence of entries over the years including names of contributors. But how?]
And how are future generations to follow the paper trail of shifting tides of public opinion from today's Wikipedia, where previous versions simply disappear into the ether? And when finding even the first webpage written by World Wide Web inventor Tim Berners-Lee is proving to require huge amounts of effort? See Scientists searching for world first web page ....
Pictures
Details of and links to all Austen-Novel Pictures are found in the Pictures 3B webpage.

This Page:— Pride and Prejudice Part Two: The Deadly Sin of Pride ... and 'Aura'


JMW Turner, circa 1818
Title: Farnley in the Old Time
Medium: Bodycolour on paper
Dimensions: unconfirmed 278 x 393 mm
Private Collection, Turner Worldwide
Reference: TW0262, Wilton 629


JMW Turner, 1815
Title: Front Door and Porch, Farnley
Medium: Bodycolour on paper
Dimensions: unconfirmed 268 x 320 mm
Private Collection, Turner Worldwide
Reference: TW0237, Wilton 584


JMW Turner, c. 1828
Title: Richmond Hill and Bridge
Medium: Watercolour and bodycolour heightened with white on paper
Dimensions: Support 291 x 435 mm
Collection The British Museum
Turner Worldwide, Reference TW 0015, Wilton 21
[In addition to the watercolour of Richmond Hill and Bridge shown above, The British Museum is featuring at present an exhibition of artifacts from Pompeii and Herculaneum. A photograph by Judy Turner of the excavations at Herculaneum is shown on my Main or Index page, chosen to illustrate the method of my Sandsifter Five selections.]

JMW Turner, 1818
Title: Farnley Hall from the East
Medium: Bodycolour and chalk on paper
Support: 311 x 394 mm
Private Collection, Turner Worldwide
Reference: TW0240, Wilton 587

[WebPage last amended July 5th, 2013]
________________________
Pride and Prejudice Part 2: The Deadly Sin of Pride ... and 'Aura'
Sandsifter Five Main Page
The Novels of Jane Austen – Home Page 3B
Pride and Prejudice Part 1: Theme, Characters, Plot
Pride and Prejudice Part 3: Film, Fairy Tale, and Happily Ever After