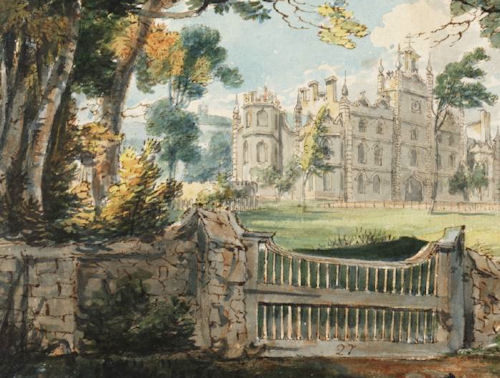 Sense and Sensibility, Part 4
Architecture, Absences
Jane Austen's Novel Sense and Sensibility was begun in letter form, with the title Elinor and Marianne, and what a funny and captivating story it would be, with letters or other writings in turn from careful and evasive Elinor followed by impulsive and passionate Marianne, both purporting to describe identical scenes, personages, dialogue, and events.
But that's not the Novel that has come down to us through two centuries of publishing history, Sense and Sensibility being instead the musings of a single heroine/narrator, and an untrustworthy narrator at that, where anything that might portray Marianne in a sympathetic manner — rather than as the spoiled hysterical vixen so familiar in the opening pages — has been removed from our angle of contemplation. The consequent loss not only of Marianne but of all characters to an emotional distance, where they can be coldly and critically observed as they go about their concerns, is disastrous for Sense and Sensibility as narrative.
The single remaining viewpoint: at once chilly, self-congratulatory, equivocal, untrustworthy, pedestrian, and ultimately boring, would have doomed this Novel to literary irrelevance but for the spotlight it casts upon the merciless depredations of Envy.
*   *   *   *   *
Architecture:—
Jane Austen's classic Novel Pride and Prejudice is perfectly constructed, with all the care and attention to detail of a great English country mansion, in faultless layers one upon the other, from bottom cornerstone to top attics. Nothing happens that hasn't been foreseen and prepared for, and yet the intricate plot contains one surprise after another as the characters act and interact in the only manner possible to them in all their idiocyncrasies, which is to say with the cheerful controlled anarchy that can be imparted only by wit.
It is a simple impossibility that the author of a work so perfectly constructed as Pride and Prejudice would produce a Novel like Sense and Sensibility unless there is an underlying reason for the latter's seemingly seriously flawed architectural format. There has to be a masterplan, and it's there in black and white for us to discover.
To recapitulate what we know beyond all doubt:—
Chapter One is written entirely from the point of view of Elinor Dashwood and establishes her innate superiority over everyone else as well as her entitlement (together with mother and younger sisters, of course) to inherit Norland Park because they need it, while eldest brother John Dashwood, on behalf of his little son, does not.
Chapter Two is Jane Austen as we know her from that first Novel:— clear, concise, devastatingly witty, possessed of penetrating honesty and infinite wisdom. Fanny Dashwood's machinations to influence her husband to deny to his stepmother and sisters any part of the assistance promised to his father on the latter's deathbed, are as expertly drawn as anything in Austen, and this will remain true in future chapters involving Fanny and John such as the scene at the beginning of Volume III mentioned under Plot where their brother describes to Elinor and Marianne the hysterical reaction of Fanny and Mrs. Ferrars to the discovery that Lucy Steele and Edward have been secretly engaged for four years.
In the earlier introductory webpage Pride and Prejudice Part 2: The Deadly Sin of Pride, I described that Novel as able to support the structure of Austen's informed opinions on the Deadly Sin of Pride, in its biblical, philosophical, and even The Seven Deadly Sins of the Catholic Church — for Dummies, meanings.
Logic demands, surely, that the same be assumed as also true of Sense and Sensibility — and of its besetting Deadly Sin, which is to say, of Envy, as previously described by Pravda's Paul Kokoski:—
The vice of envy proceeds from pride, vanity, and distorted self-love which can bear neither anything superior nor any rival. When we lack the proper humility and become convinced of our own superiority, we become saddened to see others better gifted than we are or, with no greater gifts than ours, succeed better than we do. The object of envy is chiefly some brilliant quality or virtue.
(Paragraph 4)
    Envy can be very culpable in its effects when 1) it disturbs our peace of soul, 2) it stirs within us sentiments of hatred causing us to speak ill of others, to blacken their character, to wish them evil, 3) it tends to sow discord not only between strangers but between members of the same family ...
(Paragraph 10)
Paul Kokoski, Pravda.ru. Envy: Most joyless of Seven Deadly Sins
Envy of the Powerless.
    This, I suggest, is the best known type of envy, demonstrated in her own thoughts and words by heroine/narrator Elinor Dashwood. What renders this sort of Envy powerless, is the need to conceal, misrepresent, deny, and attribute to others so shameful and unworthy an emotion. In other words, the sufferers, weakened by the promptings of their better nature, cannot admit even to themselves that the undoubted pain they feel is caused by the sinful workings of helpless envy.
In the previous webpage under the heading Film, I described at length the beautiful 1995 film treatment of the Novel Sense and Sensibility, whose genius is that it presents an Elinor Dashwood entirely and mercifully delivered from imprisonment in the torture chamber that is Envy.
On the other hand, I recently bought and watched a seven-part miniseries of Sense and Sensibility, created by the BBC in 1981. Like the 1980 BBC miniseries of Pride and Prejudice, the film makers seem mainly concerned with faithfully illustrating the story of the Novel, and I think it might be admitted that the story is given its due. But story in that 1980 BBC miniseries is entirely at the disposal of character (with the exception of a Mr. Darcy more wooden even than his literary counterpart). And whenever I bring any of those written characters before my mind's eye, it's always to envisage (with the exception of Mr. Darcy) the 1980 miniseries interpretation.
Which is to say, suffused with 1980's warmth, and wittiness, and wisdom. — Not one of which qualities appears to be present in the 1981 miniseries of Sense and Sensibility. But then, it is my belief that the business of the 1981 miniseries is to further the claims of heroine/narrator Elinor Dashwood.
Episode One has Elinor, in answer to an unconvincing, "Where are your feelings?" from an extremely silly Marianne, replying, "I govern them."
The 1981 film makers certainly got right the complacency and immense self-satisfaction of the Novel's heroine/narrator. (See the Novel's Chapter One Paragraph 11:— [Elinor's] disposition was affectionate, and her feelings were strong; but she knew how to govern them ... ) Because of course we none of us govern our feelings, although we may deny and try to hide them or otherwise control their expression. With the result that we become more and more distant from our true emotions and eventually feel nothing whatever other than an all-suffusing impotent rage. (I call Marianne's question unconvincing because it is included in order to call forth Elinor's reply rather than as a wish for information.)
Episode Two introduces a Willoughby who is the most beautiful character seen in any and all Austen film:— angelically fair and blue-eyed, extraordinarily handsome, rather like a Greek god of Myth come to earth expressly to wreak havoc upon the hearts of blameless maidens, but rather more boyish and innocent. We are reminded that in the entire Sense and Sensibility Novel's fifty chapters not one character other than Willoughby is introduced without disparagement ... not recommended to their good opinion by any peculiar graces (Edward); His appearance however was not unpleasing (Colonel Brandon); ... however dissimilar in temper and outward behaviour, they strongly resembled each other in that total want of talent and taste which confined their employments (Sir John and Lady Middleton), as typical examples.
But Willoughby ... in a manner so frank and so graceful that his person, which was uncommonly handsome, received additional charms from his youth, beauty, and elegance ... is treated far more kindly than can be accorded mere mortals.
In Chapter Nine, Marianne has fallen and twisted her ankle, enabling Willoughby to carry her home. Next morning, in Chapter Ten, he comes to Barton Cottage;
' and every thing that passed during the visit tended to assure him of the sense, elegance, mutual affection, and domestic comfort of the family to whom accident had now introduced him.
    "Well, Marianne," said Elinor, as soon as he had left them, "for ONE morning I think you have done pretty well. You have already ascertained Mr. Willoughby's opinion in almost every matter of importance ... Another meeting will suffice to explain his sentiments on picturesque beauty, and second marriages, and then you can have nothing farther to ask."
    "Elinor," cried Marianne, "is this fair? Is this just? are my ideas so scanty? But I see what you mean. I have been too much at my ease, too happy, too frank ... I have been open and sincere where I ought to have been reserved, spiritless, dull, and deceitful — had I talked only of the weather ... and had I spoken only once in ten minutes, this reproach would have been spared."
    "My love," said her mother, "You must not be offended with Elinor — she was only in jest. I should scold her myself, if she were capable of wishing to check the delight of your conversation with our new friend." — Marianne was softened in a moment. '
    [Sense and Sensibility, Chapter Ten]
Elinor may have too little sensibility to grasp the implied reproof in their mother's words, as the latter appears to be coming to Elinor's defence. Nevertheless, I believe that Marianne is perfectly entitled to take offence for what is in fact a series of ill-natured and insulting remarks; anyone not cursed by the sin of envy or other deadly sin, which is to say, no one with a lively sense of humour, ever worries about running out of subjects for discussion.
Willoughby leaves for London in Chapter Fifteen — but before absenting himself and thereby causing Marianne's mental and physical breakdown, he offers surprising evidence of a familiar type of envy toward Colonel Brandon:—
"But why should you dislike him?" [asked Elinor]
    "I do not dislike him. I consider him, on the contrary, as a very respectable man, who has every body's good word, and nobody's notice; who, has more money than he can spend, more time than he knows how to employ, and two new coats every year."
    "Add to which," cried Marianne, "that he has neither genius, taste, nor spirit. That his understanding has no brilliancy, his feelings no ardour, and his voice no expression."
    [Sense and Sensibility, Chapter Ten]
Of course there is no trace of envy in Marianne; and in attacking Colonel Brandon she speaks merely those words that Willoughby wishes, in her estimation, to hear from her mouth. But Marianne's interjection has the further effect of blurring the essential meaning of Willoughby's spiteful remarks.
As for Willoughby, his interminable interview with Elinor in Chapter 44 — actually consuming twice as much space as allotted to Colonel Brandon's necessary explanation of his entire life's history in Chapter 31 — enables Elinor to keep to herself certain information that should belong to Marianne alone, hoarded jealously until it can be delivered in a couple of lines at the end of Chapter 46, accompanied by another of the lengthy dishonest homilies so beloved by our heroine/narrator in Chapter 47 — and that the facts of the homily are actually true and accurate in no way renders it less dishonest.
Because there is more to Chapter 44's unseemly interaction between Willoughby and Elinor than first meets the eye. Colonel Brandon has taken a hasty departure in Chapter 13 — a departure, incidentally, caused by the Colonel rushing to the aid of his ward who is alone and destitute and close to childbirth with Willoughby's child — and Willoughby in turn announces he is leaving in Chapter 15 ...
"I am now suffering under a very heavy disappointment!"
    "Disappointment?"
    "Yes, for I am unable to keep my engagement with you. Mrs. Smith has this morning exercised the privilege of riches upon a poor dependent cousin, by sending me on business to London. I have just received my dispatches, and taken my farewell of Allenham; and by way of exhilaration I am now come to take my farewell of you."
    Sense and Sensibility, Chapter Fifteen
In any event, Willoughby's description of himself as a poor dependent cousin appears to place him as Elinor's companion in the society of Envy of the Powerless — a companionship accentuated in Chapter 44's lengthy self-serving interview, which almost, but not quite, ends with Willoughby holding out his hand.
[Elinor] could not refuse to give him hers; — he pressed it with affection.
    "And you DO think something better of me than you did?" — said he, letting it fall, and leaning against the mantel-piece as if forgetting he was to go.
    Elinor assured him that she did;— that she forgave, pitied, wished him well — was even interested in his happiness — and added some gentle counsel as to the behaviour most likely to promote it.
Chapter 44 [of 50]
Of course the purpose of this webpage is not to describe the events of the Novel, but to attempt to discern a pattern, a hidden structure to its incoherent pages. Strange and unaccountable as it may seem, Elinor's need to save money, and Willoughby's extravagant need to spend, arise from an identical source. If my arguments can be accepted that Elinor and Willoughby recognise each other to be kindred spirits in Envy, then the Novel and its architecture acquire a dreadful meaning.
As a passion, [Envy] consists in a sort of deep sadness experienced in the sensitive part of our nature ... often produces a feeling of anguish. As a capital sin envy refers to the tendency to be saddened by another's good as if that good constituted an affront to our superiority. Often it coincides with a desire of seeing the person deprived of the particular good that offends us as well as the immoderate desire to acquire that good for ourselves, even unjustly.
(Paragraph 2)
Paul Kokoski, Pravda.ru, Envy: Most joyless of Seven Deadly Sins
In the 1995 Film of Sense and Sensibility, even Willoughby has been purged of Envy and turned into a man rather than the petulant boy/god of Novel and 1981 miniseries. A solitary figure on horseback overlooking the wedding party, he makes no effort to insert himself into the scene, accepting responsibility for the choices and actions that have led to this marriage, this happy ending, and permitting the viewer the privilege of merited regret on his behalf.
And as that Film ends with horse and rider turning and galloping away, we the long-suffering viewer/reader are left for our sins to grope through the self-serving treacle of the endings of 1981 miniseries and early 19th-century Novel.
Willoughby, "poor Willoughby", as she now allowed herself to call him, was constantly in her thoughts; she would not but have heard his vindication for the world, and now blamed, now acquitted herself for having judged him so harshly before ...
    She dreaded the performance of [relating the details of Willoughby's so-called vindication], dreaded what its effect on Marianne might be; doubted whether after such an explanation she could ever be happy with another ...
Chapter 45 [of 50]
    [Elinor] managed the recital, as she hoped, with address; prepared her anxious listener with caution; related simply and honestly the chief points on which Willoughby grounded his apology; did justice to his repentance, and softened only his protestations of present regard.
Chapter 46 [of 50]
    Had Mrs. Dashwood, like her daughter, heard Willoughby's story from himself — had she witnessed his distress, and been under the influence of his countenance and his manner, it is probable that her compassion would have been greater.
Chapter 47 [of 50]
    Sense and Sensibility, Volume III
At least Pride and Prejudice's Elizabeth Bennet has the grace not merely to regret, but to feel shame at permitting her judgment to be overcome by Wickham's undeniable charm. Because there is not a single word of Willoughby's so-called vindication worth hearing other than by someone overcome with triumph at his opening words:—
"My business is with you, and only you ... I mean to make you hate me one degree less than you do NOW. I mean to offer some kind of explanation, some kind of apology, for the past; to open my whole heart to you, and by convincing you ... to obtain something like forgiveness from your sister."
He goes on to explain that, thinking only of his own amusement, he:—
... "endeavoured, by every means in my power, to make myself pleasing to [Marianne], without any design of returning her affection."
    ...
    "My fortune was never large and I had always been expensive, always in the habit of associating with people of better income than myself. Every year since my coming of age, or even before, I believe, had added to my debts; and though the death of my old cousin, Mrs. Smith, was to set me free; yet that event being uncertain ... it had been for some time my intention to re-establish my circumstances by marrying a woman of fortune."
But before he could declare his feelings to Marianne — an omission Willoughby excuses by reference to an unwillingness to enter into an engagement while his circumstances were so greatly embarrassed — an unlucky circumstance ... A discovery took place ... In other words, someone informed Mrs. Smith of Willoughby's shameful treatment of Colonel Brandon's young ward. And when Elinor reproaches him that,
... "Your indifference, however, towards that unfortunate girl ... You must have known, that while you were enjoying yourself in Devonshire pursuing fresh schemes, always gay, always happy, she was reduced to the extremest indigence."
    "But, upon my soul, I did NOT know it," he warmly replied; "I did not recollect that I had omitted to give her my direction; and common sense might have told her how to find it out."
And Elinor, perfect in every way as she is, accepts Willoughby's explanation under the title justification. The Willoughby of the 1981 miniseries protests with tears running down his beautiful face that it was none of it his fault; while the Willoughby of the Novel points out that such information has been given Elinor by Colonel Brandon and is therefore not to be trusted; that everything has conspired to make him unhappy and prevent him having what he wants, which he now realises is Marianne.
"My affection for Marianne, my thorough conviction of her attachment to me — it was all insufficient to outweigh that dread of poverty, or get the better of those false ideas of the necessity of riches, which I was naturally inclined to feel, and expensive society had increased."
    ...
    "If you CAN pity me, Miss Dashwood, pity my situation as it was THEN. With my head and heart full of your sister, I was forced to play the happy lover to another woman!"
A mean and hateful other woman, furthermore, who has dictated and forced him to write that cruel letter to Marianne.
"We were engaged ... The day almost fixed ... In honest words, her money was necessary to me ..."
He finishes by announcing that he shall now go away and live in dread of ..." [Marianne's marriage]. To which sweet Elinor replies,
"You are very wrong. She can never be more lost to you than she is now."
    "But she will be gained by some one else. And if that some one should be the very he whom, of all others, I could least bear — but I will not stay to rob myself of all your compassionate goodwill, by shewing that where I have most injured I can least forgive. Good bye. — God bless you!"
    And with these words, he almost ran out of the room.
    Volume III, Chapter Eight [ch. 44 of 50]
Thus really does end the interminable Chapter 44. He may be gone, but will not be forgotten, not by Elinor nor by Marianne, if Elinor can prevent it, and she can and undoubtedly will. No, Willoughby's claims as Marianne's first, and in his dreams (and Elinor's), best and last lover, have to be inserted into the final terse Chapter 50's mere 21 paragraphs, immediately after those few beautiful words in Paragraph 17 describing Marianne finding her own happiness in forming her husband's, her whole heart becoming,
in time, as much devoted to her husband as it had once been to Willoughby.
Chapter 50, Paragraph 17 of 21
It seems almost an indecent assault upon those lines then to continue:—
Willoughby could not hear of her marriage without a pang; and his punishment was soon afterwards complete in the voluntary forgiveness of Mrs. Smith ...
Chapter 50, Paragraph 18 of 21
For Marianne, however ... he always retained that decided regard which interested him in everything that befell her ...
Chapter 50, Paragraph 19 of 21
It might be thought that these paragraphs are about Marianne. Their subject, of course, is Willoughby and only Willoughby, through the enchanted gaze of Elinor, his most faithful admirer. And now we know why so many of the male characters in this Novel are named John! Their brother John. Their host Sir John. The eldest Middleton child John. And, of course, Elinor's kindred spirit, John Willoughby. How thrilling to be able to write the beloved name again and again, with no more dishonesty than contained on any other page of this false and mean-spirited Novel.
Elinor's envy is shown as directed mainly at Marianne, who seems genuinely unable to recognise the malice enveloping her sister's barbed remarks. And Willoughby is shown from the beginning as equally obsessed by the advantages life has bestowed upon Colonel Brandon,
... "who, has more money than he can spend, more time than he knows how to employ, and two new coats every year."

Sense and Sensibility, Volume I, Chapter Ten
When I first began work on these Sense and Sensibility pages, I complained that England must have been short of thorough scoundrels for the same man to have ruined the Colonel's ward and been responsible for Marianne's public breakdown, and pointed out how far away we are from Pride and Prejudice's Mr. Wickham eloping with Darcy's sister and ward as well as with Elizabeth's sister Lydia, which becomes entirely inevitable as soon as we hear of it.
At that time I still believed that the incoherence of the Novel Sense and Sensibility was inadvertent. But of course there was no coincidence:— if we read Colonel Brandon's story in Chapter 31, constricted as it is, we realise that Willoughby has devised the perfect revenge on the object of his envy, and in my experience, there is nothing more conducive to inciting envy than the sort of unearned windfall that Colonel Brandon has obtained five years previously upon the death of his elder brother and heir to Delaford. The helpful Mrs. Jennings has pointed out that the estate had been sadly neglected and required much work and investment from Colonel Brandon — does anyone imagine that Willoughby's envy would be in any way assuaged by trifling reality? Willoughby, who lives from day to day upon the hope that his elderly relative Mrs. Smith of Allenham will die and leave him her substantial estate?
Of course Willoughby knows full well that Eliza Williams, this barely sixteen-year-old schoolgirl encountered in Bath, is Brandon's ward — probably he is convinced that she is actually Brandon's natural daughter, as even Mrs. Jennings believes.
... "After the death of my brother ... she visited me at Delaford. I called her a distant relation; but I am well aware that I have in general been suspected of a much nearer connection with her. "
[Colonel Brandon to Elinor]
Sense and Sensibility, Volume II, Chapter Nine [ch. 31 of 50]
Willoughby has persuaded the girl to leave the friend and friend's father to whom she has been entrusted in Bath, and accompany Willoughby secretly to London; he makes certain that she never discovers his own address, nor that Willoughby is well-known in the neighbourhood of Barton Park frequented by her guardian. She has been left alone, in early 19th-century London, friendless, homeless, destitute, abandoned and about to give birth to Willoughby's child. To repeat:—
"I did not recollect that I had omitted to give her my direction; and common sense might have told her how to find it out."
    Volume III, Chapter Eight [ch. 44 of 50]
How can that phrase be forgiven? Elinor manages forgiveness, quite easily, before he even leaves the room, by reflecting that he, Willoughby, has been injured; is the victim; that the world made him do it, had made him extravagant and vain:—
' Her thoughts were silently fixed on the irreparable injury which too early an independence and its consequent habits of idleness, dissipation, and luxury, had made in the mind, the character, the happiness, of a man who, to every advantage of person and talents, united a disposition naturally open and honest, and a feeling, affectionate temper. '
    Volume III, Chapter Eight [ch. 44 of 50]
For anyone returning to the Novel's opening pages, the similarity of description between Willoughby in Chapter 44, and Elinor in Paragraph 11 might lead to the belief that they are one and the same person:—
' Her disposition was affectionate, and her feelings were strong ... '
    Volume III, Chapter Eight [ch. 44 of 50]
At one time I might have assumed a romantic attachment on her part, but how much more worthy is a beautiful unity of mind and soul. And to counter any appearance of inherent disloyalty, toward Edward, toward Marianne, toward Colonel Brandon and the rest, Elinor in that last Chapter 50 has dropped her normal reticence and taken pains to show the happiness ever after of everyone else in the Novel, not excluding Edward, his mother, and the awful Lucy Steele that was.
Is the world responsible for the mutual sense of entitlement that permits Elinor Dashwood to forgive Willoughby, and he to forgive himself with such unquestioning alacrity, while judging the far less serious sins of others with such ferocity? Obviously they both claim a fundamental unfairness at work in their circumstances, while realising instinctively that their demands against an uncaring world will collapse at the least self-examination. But why would anyone choose such a wasteful manner of existence, leading to so much unhappiness?
I have spent much time comparing Jane Austen's Novels Pride and Prejudice and Sense and Sensibility, always to the discredit of the latter. To use the crudest, most crass modern expression, Elizabeth Bennet is indisputably a winner, while Elinor Dashwood is a born loser, and such qualities rub off on all the people about them. What else does Elinor have to sustain her, other than Envy? — Perhaps Elinor Dashwood is the most modern of Jane Austen's heroines, in that she has at her disposal the solaces of imagination, of finding pleasure in adoration of a real actual — though idealised — person, while we modern types make do with characters encountered on soap operas, on television, in film, and in novels.
For all my eagerness to censure Elinor's seeming elastic conscience as regards Willoughby, I have been only too willing, in another section of these very webpages, to find excuses for Blackpool's corrupt District Inspector Carlisle for reasons quite similar to Elinor's:— "But he truly loves Natalie Holden!" So what if he is intent on seducing the wife of the main suspect? And framing the latter for a murder he didn't commit? After all, nobody's perfect. And besides, we love Natalie as much as Carlisle does.
It must be admitted that my affection for Detective Inspector Carlisle wasn't shared by others, specifically by my husband, who went so far as to accuse Carlisle of wearing a raincoat to hide his tail, being a rat in human form. Which, of course, he is. Where my husband went too far was in his allegations that seducing the lady loves of main suspects was the modus operandi of Detective Inspector Carlisle, and would be repeated on his next case. An accusation I found myself bound to deny hotly.
Why? Because, like Elinor toward Willoughby and his professed love for Marianne, Natalie Holden was, is, an idealised version of myself, even though we could hardly be more unlike? Perhaps. But it seems a little more complicated to me; that in reality the reader/listener/viewer becomes for a time the one, the other, the couple, the chandelier and the flimsy article of clothing that lands on top of it to the accompaniment of Slade's 'You know how to pleeze me Oh Oh.' We want the scene to last forever, unaltered.
Is it so wrong to want from Art some of the permanency lacking in this inconstant world, even as we move on to newer programmes, newer series? Especially as we move on?
And for anyone who hasn't yet figured out the meaning of the Novel's title, it is also my opinion that Sense and Sensibility has nothing whatever to do with Marianne, but, in fact, shivers of ecstasy, describes Elinor and Willoughby in their dual nature as victims powerless against the onslaughts of a cruel uncaring world.
Envy of the Powerful.
    We have previously pointed out that the first type of persons afflicted by the Envy of the Powerless are weakened by the promptings of their better nature to hide emotions of which they are ashamed.
The second type, those giving evidence of the Envy of the Powerful, has no better nature to struggle against. And where the Elinor Dashwoods are limited to pathetic dishonest outbursts, the Fanny Dashwoods of this world are clearsighted enough about their motives to glory in the all-consuming pursuit of the exercise of their powers.
' When your father and mother moved to Norland ... all the china, plate, and linen was saved, and is now left to your mother ... And the set of breakfast china is twice as handsome as what belongs to this house. A great deal too handsome, in my opinion, for any place THEY can ever afford to live in ...
    Sense and Sensibility, Chapter Two
Except that, in this world, no power is ever absolute, and even Fanny Dashwood needs to use old-fashioned manipulation to get her own way, devoting infinite patience to convince her husband John that it is his own idea to carry out the cruel and sordid strategies that will prevent his keeping any part of the promise to his dying father.
As a passion, [Envy] consists in a sort of deep sadness experienced in the sensitive part of our nature ... As a capital sin envy refers to the tendency to be saddened by another's good as if that good constituted an affront to our superiority. Often it coincides with a desire of seeing the person deprived of the particular good that offends us as well as the immoderate desire to acquire that good for ourselves, even unjustly.
(Paragraph 2)
...
    When the prophet Nathan wanted to spur King David to repentance, he told him the story about the poor man who had only one ewe lamb that he treated like his own daughter and the rich man who, despite the great number of his flocks, envied the poor man and ended by stealing his lamb (2 Sam., 12: 1-4).
(Paragraph 3)
Paul Kokoski, Pravda.ru. Envy: Most joyless of Seven Deadly Sins
We take note that the prophet Nathan's story, fabricated to elicit a desire for repentance in the King, was successful since the latter truly wished to become a better person and ruler. From the information at our disposal, we see nothing to demonstrate that either Fanny Dashwood nor her mother and model Mrs. Ferrars, would be tempted to change their miserable ways upon hearing this heart-rending tale. In fact, Chapter Two of Sense and Sensibility contains a number of extremely ugly (and funny) paragraphs describing Mrs. Ferrars's reproaches to her late husband for leaving, in his will, annuities to three
'... Old superannuated servants ... My mother was quite sick of it. Her income was not her own, she said, with such perpetual claims on it ... because, otherwise, the money would have been entirely at my mother's disposal, without any restriction whatever. '
We notice also that according to the demands of this strange and unaccountable Novel, Fanny Dashwood and her mother Mrs. Ferrars are presented throughout almost as one and the same person — more understandable perhaps if their words and actions are assumed to be not those of individuals but standard-bearers of a particular type. And the two most striking features of this particular type is their way of life, which is intended to evoke Envy in others, combined with a striking viciousness when someone weaker, poorer, inadvertently awakens their own dormant helpless Envy.
What is it other than Envy that goads Mrs. Ferrars to regard the fortune of the unfortunate (but rich) Miss Morton — Lord Morton's daughter! — as practically her own, through the medium of an arranged marriage with elder son Edward, or, if need be, younger son Robert? And how could such a person react in any way other than to reject violently the refusal of Edward to lend himself to the way of life which forms her entire being, than to disinherit Edward literally as he has figuratively disinherited her, his mother?
Insofar, then, as concerns the structure of the Novel Sense and Sensibility, I see it as leading to a marshalling of forces between those who are Powerless in their Envy, namely Elinor Dashwood and John Willoughby, as opposed to the quartet of the Powerful which has arisen during the course of the Novel, namely Fanny Dashwood and her mother Mrs. Ferrars, assisted by son and brother Robert and his wife the former Lucy Steele — with all the other characters as foot soldiers relegated to the sidelines.
Many months ago, I wrote the following paragraphs as an architectural analogy for Jane Austen's Novel Sense and Sensibility, and I see no reason to change so much as a comma:—
I would suggest the most apt architectural reference for Sense and Sensibility to be one of those town houses with a high imposing front facade, dropping off to a single level behind, chilly and damp inside except for the warmth emanating from occasionally opened doors to rooms belonging to Marianne and Mrs. Dashwood.
It's a curiously unreal and unfinished property, most unsatisfying for a visitor who feels he is purposefully being swept along through corridors leading to doors opening onto empty rooms that are described by the narrator with sufficient detail that it seems as though their former contents and absent occupants must be worthy of note. Meanwhile, any person or object that might be either attractive, or even relevant, has been shrouded in drapery or pushed out the back door with sneers of dismissal.
We are left like would-be purchasers asked to buy an unsound building by a vendor we neither like nor trust, with everything in which we might be interested excluded from the sale.
*   *   *   *   *
Absences:—
We know absolutely how and why Pride and Prejudice's Mr. Bingley has been prevailed upon by Mr. Darcy and the Bingley sisters to quit Netherfield and return with them to London; no such certainty accompanies the mysterious unexplained departure from Barton of Sense and Sensibility's Colonel Brandon, called away by a letter — for a reason he is not at liberty to explain. In any event the Colonel's absence permits the continuation of Marianne's relationship with Willoughby, who is also sent away by his wealthy aunt Mrs. Smith — for a reason he is not at liberty to explain. One week later Edward comes to visit the Dashwood ladies, before he too is obliged to take his departure — for a reason he is not at liberty to explain.
A simple explanation might be that Colonel Brandon's presence before, and Edward's after the important scenes involving Willoughby, are considered best dispensed with by the heroine/narrator.
In any event, the most interesting Farewell in all of Sense and Sensibility for me occurs when Elinor and Marianne are leaving for London with Mrs. Jennings. Their mother Mrs. Dashwood pronounces herself
'... "delighted with the plan ... It is exactly what I could wish. Margaret and I shall be as much benefited by it as yourselves. When you and the Middletons are gone, we shall go on so quietly and happily together with our books and our music! You will find Margaret so improved when you come back again!"
Of course Elinor is anxious to put herself on record as opposing the scheme, and her mother continues:—
"And what is my dear prudent Elinor going to suggest? What formidable obstacle is she now to bring forward? Do let me hear a word about the expense of it."
Once again, as in earlier scenes with Colonel Brandon and Edward, we are favoured with sudden unexpected insight into the character of Mrs. Dashwood, as well as an alternate view of the family dynamics. Until these words, we have been led to believe that Elinor's superior persona is self-created and owes nothing to nurture, and in particular not from a mother who is always said to be as silly and flighty and undisciplined as her daughter Marianne.
Elinor ... resolved within herself, that if her sister persisted in going, she would go likewise, as she did not think it proper that Marianne should be left to the sole guidance of her own judgment.
    "I will have you BOTH go," said Mrs. Dashwood ... "You will have much pleasure in being in London ... and if Elinor would ever condescend to anticipate enjoyment, she would foresee it there from a variety of sources ..." '
    Volume II, Chapter Three [ch. 25 of 50]
And if this visit to London results firstly in Elinor being reunited with Edward, and secondly an interested witness to Willoughby's very public repudiation of Marianne, well, no one who values truth can accuse Elinor of purposely breaking her personal code of doing nothing on her own behalf.
I suppose it may be said that the absence of Elinor and Marianne in London results in Mrs. Dashwood's absence from the lives of her two eldest daughters, to be reunited when she is brought to Cleveland by Colonel Brandon to help nurse Marianne back to health. They arrive within half an hour after Willoughby's leaving the house, leaving Elinor with Willoughby, "poor Willoughby", constantly in her thoughts, dreading the performance of relating the details of Willoughby's vindication, doubting whether after such an explanation Marianne could ever be happy with another.
Her mother's mind is occupied elsewhere.
' " ... My Elinor, you do not yet know all my happiness. Colonel Brandon loves Marianne. He has told me so himself."
Her daughter, feeling by turns both pleased and pained, surprised and not surprised, was all silent attention.
... "Had I sat down to wish for any possible good to my family, I should have fixed on Colonel Brandon's marrying one of you as the object most desirable. And I believe Marianne will be most happy with him of the two."
Elinor was half inclined to ask her reason for thinking so, because satisfied that none founded on an impartial consideration of their age, characters, or feelings, could be given ...
" ... He has loved her, my Elinor, ever since the first moment of seeing her."
Here, however, Elinor perceived,— not the language, not the professions of Colonel Brandon, but the natural embellishments of her mother's active fancy, which fashioned every thing delightful to her as it chose.
    ...
    "And ... the Colonel's manners are not only more pleasing to me than Willoughby's ever were, but are of a kind to be more solidly attaching to Marianne ... I am very sure myself, that had Willoughby turned out as really amiable, as he has proved himself the contrary, Marianne would yet never have been so happy with HIM, as she will be with Colonel Brandon."
... Her daughter could not quite agree with her, but her dissent was not heard, and therefore gave no offence. '
    Sense and Sensibility, Volume III, Chapter Nine [ch. 45 of 50]
Her daughter, feeling by turns both pleased and pained, surprised and not surprised, was all silent attention. This is said to be Elinor's reaction to her mother's announcement that Colonel Brandon has announced that he loves Marianne. Her silent response is even stronger to the news that Mrs. Dashwood has wished that the Colonel would marry either Elinor or Marianne, and that Marianne will be most happy with him of the two, where Elinor is said to be half inclined to ask her reason for thinking so, because satisfied that none founded on an impartial consideration of their age, characters, or feelings, could be given ...
Age. Characters. Feelings. I understand that Elinor would much like to be lady of Colonel Brandon's manor of Delaford, especially when dealing with Edward and Lucy in their expected occupancy of the nearby tiny parsonage. I understand also that Elinor's vanity has been gratified by the hopeful expectations expressed by Mrs. Jennings in Chapter 39, and her brother John in Chapter 41. But although Mrs. Dashwood is unlikely to put it so bluntly, happiness in marriage is more likely to be gained as a result of a wife finding her own happiness in forming her husband's, as said of Marianne in the Novel's final Chapter 50. But which is highly unlikely — no, impossible — for someone corrupted by a wilful habit of drinking deeply from the poisoned chalice of Envy.
*   *   *   *   *
Acknowledgement:—
I'm only pointing out what is glaringly obvious, but these Sense and Sensibility webpages would never exist in their present expanded form without the clarifying lucidity of Paul Kokoski, Pravda.ru, Author of Envy: Most joyless of Seven Deadly Sins.
Next: Northanger Abbey (and the Deadly Sin of Avarice), half the length of Austen's Novel Sense and Sensibility, but much more informative, since adorable heroine/narrator Catherine Morland has given herself a mission to reveal and elaborate, as opposed to Sense and Sensibility's determination to conceal, dismiss, disparage, and diminish.
________________________
Pictures
Details of and links to all Austen-Novel Pictures are found in the Pictures 3B webpage.

This Page:— Sense and Sensibility Part Four: Architecture, and Absences


JMW Turner, c. 1791
Title: View of Cote House, Captain Fowler's Seat, Seen Through Trees [Gate opened]
Watercolour and pen on paper
Dimensions: Support 292 x 255 mm
Collection Trustees of the Cecil Higgins Art Gallery, Bedford, England
Turner Worldwide, Reference TW 0015, Wilton 21

JMW Turner, 1791
Title: Cote House Seen through Trees 1791 [Gate closed]
From Bristol and Malmesbury Sketchbook
Medium: Watercolour on paper;
Dimensions: Support 185 x 263 mm
Collection: Tate, Accepted by the nation as part of the Turner Bequest 1856
View by appointment at Tate Britain's Prints and Drawings Room
Reference D00096 Turner Bequest VI 17 a
[March 2008, text only
    WebPage last amended October 18th, 2013]
________________________
Sense and Sensibility Part 4: Architecture, and Absences
Sandsifter Five Main Page
The Novels of Jane Austen – Home Page 3B
Sense and Sensibility Part 3: Film, Fairy Tale, and Happily Ever After
Northanger Abbey Part 1: The Deadly Sin of Avarice ... and 'Aura'