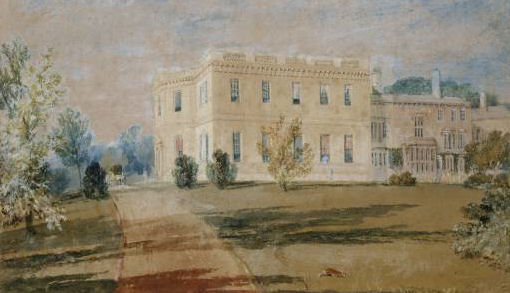 Demonic Possession
  in the Novels of Jane Austen
Demonic Possession!
I can think of no other explanation for the distressing promiscuity of writing styles and voice — to say nothing of artistic competence — in the Novels of Jane Austen than that she has become in each case Demonically Possessed by its relevant heroine, rather like the thoughts and words and actions of a demented puppeteer being manipulated by his creations whilst he wastes energy convincing himself that he is directing their every idea and movement;
Even the sentence structure of these later Novels mimics the manner of speaking of their heroines, with Emma written in short sharp decisive bursts, totally at odds with Mansfield Park and that Novel's languid exculpatory paragraphs of almost identical length and thrust from one chapter to the next;
It is obvious that Austen did not permit herself to be possessed by just anyone. No female who could contemplate marriage for a motive other than romantic love need apply for the position, since she would be dismissed with the contempt shown toward Charlotte Lewis, friend, neighbour, and faithful confidant of Elizabeth Bennet. That Charlotte requires courage, honesty, and good humour in accepting the consequences of her difficult choice is neither acknowledged nor apparently noticed by heroine or author;
After all is said and done, someone has to marry the unctuous clergymen of this world, and better a sensible hardworking woman like Charlotte Lewis than sickly and depressive Fanny Price of Mansfield Park, whose adored Edmund is as pompous and unforgiving as Mr. Collins, whilst lacking the latter's inexhaustible good humour;
Apart from this insistence upon a heroine with sufficient courage to live by her romantic convictions; apart from a disdain for vulgarity, and the clear preference for a certain refinement of character and voice, Austen appears to impose few requirements upon her heroines. None appears to possess unusual beauty, and Anne Elliot, heroine of the final Austen Novel Persuasion is even said, often, usually by her father, to have grown thin and pale and unattractive since being prevailed upon to break off her engagement to Captain Frederick Wentworth;
*   *   *   *   *
If Austen imposes few requirements upon her heroines, those heroines, once chosen, impose crippling demands upon their author. The immediate, unavoidable, and only too apparent result of Demonic Possession is to make of Jane Austen an unreliable narrator, whose honesty and objectivity are suspect.
'My Fanny ...' writes Jane Austen in Chapter 48 of Mansfield Park. Far more accurate would be a triumphant 'My author ...' from the pathetically misguided Fanny Price.
Most untrustworthy narrations are written in the first person. In her short, wicked, but extremely funny Novel Lady Susan (written around 1795 when Austen was twenty, and withheld from publication for more than 50 years until published in 1871 by her nephew), Jane Austen wrote such a first-person narration, in the form of letters from the heroine — if the lascivious Lady Susan can be so described — firstly as a honeyed statement of claim to her next intended victim, and secondly as a precise recital of her intentions and objectives to a trusted friend and conspirator. No one could demand more in the way of honesty and objectivity from a narrator, even to the extent of predicting with uncanny accuracy the furious reactions of those affected by her machinations.
In spite of her many and manifest faults and failings, Lady Susan never lies to herself, nor to her trusted friend and correspondent, Mrs. Alicia Johnson. If the heroines of Sense and Sensibility and Mansfield Park had been half as honest, Jane Austen mightn't have needed to lie and dissemble on their behalf.
If my theory is correct, the Demonic Possession ends with completion of the relevant Novel, so that by the time she gets around to writing her final Novel Persuasion, Austen has been rid of Mansfield Park and the annoying Fanny Price, in order to concentrate her energies on the perceptiveness and mordant wit of that final Novel's Anne Elliot. And here Jane Austen disproves the pretensions to perfection of Fanny Price, by presenting in heroine Anne's younger sister Mary a character bearing an uncanny resemblance to Fanny as we see her, rather than as presented by the author of Mansfield Park.
Which is to say, in Mary Musgrove Austen has given us a character of overweening self-absorption, combined with such thorough unkindness and stupendous arrogance, as to remove any possibility of engaging our sympathy. And here Austen succeeds in portraying her courageous heroine Anne, with neither complaint nor criticism but only rueful acceptance of her sister as she is, rather than as she ought to be.
What a pity that Persuasion is such a slight and imperfect Novel, as Austen has given us in Anne Elliot an admirable heroine, and one presenting little hardship when it comes to Demonic Possession — a well-earned blessing to the author, since it would prove to be her last completed Novel.
And the funny but incontrovertibly wicked Lady Susan in this assumption of Demonic Possession on the part of Jane Austen? My original intention was to ignore that Novel, unpublished during Austen's lifetime, so as to concentrate on the six later books, but recently I have myself become demonically possessed — not by a character but by a new and different theory which makes necessary the inclusion of Lady Susan.
Pictures
Details of and links to all Austen-Novel Pictures are found in the Pictures 3B webpage.

This Page:— Demonic Possession in the Novels of Jane Austen


JMW Turner, circa 1818
Title: Farnley in the Old Time
Medium: Bodycolour on paper
Dimensions: unconfirmed 278 x 393 mm
Private Collection, Turner Worldwide
Reference: TW0262, Wilton 629


JMW Turner, 1815
Title: Front Door and Porch, Farnley
Medium: Bodycolour on paper
Dimensions: unconfirmed 268 x 320 mm
Private Collection, Turner Worldwide
Reference: TW0237, Wilton 584


JMW Turner, ?1798
A Gothic Arch in Mr. Wyndham's Garden at Salisbury, ?1798
Medium: Gouache, graphite and watercolour on paper;
Dimensions: Support 477 x 329 mm
Collection: Tate, Accepted by the nation as part of the Turner Bequest 1856
View by appointment at Tate Britain's Prints and Drawings Room
Reference D02350

JMW Turner, 1818
Title: Farnley Hall from the East
Medium: Bodycolour and chalk on paper
Support: 311 x 394 mm
Private Collection, Turner Worldwide
Reference: TW0240, Wilton 587

[March 2008, text only
    WebPage last amended June 14th, 2013]
________________________
Demonic Possession in the Novels of Jane Austen
Sandsifter Five Main Page
The Novels of Jane Austen – Home Page 3B
The Seven Very Different Novels of Jane Austen
Jane Austen and the Seven Deadly Sins