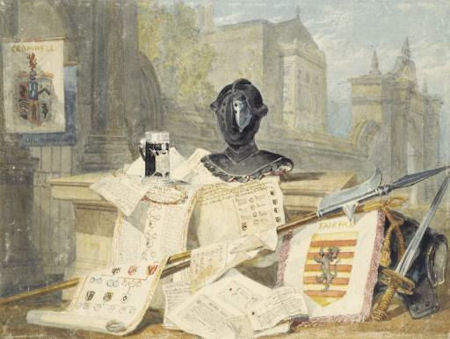 Damned with Faint Praise —
Pride and Prejudice Yesterday and Today
' ... Her best-known, if not her best work, Pride and Prejudice, was also her first ... '

' Although Pride and Prejudice is the novel which in the mind of the public is most intimately associated with Miss Austen's name, both Mansfield Park and Emma are finer achievements — at once riper and richer and more elaborate.

' But the fact that Pride and Prejudice is more single-minded, that the love story of Elizabeth Bennet and Darcy is not only of the book but is the book ... has given Pride and Prejudice its popularity above the others among readers who are more interested by the course of romance than by the exposition of character.

' Entirely satisfactory as is Pride and Prejudice so far as it goes, it is, however, thin beside the niceness of analysis of motives in Emma and the wonderful management of two housefuls of young lovers that is exhibited in Mansfield Park.

' It has been generally agreed by the best critics that Miss Austen has never been approached in her own domain. No one indeed has attempted any close rivalry. No other novelist has so concerned herself or himself with the trivial daily comedy of small provincial family life, disdaining equally the assistance offered by passion, crime and religion. Whatever Miss Austen may have thought privately of these favourite ingredients of fiction, she disregarded all alike when she took her pen in hand. Her interest was in life's little perplexities of emotion and conduct; her gaze was steadily ironical.

' The most untoward event in any of her books is Louisa's fall from the Cobb at Lyme Regis, in Persuasion; the most abandoned, Maria's elopement with Crawford, in Mansfield Park ...'

' Recognition came to Miss Austen slowly. It was not until quite recent times that to read her became a necessity of culture ... '

' Although, however, she has become only lately a household word, Miss Austen had always her panegyrists among the best intellects — such as Coleridge, Tennyson, Macaulay, Scott, Sidney Smith, Disraeli ...'

' Macauley, whose adoration of Miss Austen's genius was almost idolatrous, considered Mansfield Park her greatest feat; but many critics give the palm to Emma.

' Disraeli read Pride and Prejudice seventeen times.'
Jane Austen: Encyclopedia Britannica 1945 Volume 2, Pages 298, 299 — entry written by E.V.L. (Edward Verrall Lucas, 'writer and former chairman of Methuen & Company, Publishers, London .' ) **
________________________
Two hundred years of muted contempt, and yet Jane Austen's Pride and Prejudice continues to surprise and delight.
Surprise and delight were certainly my reactions on first reading the Novel. Devastating wit I was prepared for, in addition to the course of romance so deprecated by the various editions of the Encyclopedia Britannica. But who would have predicted finding in a 19th century literary classic all the elements of a great modern mystery?
A young man — tall, dark, rich, unmarried — is prevailed upon to attend a simple country dance in the small town bordering an estate recently leased by the young man's host and good friend, Mr. Bingley.
To express his displeasure at being forced to attend this mindless entertainment, the young man delivers himself of a series of loud and derogatory comments concerning the lack of beauty of the younger sister of the lovely girl particularly admired by Mr. Bingley.
The younger lady thus targeted having no choice but to overhear the rude remark, turns the slur into a joke against herself and her imagined pretensions. Meanwhile the young man discovers, to his mortification, that the more he tries to justify his initial disapprobation, the more he finds himself succumbing to the wit and charm, to say nothing of the lovely dark eyes of the slandered young lady.
Unfortunately for his comfort, the young lady makes the acquaintance of an extremely attractive young military man, who claims to know a multitude of facts attesting to the first young man being not merely proud and impolite, but a villain as well.
There follows much ambiguity, foreshadowing, deception, suspense — all the necessary elements forcing readers to grope our way through an entangled underbrush of unknowable factors, while all the important action takes place increasingly at the outer limits of our comprehension.
Rather like life in our times.
Also rather like life in our times is the novel's denigrated course of romance. First Impressions was the title initially chosen by the author for her story:— strange and repellent as are the customs of the era in which the story is written, today's reader finds the perplexities faced by the characters encountered in First Impressions (Pride and Prejudice in its final published incarnation), oddly modern.
How to acquit oneself in a world which takes for granted that everything and everyone is for sale, in exchange for money and position, glamour and power?
Whom to believe, whom to trust?
How to move beyond our First Impressions, which may, or may not, accord only tangentially with reality and truth, bearing in mind that today, as never before, young people — and those not so young — are increasingly meeting, befriending, falling in love with, and marrying strangers, which is to say persons of whom nothing is known beyond a name? (It is disconcerting that of the four unattached young men who will wreak havoc in the lives and fortunes of the young ladies animating the pages of Pride and Prejudice, not even Mr. Collins escapes the descriptive label stranger in our midst.)
Of course there is more to Pride and Prejudice than the surface familiarity of modern mystery novel, and up-to-date romantic entanglements.
'Age cannot wither her, nor custom stale her infinity variety', is said of Cleopatra by friends of Antony. But perhaps Shakespeare would forgive us using his deathless fragment of dialogue to describe the creator of Pride and Prejudice, and the lasting impact of her first, best-known, and best work — no matter the opinion of the Encyclopedia Brittanica.
But then, I would be willing to hazard a bet that the average fan of Jane Austen's Pride and Prejudice would require significantly less than three minutes to prove that the author of the Encyclopedia Brittanica entry had never read the book — nor Sense and Sensibility or Northanger Abbey either. Do you think that he would be embarassed to be caught in such a fraud? Nor do I. **
' The most untoward event in any of her books is Louisa's fall from the Cobb at Lyme Regis, in Persuasion; the most abandoned, Maria's elopement with Crawford, in Mansfield Park ...'
Louisa Musgrove is a minor character in Austen's final completed Novel Persuasion. Marianne Dashwood is one of the two main protagonists of first-published Sense and Sensibility. Most of us, I suspect, would consider Marianne's life-threatening illness substantially more untoward as regards the course of the Novel Sense and Sensibility, than a fall by the heroine's sister's sister-in-law in Persuasion. The Encyclopedia Brittanica would no doubt point out that Louisa's accident was self-inflicted and a result of heedless imprudence. But then, so is Marianne's catastrophic decline following her betrayal by the faithless Willoughby.
As for Maria's elopement with Crawford in Mansfield Park, the only persons to be tarnished by such abandoned behaviour — were themselves. I leave to Pride and Prejudice's Mr. Collins the doubtless enjoyable task of describing to their father, Mr. Bennet, the probable effects upon her four older unmarried sisters of sixteen-year-old Lydia Bennet's elopement with Wickham, entirely apart from the latter's unpaid living expenses and heavy gambling debts:—
' ... The death of your daughter would have been a blessing in comparison of this ... '
' ... This false step in one daughter will be injurious to the fortunes of all the others, for who, as Lady Catherine [de Bourgh, Mr. Collins's patron] herself condescendingly says, will connect themselves with such a family. And this consideration leads me moreover to reflect with augmented satisfaction on a certain event of last November [when Mr. Collins's benevolent marriage proposal was refused by his cousin Elizabeth Bennet], for had it been otherwise, I must have been involved in all your sorrow and distress ... '
Pride and Prejudice, Volume III, Chapter Six
*   *   *   *   *
** Note that I would be highly critical of anyone else picking and choosing inflammatory tidbits as I have done with the opening Encyclopedia entry for Jane Austen. Perhaps the writer was even trying to be kind, which only serves to enrage me as much today as when I first copied out the opening citations in 2008 having read the Austen entry in my husband's family Encyclopedia Brittanica 1945 edition.
The entire unedited entry unchanged from the 1911 edition is available online at www.1911encyclopedia.org/Jane Austen.
As will be immediately obvious, my excerpts above have been divided in the modern fashion into separate paragraphs for almost every thought.
Pictures
Details of and links to all Austen-Novel Pictures are found in the Pictures 3B webpage.

This Page Introduction 3B; Damned with Faint Praise: Pride and Prejudice Yesterday and Today


JMW Turner, exhibited 1798
Title: Refectory of Kirkstall Abbey, Yorkshire, exhibited 1798
Medium: Graphite and watercolour on paper
Dimensions: Support 448 x 651 mm
Collection: The Trustees of Sir John Soane's Museum
Turner Worldwide, Reference TW 0528, Wilton 234

JMW Turner, c. 1799-1801
Title: Christ Church, Oxford, from Merton Fields, c. 1790
[From Oxford and Other Subjects]
Medium: Graphite and watercolour on paper
Dimensions: Support 298 x 384 mm
Collection: Tate, Accepted by the nation as part of the Turner Bequest 1856
View by appointment at Tate Britain's Prints and Drawings Room
Reference: D00115, Turner Bequest VIII A

JMW Turner, c. 1797
Title: Workmen Lunching in a Gravel Pit, c. 1797
Medium: Graphite and watercolour on paper
Dimensions: Support 434 x 373 mm
Collection: Tate, Accepted by the nation as part of the Turner Bequest 1856
View by appointment at Tate Britain's Prints and Drawings Room
Reference: D00876, Turner Bequest XXXIII E

JMW Turner, c. 1815
Title: At Farnley (a Frontispiece) 1815
Medium: Watercolour, graphite, pen and ink and scratching on paper
Dimensions: Support 178 x 242 mm
Collection The Ashmolean Museum, Oxford
Turner Worldwide, Reference TW0710, Wilton 582
[March 2008, text only
    WebPage last amended June 17th, 2013]
________________________
Damned with Faint Praise: Pride and Prejudice Yesterday and Today – Introduction 3B
Sandsifter Five Main Page
The Novels of Jane Austen – HomePage 3B
The Novels of Jane Austen – HomePage 3B
The Seven Very Different Novels of Jane Austen