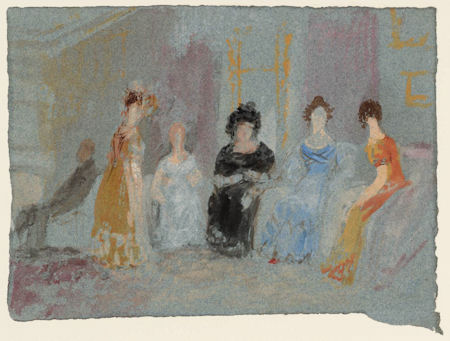 Ground Floor (5):—
The Netherfield Ball
Chapter 18
Chapter Eighteen begins:
TILL Elizabeth entered the drawing-room at Netherfield and looked in vain for Mr. Wickham among the cluster of red coats there assembled, a doubt of his being present had never occurred to her. The certainty of meeting him had not been checked by any of those recollections that might not unreasonably have alarmed her. She had dressed with more than usual care, and prepared in the highest spirits for the conquest of all that remained unsubdued of his heart, trusting that it was not more than might be won in the course of the evening. But in an instant arose the dreadful suspicion of his being purposely omitted for Mr. Darcy's pleasure in the Bingleys' invitation to the officers.
*   *   *   *   *
Of course Elizabeth had no reason to doubt that Wickham would attend: Had she not already inquired anxiously of Mr. Wickham in Chapter Sixteen:
'I hope your plans in favour of the ----shire will not be affected by his being in the neighbourhood,' (the word his referring, of course, to the presence of Mr. Darcy), and been reassured by Wickham's blithe rejoinder: 'Oh! no - it is not for me to be driven away by Mr. Darcy. If he wishes to avoid seeing me, he must go.'
Elizabeth suspects that an invitation to Mr. Wickham has been purposely omitted as a favour by Bingley to Mr. Darcy. This suspicion is discovered to be untrue, as Mr. Wickham had been obliged to go to town on business the day before, and was not yet returned. On the other hand, Wickham's friend Mr. Denny has added, with a significant smile,
'I do not imagine his business would have called him away just now, if he had not wished to avoid a certain gentlemen here.'
This remark confirms that Mr. Darcy is no less answerable for Wickham's absence, at least in Elizabeth's view, and she
...
could hardly reply with tolerable civility to the polite inquiries which he directly afterwards approached to make. — Attention, forbearance, patience with Darcy, was injury to Wickham. She ... turned away with a degree of ill-humour ...
    But Elizabeth was not formed for ill-humour ...
With the result that when Darcy later approaches and asks her to dance, she accepts without knowing what she did.
During the dance Elizabeth tries as much as she dares to intervene on Wickham's behalf, but Darcy is unrelenting.
They went down the other dance and parted in silence; on each side dissatisfied, though not to an equal degree, for in Darcy's breast there was a tolerable powerful feeling towards her, which soon procured her pardon, and directed all his anger against another.
    They had not long separated when Miss Bingley came towards her, and with an expression of civil disdain thus accosted her,
    'So, Miss Eliza, I hear you are quite delighted with George Wickham! — Your sister has been ... asking me a thousand questions; and I find that the young man forgot to tell you, among his other communications, that he was the son of Old Wickham, the late Mr. Darcy's steward ... I pity you, Miss Eliza, for this discovery of your favourite's guilt; but really, considering his descent one could not expect much better.'
    'His guilt and his descent appear by your account to be the same,' said Elizabeth angrily, 'for I have heard you accuse him of nothing worse than of being the son of Mr. Darcy's steward ...'
How curiously modern, this sense of fair play and sympathy for the underdog. And how utterly timeless besides.
Mr. Darcy is no fool; he must be perfectly aware that Miss Bingley's fulsome flatteries are not for the likes of the son of a steward. In our times the Cinderella story is told always from the point of view of the girl, at least in English, but Rossini's La Cenerentola gives equal attention to the sensibilities of Prince Ramiro. Watching the Met opera on PBS some years ago, I was struck by the resemblance to the Bingley sisters of the two ugly stepsisters as they fawn over Dandini the valet pretending to be the prince, and summarily dismiss as a potential escort the prince disguised as his groom.
And also by the similarities between Elizabeth's support of Wickham and Cenerentola's kindness toward the beggar, who is actually Prince Ramiro's tutor. In fact, the prince has met and admired Cenerentola dressed in rags, and is attracted to the magnificently-attired unknown veiled lady at the ball mainly on account of the resemblance in voice and appearance to the mistreated girl he had met that morning. And Cenerentola in turn declines Dandini's romantic overtures by explaining that she is in love with someone else — his groom.
Then there is Don Magnifico, Cenerentola's father, whose sins are many, even to denying that his third daughter is alive. Mr. Bennet, although as a rule more in need of absolution for what he has failed to do, yet replies to Elizabeth's agonised look by saying aloud before younger sister Mary can embark upon a third song:—
'That will do extremely well, child. You have delighted us long enough. Let the other young ladies have time to exhibit.'
There ends his helpfulness.
To Elizabeth it appeared, that had her family made an agreement to expose themselves as much as they could during the evening, it would have been impossible for them to play their parts with more spirit, or finer success ...
Of course Mrs. Bennet needs no help in making herself ridiculous, but receives assistance anyway from the voluble Mr. Collins as the Longbourn party waits a quarter of an hour for their carriage, delayed by a manoeuvre of Mrs. Bennet.
Darcy said nothing at all. Mr. Bennet, in equal silence, was enjoying the scene.
In my later webpages devoted to The Novels of Jane Austen, I mention that all works of entertainment need suitable characters to illustrate a theme, and its opposite.
I offer intelligence and wit as the theme of Pride and Prejudice, and various types of lack of same for the opposite:— Lydia and Kitty are silly, Mr. Collins foolish, and Lady Catherine de Bourgh (not yet encountered in this present section), is stupid.
And Mrs. Bennet, the girls' mother, is all these things, and loud-mouthed, bad-tempered and vicious besides.
If the Foundation level Meryton Assembly showed Mr. Darcy at his worst, the Ground Floor Netherfield Ball permits Mrs. Bennet to display the full range of her appalling repertoire. At a later time I intend to linger for discussion of the lack of a single offsetting good quality in the depiction of Mrs. Bennet, and why such deficiency appears in this particular case to be a strength rather than weakness.
*   *   *   *   *
Pictures 3A
This Page Chapter 18, Ground Floor (5), The Netherfield Ball


JMW Turner, circa 1818
Title: Farnley in the Old Time
Medium: Bodycolour on paper
Dimensions: unconfirmed 278 x 393 mm
Private Collection, Turner Worldwide
Reference: TW0262, Wilton 629


[separate detail from left and right sections of watercolour:]

JMW Turner, 1827
Title: Music in the White Library
Medium: Gouache and watercolour on paper;
Dimensions: Support 140 x 190 mm
Collection: Tate, Accepted by the nation as part of the Turner Bequest 1856
View by appointment at Tate Britain's Prints and Drawings Room
Reference D22699

JMW Turner, 1827
Title: A Bevy of Beautiful Women
Medium: Watercolour and bodycolour on paper;
Dimensions: Support 143 x 193 mm
Collection: Tate, Accepted by the nation as part of the Turner Bequest 1856
View by appointment at Tate Britain's Prints and Drawings Room
Reference D22763
[December 2005 text only]
    [WebPage last amended April 8th, 2013]
________________________
Chapter 18: Ground Floor (5), The Netherfield Ball
Main Page – Index
Did Darcy Lie to Himself?
Chapters 16 and 17:
Ground Floor (4): The Whist Party
Chapters 19 to 23:
Ground Floor (6), Finishing Touches Volume I