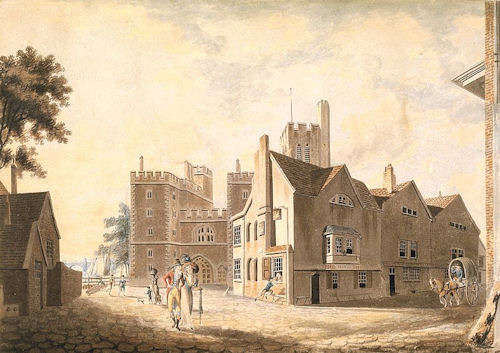 Ground Floor (3):— Mr. Wickham
Chapter 15
The respect which Mr. Collins felt for the high rank of his patroness Lady Catherine de Bourgh,
... mingling with a very good opinion of himself, of his authority as a clergyman, and his rights as a rector, made him altogether a mixture of pride and obsequiousness, self-importance and humility.
Having now a good house and very sufficient income, he intended to marry; and in seeking a reconciliation with the Longbourn family he had a wife in view, as he meant to chuse one of the daughters, if he found them as handsome and amiable as they were represented by common report.
His plan did not vary on seeing them ...
His first choice of course would be Jane, eldest and loveliest. But he is forcefully hinted away by Mrs. Bennet's assertion that Jane
'... was likely to be very soon engaged.'
Mr. Collins had only to change from Jane to Elizabeth — and it was soon done — done while Mrs. Bennet was stirring the fire. Elizabeth, equally next to Jane in birth and beauty, succeeded her of course.
Mrs. Bennet treasured up the hint, and trusted that she might soon have two daughters married; and the man whom she could not bear to speak of the day before was now high in her good graces.
*   *   *   *   *
These expository paragraphs out of the way, Miss Austen is free to continue her story with the observation that every sister except Mary agrees later to accompany Lydia to Meryton;
... and Mr. Collins was to attend them, at the request of Mr. Bennet, who was most anxious to get rid of him, and have his library to himself; for thither Mr. Collins had followed him after breakfast ...
    Such doings discomposed Mr. Bennet exceedingly. In his library he had been always sure of leisure and tranquillity; and though prepared, as he told Elizabeth, to meet with folly and conceit in every other room in the house, he was used to be free from them there ...
In pompous nothings on [Mr. Collins's] side, and civil assents on that of his cousins, their time passed till they entered Meryton ...
But the attention of every lady was soon caught by a young man, whom they had never seen before, of most gentlemanlike appearance ...
... All were struck with the stranger's air, all wondered who he could be; and Kitty and Lydia, determined if possible to find out, led the way across the street, under pretence of wanting something in an opposite shop ...
The stranger is introduced by Mr. Denny, an obliging military acquaintance of the young ladies, with the additional information that the newcomer had accepted a commission in their corps:—
This was exactly as it should be; for the young man wanted only regimentals to make him completely charming ... a fine countenance, a good figure, and very pleasing address ... and a happy readiness of conversation.
Into this agreeable scene will ride Mr. Bingley and Mr. Darcy on horseback.
And thus will end the stay of Mr. Collins on centre stage.
When I complain (as I intend to do no later than the next few paragraphs) that Mr. Collins in film is nothing but caricature, the obvious rejoinder is that filmmakers are but following where Jane Austen has led, but that is to ignore the import of Chapter Fifteen's opening words, which show Mr. Collins to be as pathetic as he is ridiculous:—
MR. COLLINS was not a sensible man, and the deficiency of nature had been but little assisted by education or society; the greatest part of his life having been spent under the guidance of an illiterate and miserly father; and though he belonged to one of the universities, he had merely kept the necessary terms, without forming at it any useful acquaintance. The subjection in which his father had brought him up had given him originally great humility of manner ...
To me, the problem with Pride and Prejudice on film is loss of the innate tragedy peeking through the funniest moments. If we couldn't laugh while reading the Novel, we'd be forced to cry, our enjoyment of the foolishness of Mr. Collins always in full cognizance that he is doing his best with the little he has been given, an acknowledgement that becomes ever more acute when we become better acquainted with Mr. Wickham, and discover what this newcomer does with the considerable gifts attending his passage through life.
*   *   *   *   *
Wealthy young men such as Darcy and Mr. Bingley must have had drummed into their heads from childhood the dangers of allowing their attentions to fasten too particularly on pretty daughters of impoverished respectable families, thereby awakening hopes that could be satisfied by no outlet other than a profitable marriage.
Mr. Bingley seems too amiable to be guarded in his affectionate dealings with Jane. But Mr. Darcy, far wealthier than Bingley in addition to being inheritor of a seemingly magical property named Pemberley, has far more reason for caution. He hasn't even his friend's friendly disposition to account for his attentions to Elizabeth during their spirited encounters at Netherfield, attentions that seem far too marked to be sensible, particularly when contrasted with the coolness of his replies to the clinging Miss Bingley.
As mentioned before, Mr. Darcy in these early chapters is extremely forthcoming, his thoughts given in some detail, his motivations explained. In the final pages of Chapter Twelve, he is shown to be relieved at the imminent departure of the two Bennet sisters:
Elizabeth had been at Netherfield long enough. She attracted him more than he liked ... He wisely resolved to be particularly careful that no sign of admiration should now escape him, nothing that could elevate her with the hope of influencing his felicity; sensible that if such an idea had been suggested, his behaviour during the last day must have material weight in confirming or crushing it. Steady to his purpose, he scarcely spoke ten words to her through the whole of Saturday, and though they were at one time left by themselves for half an hour, he adhered most conscientiously to his book, and would not even look at her.
As with Mr. Darcy's initial disdain changing to Chapter Six's captivation and desire to know more of her, film can show the subsequent reverse transition from attraction to sudden cautionary coldness in Chapter Twelve, but not the reason why. With some literary creations, a screenwriter need only add a scene in which Darcy informs a confidant of his fears of raising vain hopes. But Mr. Darcy is hardly the confiding type. A personage with a sense of humour could be shown discussing his tribulations with his dog. Mr. Darcy hasn't, and couldn't.
Perhaps the the visual scene offers so much scope to the imagination that we can do without explanation of the forces driving the various filmed characters. For example, I can never read Chapter Fifteen's description of the four Bennet sisters (Mary having chosen to remain at home) together with the tiresome Mr. Collins, standing on the main street of Meryton conversing amicably with their new friend and acquaintance, the handsome and charming Mr.Wickham, without conjuring the scene in clear and vivid detail from the 1980 miniseries. Nothing could be simpler than to show the arrival on horseback of the 1995 Mr. Bingley and Mr. Darcy, nothing more natural than Mr. Bingley's assurance to Miss Bennet that he was on his way to Longbourn
... on purpose to inquire after her. Mr. Darcy corroborated it with a bow, and was beginning to determine not to fix his eyes on Elizabeth, when they were suddenly arrested by the sight of the stranger, and Elizabeth happening to see the countenance of both as they looked at each other, was all astonishment at the effect of the meeting. Both changed colour, one looked white, the other red. Mr. Wickham, after a few moments, touched his hat — a salutation which Mr. Darcy just deigned to return. What could be the meaning of it? — It was impossible to imagine; it was impossible not to long to know ...
As they walked home, Elizabeth related to Jane what she had seen pass between the two gentlemen; but though Jane would have defended either or both, had they appeared to be wrong, she could no more explain such behaviour than her sister.
The miracle is that in the present age we needn't choose between filmed miniseries, nor between the visual and literary, serving ourselves liberal portions of each as required. What a pity if we were to be denied enjoyment either of the visual impact of film, or of the more reflective notion of the stately Mr. Darcy, secure in the knowledge that he is in perfect control of himself and that portion of the world in which he is situated, his determination not to notice Elizabeth making him a thousand times more aware of her presence, ostentatiously shifting his gaze to her companions and being figuratively cudgelled by sight of a man obviously well known to him, and, even more evidently, the last person Mr. Darcy would wish to encounter in Meryton, its environs, and the circle surrounding Elizabeth in particular.
Unfortunately for Mr. Darcy, neither Elizabeth nor her family show the slightest unwillingness to become better acquainted with the handsome and most gentlemanlike Mr. Wickham, and a short time later Mr. Wickham, and Mr. Collins, are invited to join the Bennet daughters at a whist party to be held at the home in Meryton of their attorney uncle and his wife, Mr. and Mrs. Philips.
The fateful whist party is described in Chapter Sixteen.
*   *   *   *   *
Pictures 3A
    This Page Chapter 15: Ground Floor (3) Mr. Wickham


JMW Turner, circa 1836
Title: Richmond Terrace, Surrey
Medium: Watercolour, bodycolour and scratching out on paper
Dimensions: support 280 x 435 mm
Collection: Board of Trustees of the National Museums and Galleries on Merseyside, (Walker Art Gallery),
Turner Worldwide, Reference TW0368, Wilton 879
Picture Copyright: Board of Trustees of the National Museums and Galleries on Merseyside


JMW Turner, ?1798
A Gothic Arch in Mr. Wyndham's Garden at Salisbury, ?1798
Medium: Gouache, graphite and watercolour on paper;
Dimensions: Support 477 x 329 mm
Collection: Tate, Accepted by the nation as part of the Turner Bequest 1856
View by appointment at Tate Britain's Prints and Drawings Room
Reference D02350

JMW Turner, 1815
Title: Front Door and Porch, Farnley
Medium: Bodycolour on paper
Dimensions: unconfirmed 268 x 320 mm
Private Collection, Turner Worldwide
Reference: TW0237, Wilton 584

JMW Turner, 1790
Title: A View of the Archibishop's Palace, Lambeth
Medium: Watercolour on paper;
Dimensions: 267 x 381 mm
Indianapolis Museum of Art, Collections
According to Wikimedia Commons This watercolour was Turner's first to be accepted for the Royal Academy's annual exhibition in April 1790, the month he turned fifteen. The watercolour showcases Turner's progress in mastering perspective, showing several buildings at dramatically different angles.
[December 2005 text only]
    [WebPage last amended March 28th, 2013]
________________________
Chapter 15: Ground Floor (3), Mr. Wickham
Main Page – Index
Did Darcy Lie to Himself?
Chapters 13 and 14: Ground Floor (2), Mr. Collins
Chapters 16 and 17: Ground Floor (4), The Whist Party