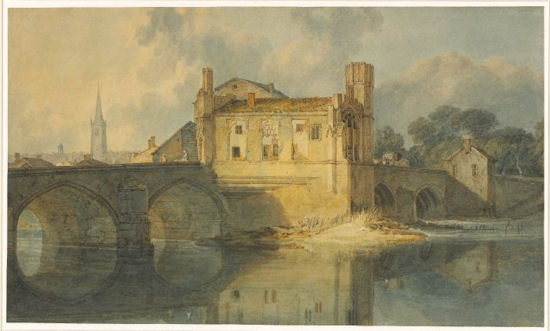 Ground Floor (2):— Mr. Collins
Chapters 13 and 14
Chapter Thirteen begins the day after the return of Jane and Elizabeth from Netherfield:
'I HOPE my dear,' said Mr. Bennet to his wife as they were at breakfast the next morning, 'that you have ordered a good dinner to-day, because I have reason to expect an addition to our family party ... a gentleman and a stranger ... a person whom I never saw in the whole course of my life.' This roused a general astonishment; and he had the pleasure of being eagerly questioned by his wife and five daughters at once.
After amusing himself some time with their curiosity, he thus explained ...
'It [a letter] is from my cousin, Mr. Collins, who, when I am dead, may turn you all out of this house as soon as he pleases.' ...
'Oh! my dear,' cried his wife, 'I cannot bear to hear that mentioned. Pray do not talk of that odious man. I do think it is the hardest thing in the world that your estate should be entailed away from your own children; and I am sure if I had been you, I should have tried long ago to do something or other about it.'
Jane and Elizabeth attempted to explain to her the nature of an entail. They had often attempted it before, but it was a subject on which Mrs. Bennet was beyond the reach of reason; and she continued to rail bitterly against the cruelty of settling an estate away from a family of five daughters, in favour of a man whom nobody cared anything about.
'It certainly is a most iniquitous affair,' said Mr. Bennet, 'and nothing can clear Mr. Collins from the guilt of inheriting Longbourn. But if you will listen to his letter, you may perhaps be a little softened by his manner of expressing himself.'
'No, that I am sure I shall not; and think it was very impertinent of him to write to you at all, and very hypocritical. I hate such false friends. Why could he not keep on quarelling with you, as his father did before him?'
'Why, indeed, he does seem to have had some filial scruples on that head, as you will hear.'
Mr. Bennet then reads aloud the letter from his cousin Mr. Collins, who requests permission to visit Longbourn, the Bennet family home and property which Mr. Collins stands to inherit. Mr. Collins represents himself in his letter as a clergyman owing position and parsonage to a patron known as Lady Catherine de Bourgh, and begs leave to apologize for the entail being the means of injuring Mr. Bennet's amiable daughters, and to assure Mr. Bennet of his readiness to make every possible amends.
Elizabeth was chiefly struck with his extraordinary deference for Lady Catherine, and his kind intention of christening, marrying, and burying his parishioners whenever it were required ... 'He must be an oddity, I think,' said she ... 'Can he be a sensible man, sir?'
Mr. Bennet's reply is typical:
'No, my dear; I think not. I have great hopes of finding him quite the reverse. There is a mixture of servility and self-importance in his letter, which promises well. I am impatient to see him.'
Mr. Collins arrives punctually at the time stipulated in his letter and by profuse conversation soon proves himself as absurd as Mr. Bennet had hoped.
*   *   *   *   *
Chapter Fourteen begins during dinner, with Mr. Bennet scarcely speaking at all; but when the servants were withdrawn,

... he thought it time to have some conversation with his guest, and therefore started a subject in which he expected him to shine, by observing that he seemed very fortunate in his patroness. Lady Catherine de Bourgh's attention to his wishes, and consideration for his comfort, appeared very remarkable. Mr. Bennet could not have chosen better. Mr. Collins was eloquent in her praise ...
Nor could Jane Austen have chosen better in introducing into her Novel as subjects for mirth not merely Mr. Collins but also the absent Lady Catherine de Bourgh. Both all unawares are to become crucial architectural elements of Austen's literary mansion.
In many respects, these Chapters Thirteen and Fourteen, arbitrarily assigned as first glimpses of Austen's Ground Floor, are ingenious reproductions at a higher level of Chapters One and Two as cornerstone of the entire eventual building, including an identical leisurely pace devoted exclusively to conversation between the members of the Bennet family. And where the first chapters devote themselves to discussion of Mr. Bingley, leading naturally to the introduction of the latter's friend and guest Mr. Darcy, these present chapters begin with a letter from Mr. Collins, to progress in equally natural fashion to our coming acquaintance in Chapter Fifteen with the charming Mr. Wickham. (Had Mr. Collins been less tedious we would be been far less inclined to fall gratefully upon the neck of Mr. Wickham, figuratively speaking, of course.)
And as the earlier Foundation level chapters result in first Jane and then Elizabeth becoming installed for a few days at Netherfield [Chapters Four to Twelve inclusively], our present Ground Floor pages contain an inexorable progress to Chapter Eighteen's Netherfield Ball.
The concluding webpage to that lower level [Foundation (3):— Foreshadowing, or Moving Up], dealt with the ending or resolution of the Foundation level and preparations for ascending to this Ground Floor. We will find no discussion of foreshadowing or misdirection in this present section's final pages [Chapters 19 to 23: Ground Floor (6)], but rather a circular path leading right back to the present webpage, which is to say a return to Mr. Collins's letter expressing his wish 'that the circumstance of my being next in the entail of Longbourn estate will be kindly overlooked on your' [Mr. Bennet's] side, as well as assurances of Mr. Collins's 'readiness to make them every possible amends' ...
And Jane Austen's gift to us is the ability to appreciate the consummate mastery of literary and architectural detail as we follow her oblique approach to the Upper Floors.
*   *   *   *   *
Pictures 3A
    With the exception of the Hubble Footer, most Pictures on these Pride and Prejudice, and other Austen webpages, are from the Turner Bequest of the Tate Museum Collection Online.

This Page Chapters 13 and 14: Ground Floor (2), Mr. Collins

JMW Turner, 1815
Title: Gateway to the Flower Garden at Farnley
Medium: Bodycolour and chalk on paper
Dimensions: unconfirmed 320 x 406 mm
Private Collection, Turner Worldwide
Reference: TW0238, Wilton 585


JMW Turner, 1815
Title: Front Door and Porch, Farnley
Medium: Bodycolour on paper
Dimensions: unconfirmed 268 x 320 mm
Private Collection, Turner Worldwide
Reference: TW0237, Wilton 584

JMW Turner, 1827
A Conversation Group
Medium: Gouache and Watercolour on paper;
Dimensions: Support 190 x 140 mm
Collection: Tate, Accepted by the nation as part of the Turner Bequest 1856
View by appointment at Tate Britain's Prints and Drawings Room
Reference D22743 View by appointment at Tate Britain's Prints and Drawings Room

JMW Turner, circa 1798
Title: Wakefield Bridge
Medium: Watercolour and pen and ink on paper;
Dimensions: Support 260 x 434 mm
Collection: The British Museum
Turner Worldwide, Reference TW0384, Wilton 241
Picture Copyright: The British Museum - click on this link for a breathtaking experience

[As of March 28th, 2013 the British Museum is holding an exhibition of artifacts from Pompeii and Herculaneum! How strange and unsettling to face directly the unearthed treasure hinted at obliquely in the photograph of Herculaneum (modern Ercolano) taken on May 8th, 2011 by Judy Oliver Turner and found on my Main Page — Index.]
[December 2005 text only]
    [WebPage last amended April 5th, 2013]
________________________
Chapters 13 and 14: Ground Floor (2), Mr. Collins
Main Page – Index
Did Darcy Lie to Himself?
Chapters 13 to 23 inclusively
Ground Floor (1)
Chapter 15: Ground Floor (3), Mr. Wickham