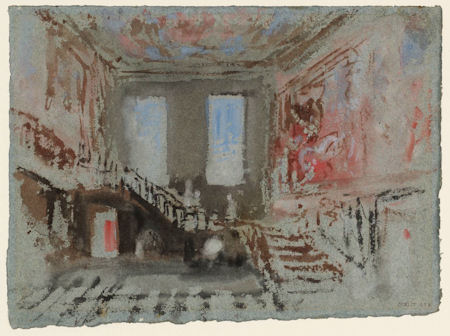 First Floor (1)
Volume II, Chapters 24 to 42 inclusively
  Completing the Massive Staircase
In Volume II the story becomes more personal while paradoxically the characters begin to move away from home into the world, instead of waiting for the world to come to them.
Chapters Thirteen to Twenty-three of Volume I having carried out the grand design of the Ground Floor, Miss Austen now unveils the outlines of the massive staircase which will lead from the Main Floor to the upper levels.
In the aftermath of Mrs. Bennet's loud and public vulgar boasting of her daughter Jane's certain approaching marriage to the eligible (which is to say single and rich) Mr. Bingley, the entire Netherfield party has left for London, seemingly never to return, thus closing off the most promising, obvious, and direct means for Jane Austen the architect to ascend to that higher level of her Novel.
But for Jane Austen as for the gods of architecture, the closing of one means of access is no more than an opportunity to envisage and construct a more breathtakingly original and unusual staircase by use of whatever means is at hand. And in this case the means at hand is Charlotte Lucas.
*   *   *   *   *
Pictures 3A, Upper Floors
This Page First Floor (1) Volume II, Chapters 24 to 42 inclusively


JMW Turner, 1827
Title: Bookshelves and a Rococo Pier-Glass, with Several Figures, 1827
Medium: Gouache and watercolour on paper;
Dimensions: Support 139 x 194 mm
Collection: Tate, Accepted by the nation as part of the Turner Bequest 1856
View by appointment at Tate Britain's Prints and Drawings Room
Reference D22686

JMW Turner, 1827
Title: An Assembly of Ladies
Medium: Gouache and watercolour on paper;
Dimensions: Support 141 x 188 mm
Collection: Tate, Accepted by the nation as part of the Turner Bequest 1856
View by appointment at Tate Britain's Prints and Drawings Room
Reference D22754

JMW Turner, 1827
Title: A Man Seated at a Table in the Old Library
Medium: Gouache and watercolour on paper;
Dimensions: Support 141 x 191 mm
Collection: Tate, Accepted by the nation as part of the Turner Bequest 1856
View by appointment at Tate Britain's Prints and Drawings Room
Reference D22691
JMW Turner, 1827
Title: The Grand Staircase From the West
Medium: Gouache and watercolour on paper;
Dimensions: Support 142 x 190 mm
Collection: Tate, Accepted by the nation as part of the Turner Bequest 1856
View by appointment at Tate Britain's Prints and Drawings Room
Reference D22771
[WebPage last amended May 31st, 2012]
________________________
Volume II, Chapters 24 to 4: First Floor (1)
Main Page – Index
Did Darcy Lie to Himself?
Chapters 19 to 23 inclusively: Ground Floor (6):
Finishing Touches Volume I
Volume III Chapters 43 to end: Second Floor (1), Entering Private Quarters