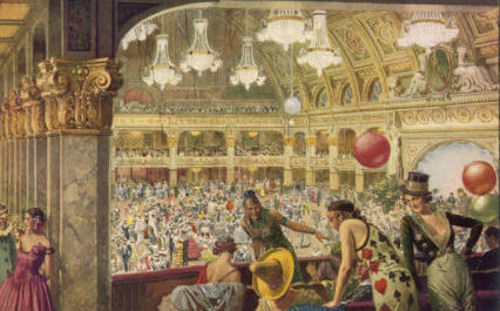 Pictures-7, Blackpool
To Blackpool, with Love
There are not a lot of Pictures in my writings about Blackpool. The episodes themselves are such a bewildering succession of scenes and motion, song and dialogue, colour and darkness, all used to conceal rather than reveal meaning — or, rather, to delay comprehension of what exactly is going on — that the last thing I wished to do was to distract the viewer. Nor, obviously, to detract from what is as visually powerful a work of art as anything around.
The choice was actually easy. Since Blackpool the seaside holiday resort is such an inescapable part of the Blackpool proceedings I looked for Posters or other illustrations.
— Supplemented always with items recalling Fairy Tale and Myth. The left-column Picture of Hans Christian Andersen's The Tinderbox doesn't begin to show what a wonderful thing it is to hold the large book.

And then there are Gustave Doré's woodcut illustrations, two of which are reproduced below.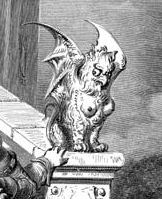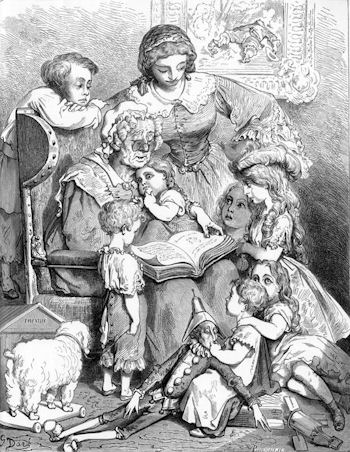 At left, Delicious Terror, Reading the tales to the family, Frontispiece; and to the right, Don't bother me with your problems, The two brothers set upon Bluebeard, Pages 110-111, detail.
A rather smaller but no less marvellous acquisition, The Complete Fairy Tales by Charles Perrault, with a new translation by Christopher Betts, Oxford University Press, supplemented by an incredible number of notes, introductions, chronologies, and appendices by the translator which are much appreciated, is another treasure worth buying for an adult — and the full page (and sometimes two-page) Gustave Doré illustrations make the Fairy Tales even more enjoyable.

Oxford University Press, the publishers, obviously share my delight:— Little Red Riding-Hood is surprised to see what her grandmother looks like, Page 102, Detail, is shown on the front of the dust jacket, and Red Riding-Hood meets Master Wolf , Page 98, on the back.

The Pictures are large enough to show off Doré's mischievous humour — which succeeds in robbing the illustrations, and stories, of some of their horror. (Note the picture on the wall, and the unconcern of the boys in upper left Reading the tales to the family, and the startling chest adornment on Bluebeard's gargoyle to the right.)

Sauve qui peut, or every cat for himself, The Wolf flings himself on the old lady, and eats her all up, Page 100, Detail. Grandma escaping by hiding in the closet was never an option for Doré.
________________________

As my poor father used to say
    In 1863,
Once people start on all this Art
    Goodbye moralitee !
And what my father used to say
Is good enough for me.
  — A.P. Herbert
    Lines for a Worthy Person
        ODQ 243 : 2
HomePage-7:— Blackpool

Harry Green — Blackpool With Picture of the Opera House — Detail
Harry Green Posters
Giclee Print — 366 x 488 cm

Dust Jacket 'The Tinderbox' Hans Christian Andersen
'The Tinderbox' (Hardcover)
adapted Stephen Mitchell,
  Illustrator Bagram Ibatoulline, Hard Cover 10-1/8 x 11-5/8
Wikipedia, The Tinderbox

Georges Rouault, Heads of two Clowns, www.barewalls.com
,
Georges Rouault, 1920
Measurements of barewalls.com Poster:—
Paper 22.0 by 28.0 inches, Image 18.0 x 24.0 inches

Gala Night, Empress Ballroom, Blackpool
People Enjoying a Gala Night in the Empress Ballroom, Blackpool
AllPosters.com, Giclee Print
16 x 12 inches, 14.5 x 10 inches without border
Artist ?
Episode 2B:— Cupid, Draw Back Your Bow
J W Waterhouse, Psyche Entering Cupid's Garden
,
Harris Museum and Art Gallery, Preston, 1904
John William Waterhouse, 1904
Measurements?

Gustave Doré
Red Riding-Hood meets Master Wolf
The Complete Fairy Tales, Page 98
[February 2007]
    [Page amended February 15th, 2012]
________________________
Pictures-7 — Blackpool
Main Page – Index
Blackpool
There's Always Something There to Remind Me
References-7 — Blackpool