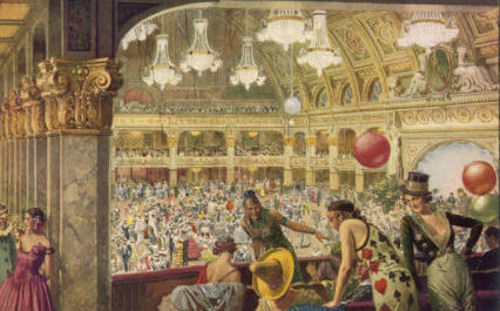 These Boots Are Made For Walkin'
Episode 1D
. . .
Then there's the body that turns up two days later in Ripley's arcade — a dyed-blond hoodlum body — leading to the fateful arrival of a tall thin dark-eyed policemen who holds out his hand and introduces himself with a pronounced Scots lilt:
'Detective Inspector Peter Carlisle of the North Leeds Constabulary ... Helping out the local police ... They're overstretched ... Sort of like an emergency plumber, but not as well paid.'
Immediately we believe we know what we are about to witness from the newcomer:— part Columbo (if his dishevelled appearance, well-worn raincoat and self-deprecating manner are to be believed), part Hamish Macbeth (on the evidence of his name and Scots-inflected speech — and in delicious anticipation we await the first display of Macbeth's benevolent reluctance to make arrests).
To demonstrate the urgency of completing the investigation and reopening the arcade, Ripley hands the interloper a newspaper containing on its front page a lead story as well as a photograph of the four Holdens at the arcade opening.
Brilliant mistake, neither the first nor last by our intrepid Mr. Ripley Holden.
The following day, as Carlisle climbs up to the street from Blackpool's beach area, he sees Natalie striding toward him in her purposeful manner. Rapidly consulting the newspaper conveniently stored in his raincoat pocket and comparing it to the original woman now blending into the crowd, Carlisle follows and is on the point of overtaking her when she turns and disappears through the doorway of the Samaritan premises. Balked, he retires to the opposite side of the street and contemplates his next move.
When next we see him he is still contemplating, while eating from a container of fried food. Making a decision, Carlisle allows the container of food to drop from his fingers and crosses the street to the front door through which his quarry has disappeared.
We've already watched him litter, and are grieved rather than surprised to see him impersonating — again with no apparent remorse — a victim of loneliness and self-destructive tendencies.
The subsequent scenes between Carlisle and Natalie are powerful, delicate, captivating, and over too soon.
Both these people have trained themselves to draw information from others without revealing their own moral certainties or reactions, Natalie in order to help the unfortunate, Carlisle to entrap the unwary.
Are you depressed? she asks at the outset, and he pretends to consider. Not yet, he replies at last. But I've only been here two days.
At the end of their encounter Carlisle sits back eying her in bafflement and says with patent sincerity ... You're nothing like I expected. That's after conducting himself with outrageous insincerity, being impertinent, unhelpful, unruly and disruptive, having made her laugh and immediately afterward invited her out for a drink, an offer she has declined with firmness, kindness, and respect. He perseveres:
What if I bumped into you on the street and invited you for a drink? What would you say then?
I'd say 'Thank you very much, but I'm married.
But not happily. You're not happy, are you?
That's none of your business, replies Natalie — a response properly conjugated in the affirmative tense, and Carlisle clearly knows his grammar.

Of course our expectations are being used to deceive us. As if Columbo would use false pretenses to try to date the wife of the main suspect! As if Hamish Macbeth, instead of moving heaven and earth to avoid arresting his disreputable compatriots, had set out to railroad them into jail, guilty or not! It's so unfair.
Returning to the closed deserted arcade some time later, Carlisle finds middle-aged employee Ruth alone with Danny Holden. Ruth is busy in her booth; Danny watches nervously as Carlisle begins to play a slot machine.
...
You're that copper, aren't you?
That's right. And you're Danny Holden.
Carlisle has encountered difficulty deciphering the instructions after depositing his coins in the slot machine. Slowly, reluctantly, like iron filings drawn toward a magnet, Danny approaches and instructs the detective in the intricacies of 3-2-1 Nudge.
You seen this guy? asks Carlisle, taking a photo of the deceased hoodlum from his pocket.
I never saw him after he left here, Danny answers.
Carlisle's eyes gleam as he says, He was here? — drawing out the word 'here' into three dramatic syllables.
At which point Ripley enters and sums up the situation with habitual acumen:
...
My son's a minor — You don't talk to my son without me being present. And to Danny's distress, Ripley repeats that he never saw the murdered man. And you know why? Because he wasn't here.
...
You keep lying' where you oughta be truthin'
You keep losin' when you better not bet;
You keep samin' when you oughta be a-changin'
Now what's right is right, but you ain't been right yet ...
The ending of Episode One is pure Fairy Tale:– a gloriously funny and technically perfect fantasy tango routine in the arcade aisle amongst the slots and other blinking beckoning gambling machines, as a defiant Ripley butts heads (not only figuratively) against a fierce implacable Carlisle — while Nancy Sinatra sings These Boots Are Made for Walking! It's like a crazed version of Three Billy Goats Gruff, so that instead of combining against the fearsome Troll who lives under the bridge, the two eldest Billy Goats fight each other, two alpha males alternately advancing and retreating over the bridge, while Littlest Billy in the form of Danny Holden watches in trepidation from the safety of the far bank.
Next: Episode Two, and the prospect of sheer giddy enjoyment.
[February 2007]
    [Page amended February 7th, 2012]
________________________
Episode 1D, These Boots Are Made for Walkin', A Body in the Arcade
Main Page – Index
HomePage-7
She's Not You
Episode 2A, The Gambler