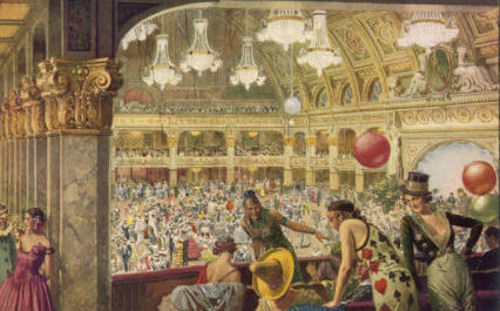 Should I Stay?
Episode 2C
. . .

I feel your warmth, got me wanting more,
You've left the door half open
I'm in two minds to explore,
But then again
Am I being honest, being truthful to myself,
Can I see my life without you,
Could I be with someone else.
It seems I've grown attached
Though we're not the perfect match.
I just can't explain ...
On the stage below, the Funny Ladies female impersonator is lip-synching to Gabrielle's Should I Stay? and showing off a pretty spectacular pair of legs. The scene finds Natalie and Carlisle suddenly dancing in the tower ballroom, and instead of the tight pants and top Natalie is wearing a fancy long blue gown. In his fantasy Carlisle sees her in finery suitable for a turn about the ballroom by just the two of them — until the famous Tower Wurlitzer rises from the floor with a ferociously suspicious Ripley at the keyboard:

Should I stay, should I go
Could I ever really stand to let you go?
Can you now find the right words to say
That maybe I'm getting in your way.
It's just a fantasy. Perhaps he didn't recognize them, we reassure ourselves and each other, unable to visualize any manner in which this can end without harm to people we love.
We've gone from fear that Red Riding Hood and Grandma will be eaten by the Wolf, to dread that the Woodsman, ignorant fool that he is, will burst upon the scene to chop off the Wolf's head, and we don't think we can bear that either.
We don't approve of Carlisle's actions. They leave us horrified. But we admire his taste, because we love Natalie too, love her honesty and truthfulness, her lack of self-pity, her cheerful energetic manner and seeming inability to sulk.
...
The walk along the pier is of a piece with the encounter at the Samaritan premises:
How did you meet your husband? Why did you fall in love with him? When did you fall out of love with him?
— I don't know that I have fallen out of love with him.
You're here, aren't you? With me?
There's a sudden austere quality to his tone, something we saw in his interview with Hailey. Carlisle doesn't like being lied to — although how a person who has just assured someone else that he is a simple quality surveyor, when he's actually a policeman who has arranged an interview next day at the police station with that someone else's husband and son, has the nerve to be offended by the possibility of a slight bending of the truth is beyond us.
— I thought I was the sort of person who could do this, but I'm not, Natalie discovers.
Can I hold your hand? Can I kiss you? So you can make an informed decision?
His kiss is actually very sweet and tender. Natalie responds passionately for a moment before breaking away and walking rapidly into the darkness.
Carlisle gazes after her; somehow we suspect that he is not entirely dissatisfied with this outcome.
________________________
Best films (and Fairy Tales) have a very precise sense of place, somewhere you would recognize immediately should you find yourself transported there. We're starting to recognize Blackpool's landmark attractions, partly because Carlisle's important scenes are all conducted in places of historic interest.
Since he is a stranger in town, this seems completely natural: the meeting to exchange notes with his henchman Blythe on the observation deck at the top of Blackpool's tower couldn't be more innocuous.
Interviewing Hailey at high tea in the tower tearoom certainly has its intended effect of putting her more at ease, while the encounter with Natalie at the Funny Ladies drag club was selected by her — hurriedly, in a grocery shop — as a place her husband wouldn't be caught dead in.
But where else would they meet, this loving wife and mother, this Big Bad Wolf masquerading as a despondent itinerant traveller?
...
Some time later we see Natalie confiding in her unnamed friend and colleague at the Samaritans certain details seemingly given by an ostensible caller, ending the recitation with a rueful,
Whatever she does, she's going to be unhappy.
— What does she know about this man?
Nothing. That's the attraction.
— Is she going to see this man again?

And after assuring the other that she has no intention of seeing the young man again (the sham caller having been dropped from the discussion), Natalie goes outside and phones Carlisle.
Carlisle takes the call standing on the glass-floored Walk of Faith atop Blackpool Tower. As soon as he hears her voice he waves away his faithful henchman Blythe who is standing much too close for what Carlisle has to say:
I'd like to see you too.
She sets up another meeting at the same place, promising this time not to run away.
[February 2007]
    [Page amended February 6th, 2012]
________________________
Should I Stay?, Episode 2C
Main Page – Index
HomePage-7
Cupid, Draw Back Your Bow, Episode 2B
I Second That Emotion Episode 2D