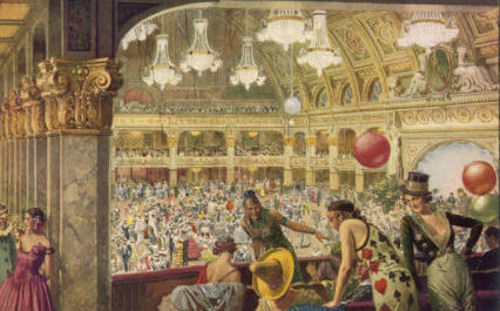 The Gambler
Episode 2A
In the interests of full disclosure it must be admitted that Canadians were not forced to wait six weeks for Blackpool's denouement. BBC Canada treated the entire country to three two-hour film-length productions over three Sundays in August, a glorious two-week-and-one-day marathon, perhaps in acknowledgement of Blackpool having been awarded the Global Television best of Festival Grand Prize as well as best miniseries at the Banff 2005 Rockie Awards:
' 'Blackpool' stood out in an excellent competitive field by virtue of its highly creative and innovative synthesis of music and drama in the exploration of human relationships,' said jury chairman, Fil Fraser ...
With the result that on the first Sunday we no sooner finished laughing at Episode One's blockbuster finale These Boots Are Made for Walkin', than we were enjoying Kenny Rogers, and Ripley, singing The Gambler to start Episode Two.

On a warm summer's evenin',
  On a train bound for nowhere,
I met up with the gambler;
  We were both too tired to sleep.
________________________
In fiction writing, particularly works where the reader/viewer spends much time laughing out loud, the main characters usually tell the story, and minor personages are brought in for comedic relief.
One of the oddities of Blackpool is that all the comedy involves the two male leads, with minor characters existing in their own right, venturing reluctantly into the story and intersecting as the warp and woof that gives the Blackpool fabric its unique multilayered texture.
Even odder, and the shining badge of wonderful writing, is the fact that Ripley Holden and the policeman Carlisle display entirely different types of humour, Ripley being of the jeering ironic type that leaves everyone laughing but the butt of the joke: [Ripley of accountant Adrian Marr: I love this man: he never relaxes. I took him to a lap dancing club — he kept asking the girls for receipts; Carlisle enjoying the humour derived from a particular situation, often at his own expense: I'm not from around here, just filling in. Like an emergency plumber, but not as well paid.]
Every Fairy Tale has a sordid side to go with the magical:— think of Cinderella scrubbing out the hearth, the inexplicable gratuitous killing of the Witch in The Tinderbox, the Giant's wife hiding from her sharp-nosed husband the presence of Jack in her kitchen. And so with the child we accept as normal the back-alley assortment known only to Blackpool's locals, of bleak and dismal bedsitters and garbage-strewn yards, of sad-eyed women and drug-addled youth, as well as Ripley and his hopeful investors marching like stormtroopers through the wretched block of flats that will be demolished to make room for Ripley's dream luxury hotel.

Now every gambler knows
  The secret to survivin'
Is knowin' what to throw away,
  Knowing what to keep ...
Danny comes out of Hailey's shabby bedsitter, turns to face her as she sings.

'Cos ev'ry hand's a winner
  And ev'ry hand's a loser,
And the best you can hope for
  Is to die in your sleep.
Blackpool's filmmakers obviously have fun raising our expectations and then knocking them endways, such as Natalie's transformation from glamour to understatement in the early scenes. Similar mischief is clearly at work in the characterization of the hooker Hailey. Built for comfort rather than show, with a gentle manner, expressive eyes, and a nice face: when were those words last used to describe a member of the oldest profession? We see her touching Danny on the cheek in an affectionate manner before closing that dreary paint-peeled door, leaving him sobered and apprehensive alone in the hallway.

You got to know when to hold
    (when to hold 'em),
Know when to fold
    (when to fold 'em),
Know when to walk away,
know when to run ...
He's only been in town a few days but already Detective Inspector Peter Carlisle lounges comfortably on a step singing the chorus of The Gambler while his faithful sidekick D.C. Blythe sits beside him backing up the refrain as though they've been together on the case for months. Is it now that suspicion begins to form that Carlisle is every bit as much a gambler as Ripley?
Dad. I need a word. There's Danny leaning forward as his father offers to explain why he lied about seeing the dead man in the arcade. And slumping back as he is given Ripley's answer: Never tell a copper anything. Not even the time.
Carlisle grilling the dead man's mates over cakes and liquid refreshments. Interviewing Hailey in the tearoom of the tower. Assuring Ripley that Deputy Chief Inspector Allbright has vouched for him ... Pity he couldn't do the same for your son Danny ... We're interviewing him tomorrow. That's why I'm here: to give you notice.
Ripley driven to distraction by knowledge that already Carlisle has an informant. Ripley suspects Allbright is furnishing inside information such as the fact that Ripley took a taxi back to the arcade the night of the murder. Oh, I'd be surprised if you could guess, Carlisle says tantalizingly.
Ripley to Hailey, who has remarked that she finds Carlisle quite nice:
  You wouldn't think he was nice if you'd seen him coming after my lad.
  — Your lad? falters Hailey. What does he want with your lad?
  He's not worried, lies Ripley. He's my son. Sharp as a tack.
[February 2007]
    [Page amended February 5th, 2012]
________________________
The Gambler
Main Page – Index
Blackpool, HomePage-7
These Boots are Made for Walkin'
Cupid, Draw Back Your Bow