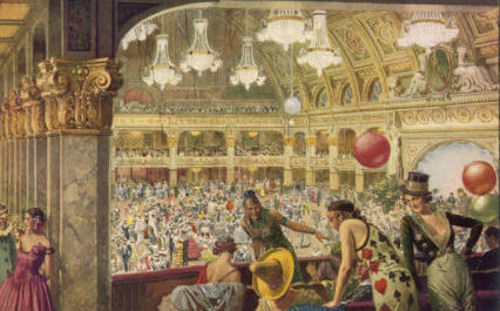 She's Not You
Episode 1C
At Ripley's request, Shayanne has brought home her new boyfriend, Steve, who is discovered to be the same age as Ripley. If men Ripley's age are attracted to 19-year-olds, it can be imagined how Shayanne's mother would question her own desirability:— later that night, alone in their perfect bedroom, she begins with the utmost tentativeness to kiss Ripley's chest.
...
Her hair is soft and her eyes are oh so blue,
She's all the things a girl should be
But she's not you...
His face betraying anger, reluctance, and intense discomfort, Ripley begins imagining the half-clad dancers from the arcade in Natalie's place, all to the sensuous accompaniment of Presley's l962 ballad. Meanwhile lovely Natalie is shown through Ripley's eyes as some small dark furtive rodent still dirty from its burrow. With apologies to the lyricist, it appears to me that Ripley's sentiments would be more accurately rendered as:—
...
They're all the things a girl should be
And you're not them.
A usually reliable source informs me that men — though ready to acknowledge that Natalie might be portrayed in an unflattering light — are not at all inclined to read the previous scene as I do. I remain convinced that people of the male persuasion are so distracted by the improbable acrobatic antics of the tarts from the arcade that they wouldn't notice Natalie if she'd dyed herself emerald green.
Of course there's nothing wrong, and much right, with fantasy in the bedroom. But true lovers, even long-married lovers, are always kind.
Actually, something rings entirely untrue in the too-perfect Holden bedroom. More convincing that they are a couple in a salvageable relationship are scenes in other rooms of the house, such as when they wait in their exquisite living room for Shayanne to arrive with her new boyfriend: Natalie mocking Ripley gently for his nervousness; Ripley acknowledging his unease with a rueful shrug.
Nevertheless at this point I found myself so hostile to an ugliness that seems gratuitous (but isn't) that I considered turning away from the television and re-reading a book. What kept me watching was not the marvellous acting and photography. Not the intriguing plot and interesting premise. Nor yet the wonderful old songs and lyrics.
What, then? It's that scene in the Samaritan's premises, seemingly inserted merely to throw the viewer off balance while demonstrating the dangers of assuming anything in this series. But what we retain after countless viewings is Natalie's wistful recounting of the phone call from a widow named Joan:—
In her fifties; her husband died a few months back in a car crash. She said the only way she got through it was that he told her every day that he loved her. Every day. Imagine.
Attention must be paid to artists who understand that if someone tells you every day that he loves you, he will have made you strong enough to overcome anything life can throw at you, including his absence. And where else in film and literature will you encounter such depths of psychological acumen?
[February 2007]
    [Page amended February 4th, 2012]
________________________
Episode 1C, She's Not You
Main Page – Index
Blackpool HomePage-7
You Can Get It If You Really Want
Episode 1D, These Boots Are Made for Walkin', and a Body in the Arcade