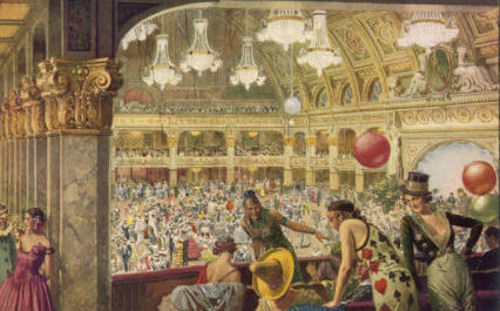 You Can Get It If You Really Want
Episode 1B
. . .
Inside the arcade, Ripley's lavish opening party has already begun, attended by distinguished city fathers and other pillars of the community.
We see Ripley's investor friends on hand to greet him:— District Chief Inspector Jim Allbright, accountant Adrian Marr and good-old-boy Terry Corlette. The big boys better start looking over their shoulders, boasts Ripley in a broad Lancashire accent. Because Ripley Holden is on the march.
It is obvious that the Holden females are not often to be found on the arcade premises:– Ripley keeps making lewd and vulgar remarks, remembering too late that Natalie and Shayanne are present and apologizing to them with exaggerated mock repentance. We see Ripley giving money to Shayanne, and Danny's hurt reaction, before she deserts the opening party and goes off to meet her latest boyfriend. (We also see Danny's discreet passing of a small plastic bag to a tall dyed-blond hoodlum before the latter is banished by Ripley from the arcade premises.) We see Ripley and Natalie discussing their daughter's new boyfriend.
And then, to Jimmy Cliff's You Can Get It If You Really Want, Ripley breaks into a fantasy song and dance routine so accomplished, so infectious that everyone joins a raucous conga line snaking around the aisles, up one set of stairs and down the other, joined by a bevy of gaudy partly-dressed chorus girls who may or may not be part of an elaborate fantasy.
Like his idol Elvis, Ripley can do things with his hips that utterly captivate his audience. Elvis always wore a knowing smile during his gyrating numbers, as if you and he shared a shameful secret. Ripley, on the contrary, seems to be moving in sheer involuntary graceful delight, in the moment, with himself, and with life.
At the height of the noise and merriment, as Jimmy Cliff and Ripley warble, You'll succeed at last, Natalie slips away from the arcade, pausing politely to receive a protest pamphlet from the prophet-Jeremiah-like Hallworth who is anything but amused by Ripley's intentions of turning Blackpool into a British Las Vegas. Down the darkened street she goes in heels and sophisticated black gown, disappearing through the doorway of a restaurant to reappear a few moments later wearing black nubby sweater, black pants, flats and large white holdall bag, and moving away with long, confident, purposeful strides. We don't actually have to have seen Catherine Deneuve in Belle de jour to know what to expect from Natalie Holden, thank you very much.
Hours later, after Ripley has closed up the arcade and gone off with his pillar-of-the-community friends for a little late-night fun (and another mild altercation with the dyed-blond hoodlum), we see Natalie seated at a desk greeting a woman who is obviously a trusted friend as well as a colleague. They first discuss a frequent caller who needs help decorating his apartment, before moving on to a teenager with a drug problem; a lady with a sick mother; and this widow Joan (as recited by Natalie). In her fifties; her husband died a few months back in a car crash. She said the only way she got through it was that he told her every day that he loved her. Every day. Imagine.
Was she very distraught? the colleague inquires. She's fine, says Natalie. But I was in a flood of tears. The telephone rings. Natalie picks up the receiver, says into it: Samaritans:– can I help you?
Natalie Holden's other life is with the Samaritans, those telephone angels of mercy for lonely people needing someone to help them through life's crises, if only by listening. What are we to do but deplore the unworthiness of our sordid minds — and admire the cleverness with which we were set up for confusion.
Which brings us back unavoidably to Elvis and She's Not You.
[February 2007]
    [Page amended February 7th, 2012]
________________________
Episode 1B, You Can Get It If You Really Want
Main Page – Index
Blackpool HomePage-7
Episode 1A, Viva Las Vegas, in Blackpool
Episode 1C, She's Not You