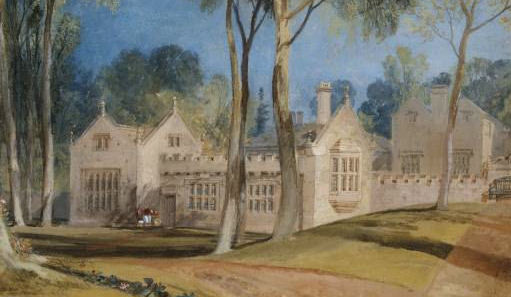 Pride and Prejudice, Part 4
Architecture, Absences
Sir Christopher Wren (A.D. 1631-1723) was the second [N.B. after Inigo Jones] great architectural personality of this [English Stuart Renaissance] period ...
Whether in the graded greys of quarried stone or in the warm reds of handmade bricks, Wren's buildings seem native to the site for which they were designed, and his influence has permeated all subsequent architecture in England.
A History of Architecture, Sir Fletcher Banister, Sixteenth Edition, published 1954, Pg. 781
*   *   *   *   *
In the Main Did Darcy Lie to Himself? Or Only to Jane Austen webpages, I examine Jane Austen's Pride and Prejudice by comparing it closely to Architecture and in particular to the construction of a great English mansion.
It's possible to describe each Austen Novel in architectural terms, but only the first in my opinion is worthy to be compared to an architectural masterpiece. Mansfield Park, for example, has always appeared to me to be headed toward existence as a small hidden parish church, big enough only for pastor and acolyte, with its front doors nailed shut against intruders of inferior moral standards. And Persuasion, until the final chapter, is temporary accommodations, with heroine Anne Elliot as the unsettled and never entirely welcome tenant.
Insofar as absences are concerned, there are certainly a great many in Jane Austen's Pride and Prejudice, from Mr. Wickham's sudden disappearance from the scene after declaring his firm intention to attend the Netherfield ball, to Darcy and the Bingleys leaving Netherfield Park seemingly forever. And yet those absences are as purposeful as attendance in the other Novels. If asked, we would reply unhesitatingly that the absent persons had business elsewhere; we would scoff at unworthy suggestions that a character had been removed for mere convenience of plot.
Not so most of the other Novels. Emma's Mr. Knightley is never around when someone is needed to point out the heroine's false assumptions, while we see so little of Sense and Sensibility's hero Edward that we are as surprised as the heroine when he shows up unexpectedly.
Once again, the much maligned Northanger Abbey succeeds in convincing us precisely why the engagements of his curate force Henry Tilney away from attendance on his sister and his guest on a Saturday night. And the General is shown as so autocratic and incomprehensible a character that his absence in London is the occasion for relief rather than wonderment, on the part of the reader as much as his children.
Architecture:—
I've explained many times my reasons for choosing the watercolours of JMW Turner to illustrate these Austen webpages, most of which artworks are found in the Turner Bequest of the Tate Museum Collection Online.
It seemed to me at the time, and nothing has occurred to force me to change my opinion, that because Turner and Jane Austen were born in the same year, 1775, Turner in April and Austen in December, we are permitted to believe that the two shared many unspoken assumptions about the world in which they lived. It is also fact that Turner and Austen both found inspiration in contemporary English mansions, Turner for example at Petworth, Farnley, East Cowes Castle, Fonthill Abbey; Austen among others at the imaginery sites of Pemberley, Mansfield Park, and Northanger Abbey.
One of the fascinations of my copy of Sir Fletcher Banister's A History of Architecture, Sixteenth Edition — a citation from which opens this present webpage — is the meticulously detailed and illustrated explanation of the ordered series of transitions from one style or order of Art (which includes Architecture) to the next, for example when the extreme simplicity of the Greeks gives way to the forceful ornamentation of the Romans [Comparative Analysis Pages 201 to 209].
And so on throughout the ages, until we come to the Renaissance, which in turn has supplanted the Gothic [Comparative Analysis Pages 601 to 606].
The Renaissance, says Sir Fletcher, was not of course one single movement, but a series of successive stages. He singles out for closer examination the Baroque, or Rococo style, which
... arose in the seventeenth century, when the true Renaissance had exhausted its energy and succumbed to the formal rules and monotonous regulations of schoolmen and Classicists ...
But the men of the free cities of Italy loved freedom and would not submit to the dead hand in art. The bookish formality in design had tended to reduce architecture to a lifeless product uninspiring in aspect, against which it is not surprising that the beauty-loving Italians should after a time have risen in revolt. They were weary of lifeless conventions, and they rose against the tyranny of stereotyped rules and standards of proportion ...
... They demanded freedom in plan, in design, and in ornament. Thus the Renaissance style passed into the Baroque, which at the beginning of the seventeenth century gave expression once again to the human side in architecture, for it was a spontaneous breaking away from orthodoxy in plan, design, and treatment. It is at its best an assertion of freedom, and at its worst a lapse into licence ...
The style itself is expressive of the joie de vivre, the spirit which inspired the desire for country life ... It is perhaps no exaggeration to say that this latest phase of Renaissance was a joyous outburst of art which was ... always intolerant of restraint.
[Architectural Character, Renaissance Architecture in Europe, Pages 598 to 601]
Intolerant of restraint. These words seem to me to characterise as much the artistic endeavours of JMW Turner as Jane Austen's initial literary works, such as Lady Susan, Pride and Prejudice, and in a certain sense Northanger Abbey. Paradoxically, it is only in his later watercolours that Turner exhibits the sense of fun that so characterises the early Jane Austen.
Perhaps reading Austen's works in order also demonstrates the effects of deadly suffocation through enforced submission to formal rules and monotonous regulations of schoolmen and Classicists ... What is Persuasion, Austen's final novel, if not a cry of protest against the waste of a life caused by obeying the tyranny of stereotyped rules and standards of proportion ...
It seems to me that Turner throughout his career, and Austen in the beginning of hers, exhibit a delight in creating something new that is not only modern but very familiar to those of us who lived through shattering change as the hypocritical 1950s were swept away by the revolutionary fervour of the sixties and seventies, until we've reached Nirvana at last in our own New Age of 21st Century immutable hypocrisy ...
If it's true, as I suggest two webpages back in Part 2: Pride ... And 'Aura', that the wisdom that enabled Jane Austen to write a Novel encompassing seamlessly the Deadly Sin of Pride in all three senses described in said page, was a result of sanctifying grace, as an unmerited gift from God, then surely no one would deny JMW Turner's equally generous receipt of such grace. Not merely at the beginning, but at all stages of his long illustrious artistic career.
And unlike Jane Austen, Turner never wavered in his dedication to the implied responsibility contained in such unmerited gift:— to remain as honest and truthful and cognizant of having been so blessed. Not for nothing does Turner's Wikipedia entry contain the citation,
The significance of light was to Turner the emanation of God's spirit.
    [Wikipedia entry for J. M. W. Turner]
Because England was spared Europe's bloody revolutionary excesses that followed the Enlightenment with its insistence on the negation of God, of aristocratic government, and even of order itself, the entire British intellectual literary and artistic elite was free to throw itself joyously into the innocent ferment of the succeeding Romantic period that Turner is said to embody.
Important support for [Turner's] work came from Walter Ramsden Fawkes, of Farnley Hall, near Otley in Yorkshire, who became a close friend of the artist. Turner first visited Otley in 1797, aged 22, when commissioned to paint watercolours of the area. He was so attracted to Otley and the surrounding area that he returned to it throughout his career ...
According to the Tate Museum website, in the beautiful watercolour which is shown at the very top masthead of this present webpage, of Otley Lodge, JMW Turner circa 1818, the Bridge visible through the partly opened iron gates was in fact designed by Turner.
Turner was a frequent guest of George O'Brien Wyndham, 3rd Earl of Egremont, at Petworth House in West Sussex and painted scenes that Egremont funded taken from the grounds of the house and of the Sussex countryside, including a view of the Chichester Canal. Petworth House still displays a number of [Turner's] paintings.
  [both citations from Wikipedia entry for J. M. W. Turner]
Turner's stays at aristocratic mansions like Farnley Hall and Petworth House also gave him precious access to the collections of works of famous artists and sculptors contained there. Many of Turner's watercolours feature actual living artists [or on occasion even two artists!] making studies of hanging portraits by Sir William Beechey [Artist seated before Sir William Beechey's Portrait ...], or admiring Van Dyck [Turner's The White and Gold Room with Van Dyck portraits], to say nothing of the many sculptures such as Turner's The North Gallery at Night with figures contemplating Flaxman's Statue of St. Michael, and The Old Library: A Vase of Lilies ... that Turner incorporates so masterfully into his own work.
Absences:—
One of the consequences of the many Absences in Jane Austen's Novels, including Pride and Prejudice, is that much of the crucial action takes place off-stage, as it were, disclosed by letter or other indirect means. Aunt Gardiner's letter to Elizabeth is a prime example of this element, in that Mrs. Gardiner reveals as much of her own loving, concerned and witty self as of the essential information concerning Darcy's behind-the-scenes interventions.
Of the revelatory letters in Jane Austen's other Novels, the funniest perhaps is Northanger Abbey's long-awaited letter to Catherine Morland from Isabella Thorpe, and the most striking Persuasion's Captain Wentworth baring his soul in full view of reader and anyone else who cares to watch. Frank Churchill's explanatory letter at the end of Emma is perhaps least satisfactory since we have been furnished with a pretty exact description of that exuberant gentleman's character and intentions and have nothing much to learn from his letter other than the odd insignificant twist of plot;
And perhaps this insistence by Austen on a revelatory letter is the remnant of her initial efforts as a novelist, when she showed a preference for the epistolatory format, Sense and Sensibility having starting out as correspondence between the eponymous Elinor and Marianne.
As for Lady Susan, unpublished until many years after Austen's death, no doubt but that the letter form is perfect to reveal the shocking exploits of the decadent eponymous heroine without putting the author to the discomfort of depictive comment. And Austen might have altered Sense and Sensibility from letters to conventional third-person description, but there is a distinct lack of vitality in any of the characters, a possible result of having begun life as fodder for conversation.
I've left the Absences of the other Novels to their respective webpages.
*   *   *   *   *
In retrospect it seems that Pride and Prejudice could not be so good, were not the other Novels so — not bad, precisely, but so lacking in the qualities that make reading Pride and Prejudice such an enchanting experience.
Next: Sense and Sensibility, Jane Austen's second (but first-published) Novel.
Pictures
Details of and links to all Austen-Novel Pictures are found in the Pictures 3B webpage.
According to the first paragraph of the Wikipedia entry for J. M. W. Turner,
... Although renowned for his oil paintings, Turner is also one of the greatest masters of British watercolour landscape painting. He is commonly known as "the painter of light" and his work is regarded as a Romantic preface to Impressionism ...
He entered the Royal Academy of Art schools in 1789, when he was 14 years old,[13] and was accepted into the academy a year later. Sir Joshua Reynolds, president of the Royal Academy, chaired the panel that admitted him. At first Turner showed a keen interest in architecture but was advised to continue painting by the architect Thomas Hardwick. His first watercolour painting A View of the Archbishop's Palace, Lambeth was accepted for the Royal Academy summer exhibition of 1790 when Turner was 15.
Wikipedia continues in later paragraphs of its entry for J. M. W. Turner,
Turner placed human beings in many of his paintings to indicate his affection for humanity on one hand ... but its vulnerability and vulgarity amid the 'sublime' nature of the world on the other.
'Sublime' here means awe-inspiring, savage grandeur, a natural world unmastered by man, evidence of the power of God — a theme that artists and poets were exploring in this period. The significance of light was to Turner the emanation of God's spirit and this was why he refined the subject matter of his later paintings ... Although these late paintings appear to be 'impressionistic' and therefore a forerunner of the French school, Turner was striving for expression of spirituality in the world, rather than responding primarily to optical phenomena ...
    The intensity of hue and interest in evanescent light not only placed Turner's work in the vanguard of English painting, but exerted an influence on art in France; the Impressionists, particularly Claude Monet, carefully studied his techniques.
    See Wikipedia entry for J. M. W. Turner

This Page:— Pride and Prejudice Part Four: Architecture, Absences

JMW Turner, circa 1818
Title: Otley Lodge and Bridge designed by Turner
Medium: Bodycolour on paper
Dimensions: Support 329 x 444 mm
Private Collection, Turner Worldwide
Reference: TW0241, Wilton 588


JMW Turner, circa 1818
Title: Farnley in the Old Time
Medium: Bodycolour on paper
Dimensions: unconfirmed 278 x 393 mm
Private Collection, Turner Worldwide
Reference: TW0262, Wilton 629


JMW Turner, 1798
Title: Harewood House from the South-West
Medium: Graphite and watercolour and pen on paper
Dimensions: Support 510 x 654 mm
Collection Harewood House Trust
Turner Worldwide, Reference TW 0297, Wilton 219

JMW Turner, c. 1818
Title: The Old Dairy, Farnley
Medium: Bodycolour on paper
Dimensions: unconfirmed 275 x 390 mm
Private Collection, Turner Worldwide
Reference: TW0252, Wilton 599

[March 2008, text only
    WebPage last amended July 15th, 2013]
________________________
Pride and Prejudice Part 4: Architecture, and Absences
Sandsifter Five Main Page
The Novels of Jane Austen – Home Page 3B
Pride and Prejudice Part 3: The Deadly Sin of Pride ... and 'Aura'
Sense and Sensibility Part 1: Theme, Characters, Plot