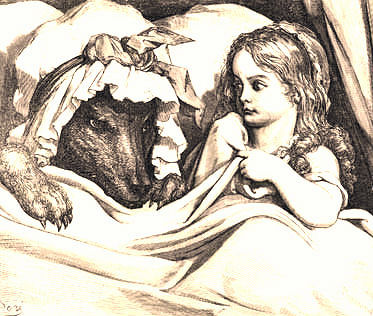 Pictures
Fairy Tale and Myth
Journeys and Arrivals
It's never obvious whether we are dealing with Fairy Tale or with Myth, especially when studying illustrations. Waterhouse, Stanford, Millais, Bouguereau — not inclined to treat Fairy Tales as fit subjects for their artistic endeavours. Henry J. Ford, Arthur Rackham and Kate Greenaway — dealing most often in Fairy Tale. But Carl Offterdinger and Gustave Doré? — each willing to give his best to any subject, sacred or profane.
And perhaps it doesn't matter, in particular when we come to stories such as The Pied Piper of Hamelin. Don Quixote. The Arabian or Thousand and One Nights.
In any event, here is the list of Pictures, presented with affection and respect.
*   *   *   *   *

HomePage-2:— Fairy Tale and Myth


Study for The Pied Piper of Hamelin: The Children
George John Pinwell (1842 - 1875 )
circa 1871 Gouache on Paper 175 x 295 mm
Tate Gallery, UK, Collections


  In Greek Mythology, The Moirae (The Three Spinners) were in charge of human destiny, or Fate:– Clotho spinning the thread, Lachesis measuring it out, and Atropos cutting the thread with her shears.
I still have to find the original source for this beautiful photograph by Tom Oates.

Don Quixote and Sancho Panza
  [ from the Novel by Miguel de Cervantes) (1547-1616) ]
Honoré Daumier (1808-1879), Don Quichotte
1868, Oil on canvas 51 cm x 32 cm
Location: Neue Pinakothek
A plaque containing a copy of this particular Don Quixote has been facing me on the opposite wall to the dinner table for as long as I can remember. I always believed it was by Picasso and had much difficulty locating it on the Web. Of course I know Daumier — every legal firm here has a Daumier or two on display, my favourite being the avocat embracing his client after an acquittal, while the client leans forward to pick his lawyer's pocket.
And since we're dealing with Fairy Tale and Myth, the French Wikipedia website above mentions that Daumier's caricature of Louis-Philippe as Gargantua earned him six months in prison at Sainte-Pélagie.
I'll deal specifically with the distressing Le beau Narcisse below.

Gustave Doré (1832-1883)
The Complete Fairy Tales by Charles Perrault, with a new translation by Christopher Betts, Oxford University Press
<— At left Reading the tales to the family, Frontispiece
—> At right Front cover of dust jacket, also Page 102, Red Riding Hood is surprised to see what her Grandmother looks like
I can't repeat everything but in the Pictures-7 section of the Blackpool website listed at left above, I mention with a little detail the extremely funny illustrations in the Doré book above, which I bought from Amazon.ca with Hans Christian Andersen's The Tinderbox, both of which I adore.

Introduction-2A:— Fairy Tale


The Water of Life
Arthur Rackham (1867-1939)




Illustration Carl Offterdinger (1829-1889)
Hansel and Gretel, Wikimedia Commons, Photo by Harke
[See also Carl Offterdinger Illustrations for Cinderella below]

Book Cover, Jonathan and the Dragon, 1962
  Citation Library of Congress
Irwin Shapiro (1911-1981)
Illustrator Tom Vroman


Introduction-2B:— Myth


Primavera, Allegory of Spring, c. 1482
Sandro Botticelli (1444-1510)
Tempera on panel, 203 cm x 314 cm (80 in x 124 in)
Uffizi Gallery, Florence, Italy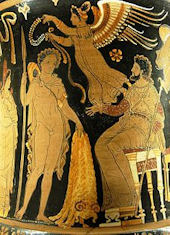 Jason Delivering the Golden Fleece to Pelias, Louvre
Side A from an Apulian red-figure calyx crater, 340 BC–330 BC.
H. 45.7 cm (17 ¾ in.), Diam. 39.6 cm (15 ½ in.), W. 29.4 cm (11 ½ in.)
Wikimedia Commons, Photographer Jastrow (2006)
Musée du Louvre, Department of Greek, Etruscan and Roman Antiquities,
Sully wing, room 44

Myth and Metamorphosis at Colby College Museum of Art
Bronze, Europa and the Bull
Carl Milles, Swedish Sculptor (1875-1955)
The Portland Press Herald, 2010-01-07, Daniel Kany, Art Historian, Cumberland
Contact: dankany@gmail.com


Hylas and the Nymphs, 1896
John William Waterhouse (1849-1917)
Oil on canvas, 98 × 163 cm (38.6 × 64.2 in)
Wikimedia Commons
Manchester Art Gallery, Manchester, U.K.


Le beau Narcisse (1842)
Honoré Daumier (1808-1879)
Overall: 12 11/16 x 9 1/4 in. (32.3 x 23.5 cm)
    image: 9 13/16 x 7 15/16 in. (25 x 20.2 cm)
Metropolitan Museum of Art
Why do we prefer pretty pictures of Narcissus as he appears to himself, rather than as the mythical youth who is starving to death as he gazes transfixed at his reflection? Don't imagine for a moment that I prefer Daumier's image — in fact I feel a certain sympathy with the above-mentioned Louis-Philippe. Because once a Daumier treatment has been encountered, it seems impossible to turn back, even to Picasso in the case of Don Quixote.

Apollo and Daphne, 1908
John William Waterhouse (1849-1917)
Oil on canvas, 142.88 x 111.44 cm
Wikimedia Commons
Private Collection
*   *   *   *   *

Fairy Tale and Pride and Prejudice


Illustrations Carl Offterdinger (1829-1889)
<— At left Part 1 Cinderella leaving for the Ball in a coach
www.wikigallery.org
—> At right Part 2 Cinderella at the Ball
Wikimedia Commons, Aschenbrodel (2)


<— At left Part 3 Cinderella leaving the Ball at Midnight
www.zazzle.ca/vintageposter
—> At right Part 4 Cinderella trying on the Glass Slipper
Wikimedia Commons, Aschenbrodel (1)


East of the Sun and West of the Moon




  I don't remember illustrations as a child, but these line drawings sound a definite harmonious chord.
  The SurlaLune website is a treasure trove for those who love Fairy Tales. Apparently East of the Sun and West of the Moon was included in The Blue Fairy Book by Andrew Lang, with illustrations by Henry J. Ford.
The World Wide Web is a terrible thing, approaching the kiss of death for preconceived convictions, such as my opinions on Fairy Tale illustrations, actually not all that different from Novels on film, which have also undergone drastic revision.
*   *   *   *   *

Myth and Pride and Prejudice


Psyche Opening the Golden Box, 1903
John William Waterhouse (1849-1917)
Oil on canvas, W 74 cm × H 117 cm (29.16 × 46.10 in)
Private Collection


The Abduction of Psyche (1895)
William-Adolphe Bougereau (1825-1905)
Oil on canvas: 209 x 120 cm
Private Collection


Cupid Gazing at Psyche (1595?)
Abraham Bloemaert (1564-1561)
From Rutgers Website, Images of Cupid and Psyche
  From 500 B.C. to the present
Location of original?


Cupid and Psyche (1873)
John Roddam Spencer Stanhope (1829-1908) From Rutgers Website, Images of Cupid and Psyche
Oil on canvas: 40 x 35 cm
Location of original?


Amor and Psyche


Psyche showing her sisters her gifts from Cupid (1753)
Jean Honoré Fragonard (1825-1905)
Oil on canvas: 65-3/4 x 75-5/8 inches
The National Gallery, U.K.


Amor and Psyche and Pride and Prejudice

Wikipedia, The Kiss (1907-08
Gustav Klimt (1862-1918)
Oil on canvas: 65-3/4 x 75-5/8 inches
Osterreichische Galerie Belvedere, Vienna

In fact the Wikipedia entry immediately preceding mentions the BBC TV Private Life of a Masterpiece series [available on DVD] in its Notes on this beautiful painting.
Even the shape of the Painting, almost square, appears to demonstrate the point of the television episode: that we're assisting at a commercial transaction, so much given, and no more; so much received, and no more.
I see all that and even make use for my purposes, and yet I love anyway.



<— At left the Statue of Eros at London's Piccadilly Circus

—> At right a Roman marble bust of Eros as an infant, circa 100 A.D.


Charon and Psyche (1883)
John Roddam Spencer Stanhope (1829-1908)
Bridgemanart.com Art Culture History
Oil on canvas: 95.2 x 138.4 cm
Private Collection


This Page, Pictures-2 Fairy Tale and Myth


Dust Jacket 'The Tinderbox' (1835)
Hans Christian Andersen (1805-1875)
The Tinderbox (Hardcover) adapted Stephen Mitchell,
  Illustrator Bagram Ibatoulline, Hard Cover 10-1/8 x 11-5/8


Next Page, References-2 Fairy Tale and Myth

Tapestry, King Arthur, circa 1385)
Wikimedia Commons, King Arthur as one of the Nine Worthies
  always identified by three crowns
Article Wikipedia:— King Arthur


The Knight Errant (1870)
Sir John Everett Millais (1829-1896 )
Wikimedia Commons
Oil on canvas, support 1841 x 1353 mm
Tate Gallery, UK, Collections

This last is for my benefit only, on the assumption that no one reads Reference notes. Episode 24 'Bedtime' of The BBC TV series Coupling uses Millais's Knight Errant painting as source material in much the way Lucius Apuleius copies key plot elements of the Fairy Tale East of the Sun and West of the Moon for his Amor and Psyche. Whether it be armour-clad Patrick (who bears a truly uncanny facial resemblance to Millais's Knight Errant) trying to escape the lovely Lady in order to join his mates in the pub, or Sally summoning an imaginary String Quartet whenever reality approaches too closely, we're invited to laugh at ourselves as well as at the occasionally annoying but always lovable characters.
*   *   *   *   *
To return as soon as I get my thoughts organized —
should be new separate webpage for Pictures, Fairy Tale and Myth and Seinfeld.
[WebPage last amended March 4th, 2013]
________________________
Pictures-2
Fairy Tale and Myth
Main Page – Index
Home Page-2
Fairy Tale and Myth
Amor and Psyche and Pride and Prejudice
References-2
Fairy Tale and Myth