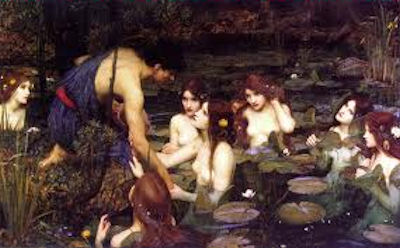 Introduction 2B
Myth, The Source of all* Storytelling
(*All, except Fairy Tales.)
If every Fairy Tale is a journey, Myth is an effort to make sense of where we find ourselves at journey's end.
Making sense presupposes an ability to reason. Reasoning assumes the capacity to think. And thinking involves the use of words, those marvellous and mystical, unseen and unique life-altering entities sometimes unkindly described as lies.
If Fairy Tales tell us who we are, Myth is the raiment — the tissue of falsehoods, misdirection and concealment — with which we cover up our frailties and flaunt our attributes.
Just as we demand from Fairy Tales certain characteristics in order to qualify for the title, so Myth has its own essential elements, often ascertained in direct opposition to Fairy Tale, and beginning with the latter's Transformatory Journey:—
To begin with, there's no Once upon a time in Myth. Fairy Tales are told to us; we read Myth alone. Freed from dependence upon adult benevolence for our entertainment — and everything else — we lose the perception of our solitariness, and our helplessness as well. No longer needing the security of Once upon a time, we are enabled by Myth to move on to the uncertainty of more universal themes.


Secondly, Fairy Tales' Happily ever after does not mean growing up. If Fairy Tales are about a hero or heroine who remains constant amid a journey of continued and shattering change, Myth concerns a more or less adult protagonist caught in static and implacable forces that forever alter him or her. Narcissus, and Apollo and Daphne come to mind, because what could be more static and rooted than a flower, or a tree?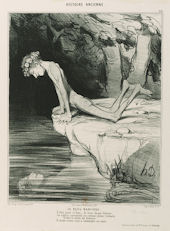 — The fate of Narcissus can be understood as a simple narrative, as a small morality tale on the dangers of loving oneself so thoroughly that we become fixated on our reflected glory to the exclusion of everything else, or as an analytic tool to describe the workings of a severe neurotic disorder, depending upon the capacity for intellectual sublety on the part of the reader.
    —Apollo and Daphne is capable of even deeper complexity of meaning, from our natural repulsion toward an overly enthusiastic pursuit by an unwanted lover, to the psychological phenomenon of figuratively turning ourselves into unresponsive wood when submission to superior physical force is unavoidable. And all this effected by the use of words as the medium of transformation, rather than of narration.
________________
Aloneness. In Hansel and Gretel, brother and sister are both capable of the detachment necessary to see the sibling as a fully rounded person, shockingly uncharacteristic of a Fairy Tale, though not entirely uncommon for Myth. One way in which multiple points of view are shown in Myth is through the use of multi-episode narratives, containing mostly the same cast of characters but from the perspective of a different protagonist for each section — unthinkable in Fairy Tale. (Reading Homer, watching Star Trek; what more could anyone ask of life? Or of Myth?)
Prototype versus uniqueness of character.  Fairy Tale characters are unique by virtue of their circumstances and the detail which surrounds each story. Myth will involve prototypes: Little Red Riding Hood versus Prometheus, for example.
Acceptance of Change. By the time we are ready for Myth we have gained sufficient confidence to contemplate with equanimity the prospect of change, in ourselves as well as in our circumstances.
Strangers along the route. Strangers along the route of a Fairy Tale generally exist in order to facilitate the unfolding of the plot. Strangers in Myth are the plot, with their warnings and foreshadowings, their pursuits and strategems and their trickery. Strangers may disappear in Myth, but we have always the strong suspicion that they will come back as soon as a hero becomes comfortable in his or her situation.
Creatures with magical powers. In Myth, magical creatures such as witches, ogres, dragons, trolls and the occasional fairy are often replaced by gods and goddesses, not always an improvement for the fate of mortals awaiting their erratic but implacable pleasure.
Detail. Without its inseparable detail, there is no Fairy Tale. Myth being a creation of words used to convey complex ideas rather than simple narrative, its details can be omitted, added to, mocked, converted to lyrics, confused with historical fact, and otherwise manipulated at will.
Truthfulness: There's no lying in Fairy Tale. Children hearing a Fairy Tale have no reason to doubt its essential truthfulness. Myth, on the contrary, existing simultaneously on many different planes, can be, and frequently is, subject to immense variety in interpretation.
Irony: There's no irony in Fairy Tale. And one of the signs that a child is ready to move up from comfortable Fairy Tale to unsettling Myth is the development of the ability to appreciate the delicious properties of irony.
Innocent amorality: There's no right and wrong in Fairy Tale. If Fairy Tales are marked by an innocent amorality, we see in Myth the beginnings of a higher authority to whom a wronged mortal can appeal for justice: all-powerful Zeus, greatest of the Olympian gods, is often shown as solicitous of the well-being of mortals in need of his assistance and support — although in cases where wrongdoing involves Zeus himself, things frequently become more complicated.
Tolerance: There's no preaching in Fairy Tale. A fable, with its prim lessons and worthy instruction, is never a Fairy Tale, but can often be a Myth, where words are used as much to conceal, instruct, and misrepresent as to narrate:— Atlas, for example, tricked into holding the world on his strong shoulders, and accepting the necessity of continuing the job because there is no one else to do it, never could be presented as a character in a Fairy Tale. Nothing is demanded of the Fairy Tale listener but undivided attention, and the concept of duty does well to wait for a mind more suited to the complexities of Myth.
Subterranean Meaning. Meanings in Myth are hidden and sophisticated, but unlike Fairy Tale we sense at least a seeming effort to make some kind of sense of life's enduring mysteries. (Why should one person die in infancy, for example, while another lives to be 100? For ancients the answer is as simple as the Myth of The Moirae, three white-robed Spinners, one of whom, Atropos, decides on the manner of death of each mortal being, cutting the thread of life with her shears when she decides it's time.)
— This in contrast to Fairy Tales, which are themselves the unrevealable mystery.

*  *   *   *   *
In conclusion:
— If it's true that all storytelling is based upon Fairy Tale and/or Myth, then it should be possible to examine our five chosen artistic works in conjunction with at least one particular representative of the assumed source.
Except that I've already proven the rule by exception with Dear Frankie, neither Fairy Tale nor Myth, but just itself. Meanwhile Blackpool so successfully proves my rule that I've been forced to deal directly with relevant Fairy Tale and Myth in my treatment of the six Episodes of that BBC television miniseries.
Fortunately I've been more successful in separating Pride and Prejudice from its possible Fairy Tale and Myth forebears, beginning with Fairy Tales and Pride and Prejudice in the next section.
[July 2007, text only
    WebPage last amended February 22nd, 2013]
________________________
Introduction 2B:—
Myth
Main Page – Index
HomePage-2
Fairy Tale and Myth
Introduction 2A:—
Fairy Tales
Fairy Tales and Pride and Prejudice:—
Not Cinderella