Acknowledgements
When I was a child in my grandparents' home in Lachine, one of my favourite Fairy Tales was Hans Christian Andersen's The Soldier and the Tinderbox. Rather like a northern Magic Lamp, the handheld Tinderbox, ostensibly a simple device to furnish a spark, gave its user the gift of three dogs with enormous eyes [screens?], one or other always on call to satisfy the Soldier's every demand.
It's remained one of my favourites although transmuted to more modern Fairy Tales such as Star Trek the Original Series, and the BBC miniseries Blackpool.
Strangely enough, as the science in Star Trek has become real and true and actual, so too has the Fairy Tale, each of us now empowered with magical gifts almost beyond human comprehension.
The crew of the Enterprise worked always as a team, and yet separately, each individual alone, with his (or her in the case of Uhuru) capabilities. And this is essentially what computers have brought us to: the ability to work in the web community of our choice yet alone in our own sphere of knowledge and interest and skills. And needs.
We live in THE AGE OF EVERYDAY MIRACLES :–
Undo. Copy. Print. Delete.
Insert. Format. Send. Repeat.
Open. Close. View, and Preview.
Import. Listen. Play, Display, Replay.
Update. Recent. New. Replace.
Find. Paste. Exit. Save. Stop.
Windows. Apple. Web. Skype. HELP!
But not yet, thank God, Teleport. I'm with the Doc on anything to do with de- or re-materialization of the human body.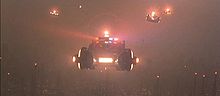 [ It's always amused me that Philip K. Dick, author of the deeply troubling 'Do Androids Dream of Electric Sheep?' ('Blade Runner', in the film version), visualized his detective hero flying about in what is described as 'the department's speedy beefed-up hovercar', chasing down a murderous humanoid whose vital facts and description are contained in the hero's frequently-consulted briefcase on a sheet of onionskin paper, a blurred third or fourth carbon copy of a typewritten form. Could the author be expected in 1968 to foresee a tiny rectangular object holding all the relevant information, complete with photographs and the capacity for instant communication with headquarters?
The makers of Star Trek, on the other hand, obviously chose deliberately for theatrical effect to have the crew tossed about, like flotsam encountering a rogue wave, without benefit of seatbelts even when turbulence was fully expected. ]
________________________
I go back to the old days, of WordPerfect, and DBase, and Peter Norton Utilities including backup, anti-virus, and undelete, as well as countless computer books which I kept until the most recent move; when PC Magazine was the final arbiter of what was worth buying and what was not. Every new hardware and software product had to be submitted for their editors' judgment and ranking; and advertising in PC Mag pages got an aspiring contender precisely nowhere.
Now responsibility for the information industry has been assumed by Google [in Canada Google.ca, French and English], and by Wikipedia [Wikipedia.ca, English] and [fr.Wikipedia, French].
One of our computers, an IBM with 96 Mbs of RAM, came equipped with FrontPage Express, which I used to convert much of my writing from WordPerfect to HTML, and to draft many Pages contained on this website, until 96 Mbs of RAM became insufficient even to run FPE.
Until then, however, I counted on Jan Smith's www.jegsworks.com/lessons/web/html/code.htm to guide me through the obstacle-strewn paths of HTML programming. Ms Smith believes that every sentient human being who understands English should be empowered to surf the web and to download and/or print the items found there; to construct a homepage and website of one's own; and to create and maintain a spreadsheet as well as a database — all using Microsoft programs, but there's nothing wrong with that considering her voluminous lessons are freely available on the Web and infinitely adaptable to whatever one is trying to accomplish.
So now this is a website created on a Dell rated in gigabytes rather than mere megabytes, using Microsoft Expression Web 4 (which they tell me has now gone the way of FPE and the dodo), with the assistance of Corel PaintShop Photo Pro X3. I paid for EW3 (upgraded at no cost to EW4), and for Corel PSP X3, as well as for several technical books. But everything else was offered freely, even eagerly, among the hundreds of advisory articles used in creating these pages. And such is the complementary spirit in which I offer this site.
I can't deny the paternity of these pages, by the way — anyone who has followed Jim Davidson's www.expression-web-designer-help.com create-as-you-learn exhilarating, if alarming, series of lessons is only too familiar with the format. To paraphrase Lord Byron slightly: —
Yet in my lineaments they trace
some [many] features of my father's face.
And finally, I have to join the heavenly chorus of hymns of appreciation directed toward W3C Protocols and guidelines and Sir Tim Berners Lee, inventor of the World Wide Web. There is even a free W3C website to consult on thorny issues, so that we can be confident that a site designed with white lettering on a red background won't end up black with grey writing. — Except it's getting so we have only to become comfortable with a way of doing things to find that Listen, lady, in the new HTML 5 the term URL has been deprecated and you'd better start calling it URI. Or else. And to think I believed deprecation was something unique to the British and directed toward oneself, as in the Royal Family describing Windsor Castle as our little place in Scotland. Hasn't it occurred to anyone that URI sounds like a problem with the urinary tract, unlike the aristocratic URL, pronounced EARL? Oh, well, what price progress.
*   *   *   *   *  
Science and technology are all very well, but it is sobering to admit that these webpages owe as much to the study of grammar as of HTML5. I always believed it was enough to read great writers. I was wrong; it's not enough, although of course it doesn't hurt. And I acknowledge as much by admitting that I own three copies of Gerald Levin's Prose Models; the First Edition, 278 Pages (1964); Second, 398 Pages (1970); and Seventh, 578 Pages (1987).
Some painful choices have been made of essays from one edition to the next — although I find most interesting to contemplate those works that are common to all three editions, including, among others:–
George Orwell's Shooting an Elephant
  Mary McCarthy's single-paragraph Uncle Myers
  Sir Isaiah Berlin's Mr. Churchill
  Edwin Way Teale's Country Superstitions
  Lytton Strachey's Queen Victoria at the End of her Life
  Norman Mailer's The Death of Benny Paret
  John Steinbeck's The Turtle

Perhaps not coincidentally the Seventh Edition contains a number of wonderful essays on Language and writing, among them George Orwell's Politics and the English Language, and Lewis Thomas's funny Notes on Punctuation, and on Learning and Education with Liane Ellison Norman's 'humorous and insightful' Pedestrian Students and High-Flying Squirrels, and, finally, Winston S. Churchill's heart-breakingly amusing My First Introduction to the Classics.
There is no logical explanation for the choice of pictures on this present webpage, except that once the Hazlitt 'loitered my life away' quotation was in place it seemed to preclude most of the available images.

City on the Edge of Forever, Scene #307
    Masthead
Star Trek, Season One, Episode 28
Wikipedia, Star Trek: The Original Series

Book Cover 'The Tinderbox' Hans Christian Andersen
    Left Column Top
'The Tinderbox' (Hardcover)
adapted Stephen Mitchell, Illustrator Bagram Ibatoulline
Wikipedia, The Tinderbox
William Hazlitt, Self-Portrait (1082)
    Left Column Bottom (1)
Wikipedia, William Hazlitt
Oil on canvas 11" x 14" ?
Maidstone Museum and Art Gallery, Kent UK
Found on a Sundial near Venice
    Left Column Bottom (2)
'horas non numero nisi serenas'
'I count only the happy hours'
–
William Hazlitt
Still Life with Books and Magnifying Glass
    Page Content (1)
Wikipedia, Ozias Leduc
Oil on millboard 22.6 x 31.8 cm
National Gallery of Canada, purchased 1969

Hovercar from film Blade Runner
    Page Content (2)
Wikipedia, Blade Runner
Turbulence aboard Star Trek Enterprise
    Page Content (3)
Wikipedia, Star Trek: The Original Series
No seatbelts — Imagine the fines that could be collected by the Intergalactic Highway Authority
________________________
[Page amended February 19th, 2013]
Acknowledgements
Main Page – Index
References-1
Fairy Tale and Myth – Journeys and Arrivals